The Bakersfield Condors are looking for individuals that are an inspiration to others!
Do you know someone who has made a big impact on other people's lives or the community of Bakersfield? Someone who has taken a negative situation and turned it into a positive? Someone who has overcome overwhelming odds or an immense obstacle? Someone who daily exhibits the values of selflessness & perseverance? Now is your chance to get that person recognized at a Condors game! The Bakersfield Condors are honoring community members who make Bakersfield the great place that it is! If selected, recipients will receive in-game recognition, tickets and some cool gifts.
There are two ways to nominate a community member for The Spirit of Condorstown:
Complete the online nomination form below.
Click here to download the nomination form. Then print, fill-out and mail or fax the form to the Condors. Mailing and fax instructions are on the nomination form.
Spirit of Condorstown Online Nomination Form
Spirit of Condorstown past recipients
Jimmy Watkins: Born & raised in Bakersfield, Jimmy Watkins embodies the values this city is known for; hard work, dedication and taking care of others.  Jimmy began his sports career like many others in the area, with football, baseball and track & field. In the 4th grade, Jimmy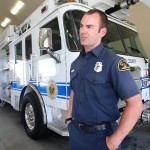 competed in the 100-meter dash in the Junior Olympics.
At 21, Jimmy joined the fire department and started biking to help keep in shape for his demanding job.  Unlike many of his competitors, Jimmy is not a full-time cyclist. He keeps a bike at the fire station to train between calls. He is a full-time firefighter, a father, and husband who finds time to train and excels at his sport.  Watkins holds four national titles and three national records on the track. He has represented the United States  in various international competitions, most recently at the 2012 Summer Olympic Games in London where he finished sixth at the Olympic Velodrome the United States' best Olympic finish in the men's sprint — track cycling's blue-ribbon event — in 12 years.
Salem Palmer: 10 year old Salem Palmer is a 4th grade student at Highland Elementary School.  Earlier this school year, Salem effectively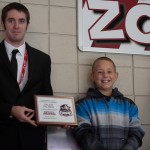 performed the Heimlich maneuver on a fellow student who was choking on a slice of pizza in the school cafeteria!
This is not Salem's first brush with heroism. While riding his bike this summer, Salem saw smoke and flames coming from the side of a home. He quickly alerted the family who was then able to call the Fire Department before any harm came to the family.  Salem has taken the CPR course through Hall Ambulance and would like to be a paramedic one day! Salem is very active in school and community activities and his parents say the attention he has received has him shocked , a little embarrassed, and overjoyed. He thinks that he did what you are supposed to do when someone needs help.
Northwest Baseball 10U Little League World Series Champs: For many kids, summer vacation is all about play time, but this team of young boys spent their summer on the ball field, dedicating countless hours to practice in the Bakersfield heat and all that work paid off! The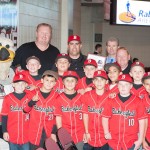 Bakersfield Northwest 10u Baseball Team made history in August 2012 when they won the – 10u Cal Ripken World Series in Bentonville, Arkansas.
Coach Don Snow says the team "set the tone" with powerful hitting and unstoppable defense!  They also tied a world record by going undefeated (6-0) at the World Series tournament defeating teams from Florida, Arkansas, Indiana, Connecticut, & Oregon to capture the title!
Nathan Garcia: 12 year old Nathan Garcia has been battling Stage 4 brain cancer since August 2011.  Recently, two new growths were found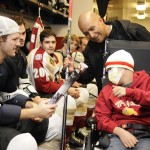 and this past week, Nathan's health took a turn for the worse. Nathan's family describes him as a "warrior" and he is battling to make it to his 13th Birthday on December 17.  Nathan's birthday wish is not for himself but to help other sick kids.  Nathan has asked for presents to be sent to all the children still in the hospitals he visited.
*Nathan passed away a few days following his 13th birthday. The Condors are very touched to have Nathan and his family be a part of our season.
BC Renegades On December 8, 2012 –  in front of more than 16,000 fans, the Bakersfield College Renegade football team secured their place in Bakersfield sports history by capturing their first ever state football title.  The Renegades beat continual state power City College of San Francisco by a final score of 35 to 14.                                                
Ethan Perez: 9 year old Ethan Perez suffered through two years of debilitating pain caused by tumors in his  knee and foot. His left leg was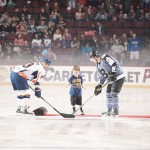 swollen and wouldn't straighten because of arteriovenous malformation (AVM). He was unable to run and play the way he once had and so, doctors determined his best option was above the knee amputation.  A couple months ago, Ethan had is left leg amputated and in just a couple weeks we was back in action – living like an active 9 year old should.  Although he still has some pain and is facing a lot of physical therapy, Ethan has maintained a very positive, energetic approach to life.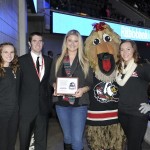 Morgan Burnard: While planning her big "sweet sixteen" party in 2010, 16 year-old Morgan Burnard decided she what she wanted most was to help kids who otherwise wouldn't have the opportunity to celebrate their birthday. She created Morgan's Sweet Sixteen Foundation and planned her first trip to Haiti in June 2011.  Morgan and 3 others went to Port Au Prince and threw birthday parties, or "celebrations of life" for about 300 orphans. After this trip, she broadened her dreams for this organization and decided to go global. This season, Morgan has been raising funds and supplies for a trip to Africa in 2013.
Taft High School: On January 10, 2013, the students and faculty at Taft High School faced a terrifying and potentially devastating situation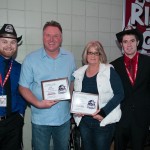 involving an armed student.  Thankfully, three faculty members – Campus Supervisor Kim Fields, Mary Miller and teacher Ryan Heber were able to diffuse the situation and disarm the gunman before any fatalities.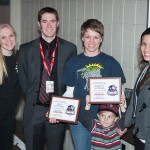 Katie & Garrett Hutchins: In 2009, 2 year old Garrett Hutchins was diagnosed with stage IV neuroblastoma, a childhood cancer.  Garrett endured 18 months of therapy, including 6 rounds of chemotherapy, radiation, immunotherapy, and oral chemotherapy.  His Mom, Katie, saw the disparity that exists between the funding for adult cancers and the funding for childhood cancers, and knew she had to help. She and her family became involved with the St. Baldrick's Foundation, whose signature events involve people who collect donations in exchange for shaving their heads in a show of solidarity for the kids who lose their hair during treatment.  Katie brought the St. Baldrick's event to Bakersfield 3 years ago and so far $89,000 has been raised locally and Katie even had her head shaved!  Garrett is now healthy and cancer-free, but the Hutchins still remain active in fundraising to cure childhood cancer. This year's St. Baldrick's event will be held on September 7th.