We want you in Condorstown!
CONTACT: Head Coach JF Houle, email: jfhoule@bakersfieldcondors.com
First Class Facilities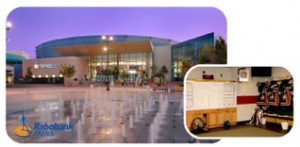 The Condors play in the state-of-the-art Rabobank Arena which was named one of the Top 5 minor league sports venues in the United States. It boasts a spacious locker room and training room with free weights, exercise bikes, cold tubs, jacuzzi tubs, and more. The Condors practice at the Bakersfield Ice Sports Center located right behind the arena.
Owned by the Edmonton Oilers:
The Condors are owned by the National Hockey League's Edmonton Oilers and are the only such team owned by an NHL franchise in the ECHL. Oilers personnel is very visible in Bakersfield at practice and games to ensure the best development is available to all players in Condorstown. Their support is invaluable at the ECHL level and is second-to-none.
Gym Membership
Voted the best health club and gym in Bakersfield, Body Xchange has the best equipment along with basketball courts, boxing, personal trainers, tanning, kid care and more. Body Xchange has locations all over town with the most convenient for the players being located right across the street from Rabobank Arena.
Fan Support
The Condors drew over 200,000 fans last season and come off their best season in history with an appearance in the Western Conference Finals. The team recently received the 2013-14 Award of Excellence in Marketing and also received the 2010-11 ECHL Award of Excellence which is presented to the top organization in the ECHL. The Condors Booster Club is very active with acclimating new players and families to Condorstown.