Gold. That's what Jake Varner (@JakeVarner211) won on Sunday on the final day of the Olympics. We'll call him a friend of the blog. The Condorstown native ripped through Eastern European and former Soviet bloc opponents like it was the Cold War. He even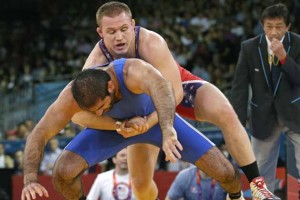 destroyed a Canadian for good measure too. (Sidenote: How hairy was the guy from Uzbekistan? If you didn't see, I've provided a picture. He's definitely not sponsored by Gillette.)
For those curious, there are plans in the works for Condorstown to show our appreciation for all of Jake's accomplishments at a game this upcoming season. It'll be a fun night and one you won't want to miss. If Jake wants to give me any of the $250,000 he received for winning gold, I'm all for it too. A cool $5K and I'll mention him in every blog and broadcast I do from here on out.
I promise this is my last blog about the Olympics. With the Olympic torch going out on Sunday, I thought it would be a good idea to speculate who will light the torch in Sochi 2014. That's in Russia for those geographically challenged.
Here are the five contenders. Some may or may not be Russian. Again, I'll remind you, it's my blog and I'll do what I want…
Possibility #1 – Alex Ovechkin. Fortunately, he is Russian and just happens to be a decent hockey player. Word on the street is that the NHL may not take an Olympics break in 2014, but the Russians are sending their pro hockey players anyways. I love that. Just not caring about what the most influential league in the world has to say. We're sending Ovechkin and company even if Crosby's Chronies and the Americans aren't going over. Let him light the torch, because if that's the case, the USSR – eh, I mean the Russians – will steamroll through the tournament.
Possibility #2 – Vladimir Putin. I know the Olympics aren't supposed to be political and everything, but Putin runs the country even when they don't let him run the country. He leaves as Prime Minister and comes back as President. He sets his own rules and honestly, may never leave office. Not sure how much his annual 3.6 million Ruble salary will get you in the United States, but more power to him. (Holty's Note: If Boris Yeltsin was still alive, he'd be my number one choice hands down.)
Possibility #3 – Teddy KGB. Here is a slight dark horse, because Russians can't be happy with him. The fictitious character portrayed by John Malkovich in the movie Rounders lost a pretty big card game to Matt Damon which brought shame to all of the Soviet Union. But, he's a powerful guy in the underworld and I think he could buy his way to the torch.
Possibility #4 – Ivan Drago aka Dolph Lundgren. Drago, from Rocky IV fame, murdered Apollo Creed, got all juiced up on steroids, lost to Rocky Balboa, and then at the end decided to give peace a chance and have a truce with Rock. I'm not sure how to interpret Drago since he hasn't fought since the epic battle in Moscow. Maybe he's in the Gulag or off finding himself, I don't know. But, if we can find him and keep Brigitte Nielsen away, he could make all of Russia proud and redeem himself. When I hear the word Russia, Drago is the first person that pops into my mind.
Possbility #5 – Muhammad Ali aka Cassius Clay aka The Greatest. Hear me out on this one. I was as shocked as anyone that Ali came out of the woodwork and appeared during the lighting ceremony in London. Complete curveball if you ask me from the Brits. Ali had perhaps the greatest person lighting the torch in Atlanta in '96 (ok, maybe Barcelona '92 with the guy shooting the arrow across the stadium wins out, click here). Then, he pops up in London and helps them get the Games going in 2012 out of nowhere. Why not have him light it up in Sochi?
Honorable mentions: Borat, Marko Ramius (Sean Connery/Hunt for Red October), Ivan Danko (Arnold Schwarzenegger/Red Heat), Alina Mustafina (that Russian gymnast who always complained and cried this year), and Nikolai Volkoff (WWF wrestler, credit to @BigOdie2)
One final thing, go recruit people for our Facebook and Twitter and help us #ToppleTheThunder.
Until next Thursday #Condorstown … Remember to always tip your waitresses.
Have an idea for #HoltysBlog? Tweet him @BroadcastHolt or e-mail rholt@bakersfieldcondors.com
Ryan Holt a.k.a. 'Holty,' is the younger half of the Condors broadcast duo, and recently completed his first season in #Condorstown. Kevin Bartl (@KevinBartl) returns from vacation tomorrow and will probably make Holty's day less fun. Follow him on Twitter @BroadcastHolt for random stuff confined to 140 characters.
/_media/logo_1819.png
0
0
condors
/_media/logo_1819.png
condors
2012-08-16 10:12:43
2012-08-16 10:20:48
Those Crazy Russians…(Holty's Blog)