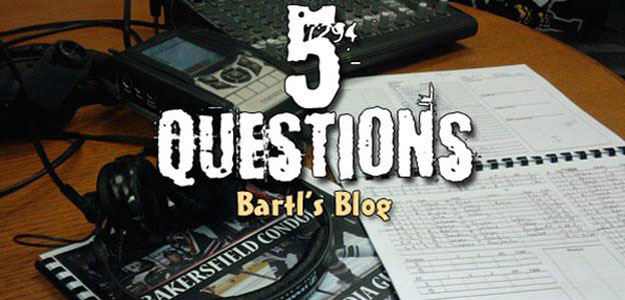 5 Questions for the new coach (Bartl's Blog)
Matt O'Dette is the Condors new head coach, and will have his hands full getting ready for the start of the season, halfway through the summer. It's news that Condorstown has been waiting for, as evidenced by the surge in traffic yesterday temporarily shutting down the Condors website. People want to know all about the new guy, and I'm sure have questions of their own, but for right now these are five questions that I wanted to put to the new boss.
5. How much does getting hired in July hurt your chances at recruiting? I don't think it'll hurt too much, although having a couple more months would be nice. But I've been in touch with agents and players on Stockton's behalf, so it will just be a matter of re-connecting with them and letting them know I'm here now and selling the Bakersfield situation to them.
There are so many good players out there looking for jobs, with teams in other leagues folding, and there are also guys that are trying out in Europe or attending NHL camps that will be looking for jobs if those don't pan out, and if you have a full roster already you'll miss out on them. So being patient isn't a bad thing, either. I'm hot on the trail already, and I've got many irons in the fire.
4. What will be going through your mind the first time you face Stockton? I'll probably be thinking about how to get under Matty's (Thomas) skin, but I'll also be thinking about how bad I want to win. It's a great rivalry but it just got more interesting. And between our games with Stockton and those with Ryan Mougenel (his former coach in Fresno and Stockton) in Vegas, those games will be hotly contested battles. There may also be a few fights too, you never know…
3. Who will be coming back from last year's team, and how do you start that conversation with them? I know the Bakersfield players pretty well and I've been able to get some good insights on their character from the talks I've had with Marty Raymond. I want character guys that will be good teammates and work their asses off. So I have a good idea where to start.
2. After three seasons with the Thunder, how many times this summer will you start by saying "This is Matt O'Dette with the Stockton Thunder…. er, I mean, Bakersfield Condors"? Haha, I don't think any… I've moved on and this is a new chapter that I'm excited for.
1. Who was the one guy on the Condors that you hated/loved playing against? There were many. Brett Lutes is one. He was always running into the goalie and he was a good player who hit hard, but he never wanted to fight me. He was always around your goaltender which as a defenseman always $&%# you off. I had a few run-ins with Scott Balan, too, so he probably doesn't like me too much. It seemed like whenever things got into a scrum or a mini-line brawl would break out we would get lined up.
I enjoyed the rivalry, it was great… even the rink here has a unique smell and walking in as a coach it would bring back memories of past games and battles and makes you think you're getting ready for a war. From dealing with the fans to the seemless glass, which as a defenseman you know it's going to hurt when you get hit into, this is one of the toughest places to play in the league.
Kevin Bartl is the Vice President of Communications for the Condors, and part of the broadcast team. His blog comes out every Tuesday. Follow him on twitter @KevinBartl.
https://www.bakersfieldcondors.com/wp-content/uploads/2011/07/Bartl-Blog1.jpg
300
625
condors
https://www.bakersfieldcondors.com/wp-content/uploads/2023/06/BAK-Website-Header_2324.png
condors
2011-07-13 10:19:26
2011-07-14 15:33:13
5 Questions for the new coach (Bartl's Blog)