Daryl Katz – Owner, Oilers Entertainment Group
Born and raised in Edmonton, Daryl Katz grew up a passionate Oilers fan. He has a deep connection with the team's rich history and is focused on creating the foundation for a winning tradition and bringing the Stanley Cup back to the City of Champions.
Away from the ice, Daryl has committed significant time, energy and capital to make his vision for a revitalized downtown Edmonton a reality. ICE District is an ambitious multi-billion dollar project that is transforming the heart of our downtown into a vibrant, walkable and sustainable sports and entertainment district, with a host of new commercial, residential and public amenities. With Rogers Place opening its doors this season, and the surrounding ICE District development well underway, we're seeing an exciting rebirth of Edmonton's urban core.
Daryl graduated from the University of Alberta's Faculty of Law in 1985. In 1990, he founded the Katz Group, now one of Canada's largest privately owned enterprises, which earlier this year announced the pending sale of its pharmacy business, Rexall Health. Katz Group will continue to invest in the growth of its three other lines of business: real estate, sports & entertainment, and private and public investments.
With a wide range of charitable activities, Mr. Katz is recognized as a leading philanthropist in Edmonton and beyond. In 2003, he was appointed to the Premier's Council of Alberta's Promise, an organization dedicated to improving the lives of Alberta's children and youth. He is also a member of the Canadian Council of Chief Executives and was Co-Chair of the University of Alberta's "Campaign 2008" – the largest fund raising campaign to that time in the university's history. Daryl and his wife Renee are proud parents of Harrison and Chloe, co-founders of the Hockey Helps Kids charitable initiative.
Daryl has great passion for his hometown and its beloved Oilers, and great determination to contribute to the greater success of both.
Matthew Riley – President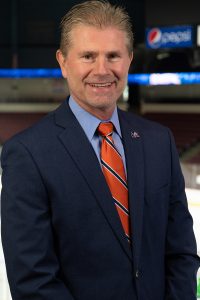 Riley is responsible for the growth and development of KG (US) Oilers Corp. and the Bakersfield Condors, the organization he has guided since it's inception in 1998. Riley was previously the vice chairman for the ECHL Board of Governors Executive Committee, and also served on various other league committees.
He was instrumental in negotiations in the January 2014 purchase of the Condors by the Edmonton Oilers and the team's elevation to the American Hockey League (AHL) in 2015-16 garnering their highest average attendance in over five seasons.
Now in the AHL, Riley was the driving force behind the organization's grandiose plans for the Three-Way Chevrolet Condorstown Winterfest presented by Mission Bank held Dec. 21, 2016 – Jan. 7, 2017 outdoors at Bakersfield College's Memorial Stadium.
Another direct initiative during the AHL tenure was the adoption of the Junior Condors name for Bakersfield's existing youth hockey program. The Condors bought and donated all jerseys in the program's first year and will establish scholarship funding through the team's Condors Community Foundation.
Riley was the second 2-time winner of the ECHL Executive of the Year (2006-07, 2013-14) Award and was runner-up on several occasions. He captured the WCHL Executive of the Year during his second season in 1999-2000, and the Condors won ten WCHL awards in five seasons under his leadership.
The Condors won 15 ECHL front office awards in their ten ECHL seasons, including the 2014 ECHL Award of Excellence in Marketing. The Condors have raised over $5 million for charitable organizations in Kern County during the last 18+ years.
Riley joined the organization late in 1997, when they were named the Bakersfield Fog, to execute the transition from the Bakersfield Convention Center to Bakersfield Centennial Garden (now known as Rabobank Arena). He took charge of the Condors in July of 1998, and in his first season at the helm, the Condors were named the West Coast Hockey League Organization of the Year. In 2001, his title was expanded to include President. During the summer of 2002, Riley was named the Acting Commissioner of the West Coast Hockey League, and he played a large role in the transition to the ECHL as well as closing down WCHL operations.
The Keokuk, Iowa, native previously served as the Executive Director of the Mobile (AL) BayBears Baseball Club, the class-AA Southern League affiliate of the San Diego Padres, and was integral in the construction of Hank Aaron Stadium, their home park. During their inaugural season in 1997, the BayBears led the Southern League in attendance. He also served as General Manager with the Mobile BaySharks Baseball Club, Assistant General Manager of the Chattanooga (TN) Lookouts (Southern League) and interned for the St. Louis Cardinals Baseball Club. Riley is a graduate of Nebraska Wesleyan University with a degree in communications. He earned a master's degree in sport management from the United States Sports Academy in Daphne, Alabama.
Riley is very active Bakersfield's youth hockey and baseball programs. He and his wife, Teri, reside in Bakersfield with their son, Landon.
Favorite Condors of All-Time:  Paul Rosebush, Sean Venedam
Favorite Condors Moment:  Mikella McAuley Jersey Auction
Most Inspirational Athlete:  Jackie Robinson
Most Inspirational Coaches: John Wooden, Vince Lombardi
Most Admired Leader: Abraham Lincoln
Favorite Movies: Field of Dreams, Caddyshack, Miracle, The Sandlot, The Blind Side
Favorite Bands:  Beatles, AC/DC, KISS
Favorite Book: They Don't Play Hockey in Heaven by Ken Baker
Favorite Quotes: "You may be disappointed if you don't reach your goals, but you're doomed if you never try."
"Do the right things long enough, consistently, and success will follow."
"Individual commitment to a group effort; that is what makes a team or company work."
"You cannot hold a torch to light another's path without brightening your own."
Matthew Riley can be contacted at mattr@bakersfieldcondors.com
Justin Fahsbender – Vice President - Revenue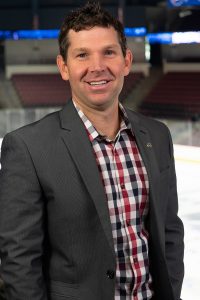 Justin, a Bakersfield native began his career with the Condors during the 2002-03 season as a press box assistant.  During the 2009-10 season, he was promoted to Vice President of Operations, in which he was responsible for overseeing day to day operations of the front office. In 2017, he became the Vice President of Ticket Sales and manages the ticket staff.
Justin graduated with a degree in Business Administration with a concentration in Sports Management from Cal State Bakersfield. He currently resides in Bakersfield with his wife Leina and two kids, Oliver and Atta Kay.
Favorite MLB Team: Chicago Cubs
Favorite NFL Team: Chicago Bears
Favorite Movie: Willy Wonka and the Chocolate Factory
Favorite Dish: Smoked salmon on a bed of white rice
Biggest Pet Peeve: People slurping coffee from a spoon
Justin can be reached at fahsbender@bakersfieldcondors.com
Jose Rivera – Vice President - Member Services & Ticket Operations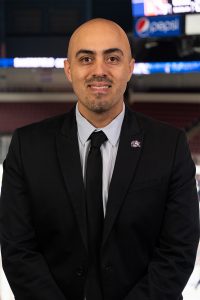 Jose joined the Condors in September of 1999. In June 2009 he was promoted to Vice President of Ticket Sales, and in 2017 became Vice President, Members Services for the team's service department. In addition to selling season ticket packages, Jose is also in charge of ticket services for our bilingual fans.
Before joining the Condors, Jose worked for Texaco North American Production Kern River Field, assisting with various production and drilling aspects. Since being appointed Director of Ticket Sales in July of 2004, the Condors were named ECHL Ticket Department of the Year in 2004-2005, and had Co-Ticket Executives of the Year in 2006-07. Rivera was also voted by his peers to be the recipient of the ECHL Ticket Executive of the Year for the 2013-14 season.
The Bakersfield native graduated from Arvin High School and attended Bakersfield College. Jose is active in the Kern County Hispanic Chamber of Commerce. Jose resides in Bakersfield with his wife, Rachel and his sons, Joseph and Jack.
Favorite NBA Team: Chicago Bulls
Favorite College Football Team: Notre Dame
Favorite College Basketball Team: Duke
Favorite TV Shows: Brooklyn Nine-Nine, The Big Bang Theory, Key & Peele, Wheel of Fortune,
Favorite Movies: The Bourne Identity Trilogy, Crash, The Green Mile, The Greatest Game Ever Played, Rudy, Tommy Boy & COCO
Favorite Food: Italian
Hobbies: Soccer referee, playing basketball, golf, softball, disc golf, etc…I'm game for anything, I enjoy staying active.
Jose Rivera can be contacted at rivera@bakersfieldcondors.com
Chad Carpenter - Director - Business Development
Chad joined the Condors during the 2018-2019 season as Director of Business Development and will grow the team's corporate and business initiatives.
Born and raised in Bakersfield, Chad grew up watching the Fog and then the Condors. He started playing hockey early on and continues to play today with a great group of players. He is very active in Bakersfield youth hockey and helps coach the Jr. Condors and Kern County Knights High School teams. He is a proud member of the Bakersfield West Rotary and enjoys working within the community.
He resides in Northwest Bakersfield with his wife Michelle and two children, Noah and Micah.
Hobbies: playing hockey, watching hockey, lacrosse, soccer, golf,  hunting, BBQ'ing, travelling,  and working on the old Jeep CJ7
Favorite Food: BBQ, Sushi, Thai
Favorite Movies: Miracle, Stand By Me
E-mail Chad! ChadC@bakersfieldcondors.com
Ryan Holt – Director - Media Relations & Broadcasting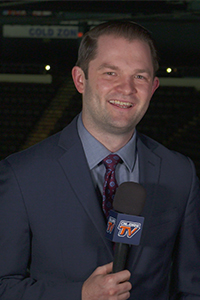 Holt joined the Condors in 2011. He is the play-by-play voice for all Condors games, handles all matters of the public relations department, and digital/video content for Condors.TV. He received the 2012-13 ECHL Award of Excellence in Media Relations.
The North Weymouth, Mass. native previously worked in the North American Hockey League (NAHL) with the Corpus Christi IceRays and while in college, was a public relations assistant in the American Hockey League (AHL) with the Worcester Sharks.
Holt received his Bachelor's of Liberal Arts Degree with a major in Political Science from Holy Cross in 2010.  While in Worcester he was president of the student radio station and broadcast hockey, football, and basketball for the Crusaders.
Favorite Throwback NHL Jersey: California Golden Seals (Green)
Favorite NHL player: Cam Neely
Favorite TV Shows: Billions, Peaky Blinders, The Wire, Narcos, Sons of Anarchy, 30-for-30, Boardwalk Empire
Favorite place to eat in Bakersfield: Urrichio's
Twitter handle: @CondorsHolty
Contact Ryan at rholt@bakersfieldcondors.com
Greg Lowe – Director - Group Experiences and Strategy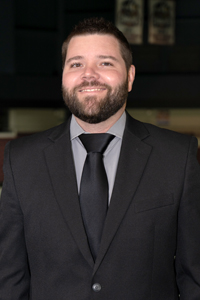 Greg joined the Bakersfield Condors in May 2005, holding various roles for the organization during that time. He is currently the Director, Group Experiences and Strategy. The ECHL tabbed him Co-Ticket Executive of the Year in 2006-07, and he was also feted as the Condors Salesperson of the Year for 2005-06 and 2006-07.
Greg and his fiancé Erika reside in Bakersfield with their dog Sadie.
Favorite MLB Team: Chicago Cubs
Favorite NBA Team: Chicago Bulls
Favorite NFL Team: Chicago Bears
Favorite College Team: Iowa Hawkeyes
Favorite TV Shows: Blacklist, Dateline, Diners Drive-Ins and Dives, anything sports related
Favorite Food: Chicken Caesar Salad, sushi, pizza
Hobbies: Playing golf, biking, working out, traveling, lounging by the pool
Greg Lowe can be contacted at glowe@bakersfieldcondors.com
Dominic Mascola - Director - Creative Services & Game Operations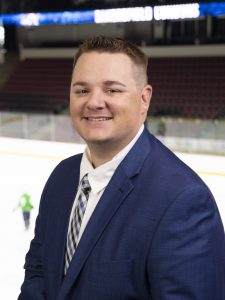 Dominic joined the Condors in 2015 and handles all matters related to Condors creative department including print and promotional material. A native of the Central Valley, Dom attended Fresno State where he received his Bachelor's Degree in Philosophy and Fresno Pacific where he received his Master's in Sports Administration.
He previously worked in minor league baseball for the Bakersfield Blaze, Fresno Grizzlies, and most recently the Reno Aces, AAA Affiliate of the Arizona Diamondbacks.
Dom, his wife Samantha, and their English Bulldog reside in Bakersfield.
Favorite Movie: Anything Tom Hanks
Favorite Food: Pizza
Favorite Sport: Baseball
Favorite Vacation Spot: Anywhere on the Coast
Five people I would love to spend 1 hour with Socrates, Leonardo da Vinci, Neil Armstrong, Robin Williams, and Derek Jeter.
Email Dominic: dominicm@bakersfieldcondors.com
Roger Parsons – Director - Tickets & Premium Seating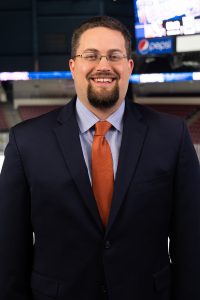 Parsons joined the Bakersfield Condors in July 2013 as an Account Manager, tasked with ticket sales and renewals and has since been promoted to Director, Ticket Sales. Under his new role, he oversees all aspects of ticket sales and the team's account managers.
Born and raised in San Diego, Parsons is a huge San Diego Sports fan, showing unrelenting support for the Padres and San Diego State. Prior to coming to the Condors, Parsons attended CSUB where he worked as a ticket sales intern before graduating with his degree in Business Management.
He and his wife, Brandi, reside in Bakersfield.
Favorite Food: Mexican
Favorite Teams: San Diego Padres, Lakers, Notre Dame, San Diego State
Favorite Movies: Casino, Oceans trilogy, National Lampoons, Hangover, James Bonds series
Hobbies: Spending time with family and friends, playing golf, relaxing, skiing, going to any sporting event, floating down the river, and watching TV
Favorite TV Shows: Any reality show
Roger can be reached at rparsons@bakersfieldcondors.com
Brooke Copeland - Manager - Marketing & Partner Services
Taylor Weldin - Manager - Retail & Event Operations
James White - Manager, Video and Graphic Services
Joey Gargano - Account Executive - Ticket Packages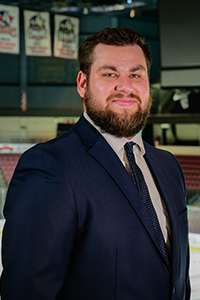 Joey joined the Condors in August 2021 and is responsible for ticket package sales and game night experiences.
Born and raised in Ventura, California, he enjoys playing hockey, fishing, golf, and video games. He resides in Bakersfield with his wife Jacquelyn and dog Millie.
Favorite Sports teams: Boston Red Sox, LA Lakers, & Denver Broncos
Favorite Food: Italian & BBQ
Favorite TV Shows: Peaky Blinders, Game Of Thrones, Stranger Things
Favorite Movies : Happy Gilmore, Friday Night Lights & The Departed
Juan Martinez - Account Executive - Group Experiences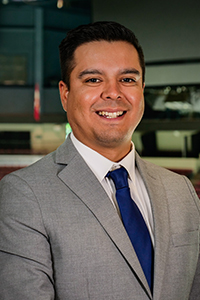 Juan joined the Condors in August 2021 and is responsible for group sales and cultivating group experiences for youth sports teams, churches, and civic organizations.
He was born in Los Angeles. After moving to Bakersfield, he graduated from Foothill High School and earned his Associates Degree from Bakersfield College in Communication Studies and Business Administration.
Favorite MLB team: Dodgers
Favorite NBA team: Lakers
Favorite NFL team: Raiders
Favorite TV Show: The Office, Ted Lasso
Favorite Movies: Adam Sandler Movies and Fast and the Furious Movies
Favorite Food: Tacos and Pizza
Hobbies- Hiking, playing golf and soccer
Naomi Dobbs - Accountant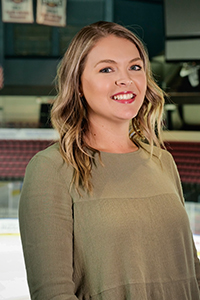 Naomi joined the team in 2016 in charge of the team's financial department and administrative duties.
Born and raised in Bakersfield, where she graduated from CSU-Bakersfield with a major in Business Administration and a concentration in accounting.
Her hobbies include spending time with family, eating good food, and being outdoors.
Email Naomi at NDobbs@bakersfieldcondors.com
Jay Harrill - Coordinator, Ticket Operations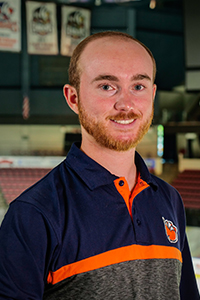 Jay joined the Condors in September 2021 and is responsible for the service of all Condors365 member and ticket accounts.
Born and raised in Charlotte, North Carolina, he graduated from East Carolina University with a Bachelor's Degree in Sports Studies and a Minor in Business Administration. Previously worked for the Wilmington Sharks of the Coastal Plains League
Growing up he played soccer primarily and played Club Ultimate Frisbee for East Carolina. His favorite sports include soccer, hockey, and Nascar. In his free time he njoy shiking, playing golf, disc golf, and rock climbing as well as spending time with friends and family.
Favorite Movie:  Talladega Nights, Cars
Favorite Sports Teams: Carolina Panthers, Charlotte Hornets, Toronto Blue Jays, Tottenham Hotspur
Favorite Food: Pizza and BBQ
Tim Martinez - Coordinator - Retail & Event Operations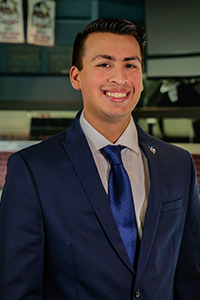 Tim joined the Condors in September 2021 and is responsible for the entire retail operation including inventory, ordering, and accounting for the team store and on game nights.
The Shafter native graduated from Shafter High School and Bakersfield College with an AA degree in Music. He's currently attending CSU-Bakersfield studying Business Administration. Tim currently resides in Bakersfield with his girlfriend Nellie and his two dogs, Mimis and Max.
Favorite Sports Teams: Los Angeles Dodgers, Las Vegas Raiders, Los Angeles Lakers, Edmonton Oilers
Favorite Movies: MCU Series, Star Wars Saga, Sam Raimi Spider-Man Trilogy, Whiplash
Favorite Food: Chicken Alfredo
Hobbies: Playing music, spending time with family and friends, playing video games, watching sports
Alex Noriega - Coordinator - Accounting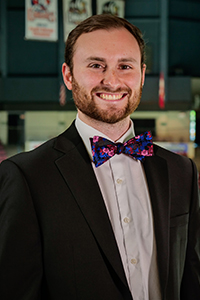 Alex joined the Condors in 2018 and currently assists in the team's accounting department full-time. He also can be found assisting the team's communications department on game nights with social media, scheduling interviews, and media relations.
Born and raised in Bakersfield he graduated from Stockdale High School in 2013 and Cal State Fullerton in 2017. He is currently pursuing his Masters Degree in Accounting. Previous stops included time at NASA Armstrong where he worked in public affairs from 2019-2020.
Enjoys biking, longboarding, driving range, watching baseball in his free time
Favorite food: Mexican and pizza
Favorite baseball team: Dodgers
Favorite football team: Rams
Favorite basketball team: Lakers
Condors Community Foundation
Ryan Holt
Team Photographer
Mark Nessia
http://www.marknessia.com/
Public Address Announcer
Mike Hart
Medical Staff
Emmanuel Strategos, M.D. Physician
Christopher Hamilton, M.D. Orthopedist
Bruce Rimmer D.M.D. Dentist
David B. Peterson, D.D.S Dentist
Misty J. Hendricks, D.D.S. Dentist
Jeffrey D. Haynes, D.C. Chiropractor
David B. Hair, M.D. Opthamologist
Movement for Life Physical Therapy
Mercy & Memorial Hospitals
Kern Radiology
Off-Ice Officials
Jim Bennett (Sup.)
Bob Neath (Asst. Sup.)
Alex Edillor
Alex Elvidge
Andy Hegland
Billy Stewart
Brian Haywood
Craig Irish
Darren White
Don Stidman
Eric Campbell
Ernie Reyes
James Skiba
Jeff Petrini
Jeff Vontz
Jessica Skiba
Jim Skiba
Laura Skiba
Leonard McDermott
Lucky Joseph
Mark Braun
Mark Moyes
Melissa Bennett
Michelle Martel
Mike Pitcher
Neil Hurley
Paul Martel
Richard Roux
Richard Schwartz
Scott McNitt
Steve Webb
Tim Wheeler
Wayland Louie
Website
Jason Best
iSportsMedia, LLC
IT Consultants
Grapevine MSP Technology Services