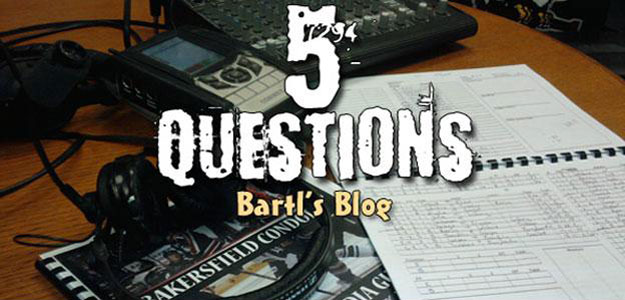 5 Questions – hate mail from Wings fans, 80 year-olds in uniform, and more (Bartl's Blog)
A day late and hopefully not a dollar short… consider it extra time needed after being sent reeling by several Red Wings fans who were perturbed by my horrendous decision to question whether or not a 40 year old was really the best defenseman in the NHL last season. Since I won't be daunted by careless threats and am really a "wolverine" personality at heart, I shall start with the Michiganers…
5. Are Red Wings fans the best in the league? Of course not, but they are probably the most vocal. And while my last blog didn't actually criticize any of their players, Red Wing fans harassed me for daring to suggest that Nicklas Lidstrom WASN'T the greatest defenseman ever to lace 'em up. I didn't even say he wasn't a great player, but I still got angry texts and emails from their followers.
The Wings faithful crack me up… They carry with them a remarkable aura of expectation, that they are hockey's royalty, that the Stanley Cup starts every year with their players' names on it. And only after it gets handed out to the actual champion, they erase those names and put the secondary winners on there. They probably think the same thing about the Norris Trophy, that it's Lidstrom's to lose every season. Which is a sad sign of devotion.
But their fans have every right to expect greatness from their team. For most of the last two decades they have seen it. However, as a 37-year old man, I have the luxury of knowing the truth and growing up watching (and rooting for, mind you – Stevie Y was my favorite player as a youth) mediocre Wings clubs. While the relatively-young, historically absent-minded Red Wings observer might think that those seasons in the 80's were just an aberration on the shelf life of the NHL's most prosperous club, I submit that the 80's were practically dominant when compared to the late 60's to the 70's for the Wings, when they missed the playoffs 15 times in 18 seasons.
They're an irascible bunch who root for a great team, but all I ask is to remember your humble roots. And I can't really ever be that mad at a team built on the cash of a pizza empire.
p.s. Shea Weber should have won the Norris.
4. $40 million in contracts? While it might have read as a relatively strange headline, the point is ultimately proven by the ECHL office: excellent players populate our league every season. They won't all get a shot at the NHL, and they don't all deserve it. But every season we see guys who are destined for the next level, and once you get there, there's no telling what will happen.
Alexandre Bolduc is one of the players included, but not named, in this release from league, after signing a deal with Phoenix that will pay him a meager $575,000 while in The Show. It's a far cry from his beginning with the Condors in the ECHL, where if a team maxes out their salary cap every week for the whole season, they will spend $322,400 in salaries.
3. Who was the highest drafted Condor in history? If you know it, you may want to saunter over to the front page of the Condors website and take part in our new feature, Condors trivia. When updating the media guide every summer, I always come across stats and names and numbers that haven't been thought of in a while, hence the idea of the Condors trivia.
One of the more curious stats I've found was that the Condors haven't scored on a penalty shot since November, 2004, when Dennis Shiryaev bested Trevor Koenig. That was 17 penalty shots ago. In fact, when Shiryaev scored on that chance, it made the Condors 5-for-6 in penalty shots in team history. Since then they've gone 0-for-17, which is a remarkably unlucky drought. There have been some very good players denied during that stretch: Kevin St. Jacques, Adam Naglich, Mark Derlago, Joel Broda and Brett Lutes (all stopped twice), as well as Dave Bonk, Connor James, Todd Griffith, Kevin Truelson, Logan MacMillan, Mike Hofstrand and Stephane Goulet.
By the way, the answer is Sasha Pokulok, 14th overall in 2005.
2. Reason #14 why hockey is better than baseball? The head coach doesn't wear a uniform. Seriously, how silly is it that baseball managers wear a uniform? Even sillier yet is the fact that it's the only sport that the coach does, and baseball fans think nothing of it! It's ridiculous to see 60, 70 and even 80-year old men wearing a jersey and those pants and even the socks, when they haven't actually played in decades. They even get a number, for the love of god! Stop it. You aren't an athlete, you're a coach. Take the uniform off. put on a polo and some khakis, or even a suit. Cut the cord.
1. What the heck is taking so long? The list has been narrowed down, and we hope to have someone to announce very soon. They have to talk to Matthew Riley, who then checks references and speaks to others in the business, then they have to talk to the owner, Jonathan Fleisig, then Mr. Fleisig and Mr. Riley have to chat it over, then more homework is done on them… it's the kind of thing you don't want to rush into.
Nevertheless the list is down to three candidates for head coach, despite the fact that five men are listed on the Condors poll question right now. And yes, I voted… Although I have to admit, I voted for Reggie Dunlop. He just seemed to get the most out of his players.
Kevin Bartl is the Vice President of Communications for the Condors and part of the broadcast team. His blog comes out every Tuesday. Follow him on twitter @KevinBartl.
https://www.bakersfieldcondors.com/wp-content/uploads/2011/07/Bartl-Blog.jpg
300
625
condors
https://www.bakersfieldcondors.com/wp-content/uploads/2023/06/BAK-Website-Header_2324.png
condors
2011-07-06 10:54:57
2011-07-07 14:55:25
5 Questions – hate mail from Wings fans, 80 year-olds in uniform, and more (Bartl's Blog)