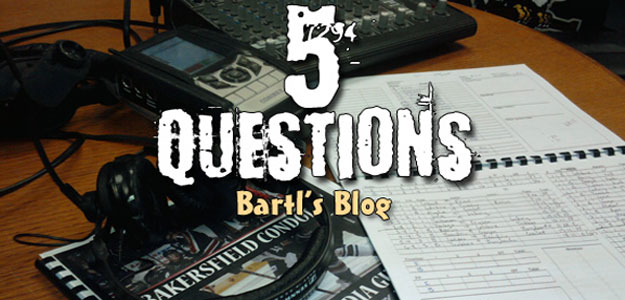 5 Questions that have nothing to do with hockey (Bartl's blog)
Happy Summer Solstice, happy birthday to the official ratification of the Constitution of the United States of America, and happy birthday to one of the first legends of the great game of hockey, Howie Morenz. This started out as five non-hockey questions, but I'm afraid I just don't have it in me. So disregard the title of this blog, it's a bit dishonest.
5. Will the new cigarette warnings work? Of course not. In fact, I think it may have the opposite effect. Have you seen them? They're disgusting. I'm not a smoker, nor have I ever been a smoker. But I could see someone going out and buying them and treating them sort of like a collector's series. It'll be like collecting Garbage Pail Kids like I did in 6th grade.
"Hey, I'll trade you a Marlboro autopsy pack for your Camel non-filter tracheotomy." It's a little sick, I know, but my point is, I don't really think the problem is education.
4. What do kids do in school without lockers? It has recently come to my attention that not all kids in Bakersfield high schools are being given lockers anymore. Can someone please explain this to me? Is it because the school thinks the kids are just using their lockers to store their weapons and drugs? Maybe there just aren't enough lockers to go around… of course they could just build more lockers. That shouldn't cost too much.
But here's the thing: when you're that age, your locker is akin to having your first apartment. You have to keep it clean, you're worried about break-ins, you have people come over and visit, you're installing shelves and having locker-mates… My friend's locker in high school was our epicenter of social life. We met there every morning and at least twice a day. Before the days of cell phones and texting everyone, that was how you found out what everyone was doing during or after school. That's where you met up. That's where you found people. It's hard to image my high school existence without my locker.
3. What's up with the "P" in the word "receipt"? I know it's random, but I'm serious. Why is it there? Was it ever pronounced or was it always silent? And why would a P be silent? I don't understand.
2. Does anybody out there know who the Stratford Streak is? It's the aforementioned Howie Morenz. Part of the growth of my love of hockey stemmed from my fascination with old-time hockey players. And I don't mean Gordie Howe and Bobby Orr. I mean guys like Morenz, who died in a hospital after breaking his leg in a game. I mean guys like "Newsy" Lalonde and Fred "Cyclone" Taylor, who allegedly scored a goal on a breakaway skating backwards. I mean guys like Lester Patrick, who was 44 years old and retired for six seasons when he was head coach of the Rangers in 1928, and when his goalie was injured in the Stanley Cup Finals he jumped between the pipes himself. He allowed just one goal in an overtime victory… and here's the kicker: he was NOT a goalie during his playing career!
I feel like if you don't go back into the archives of this game and learn about some of these dudes, you're missing out on some of the experience of being a hockey fan. I have a greater appreciation for the stars of today, knowing where the game started. Do you know who the Vezina Trophy is named after? Have you ever heard the story of the Howe vs. Fontinato fight? These are fun stories, check 'em out!
1. Experience or Potential? We like to put questions up on the Condors facebook page and check out all the responses. There is some good stuff on there. Yesterday, we posed the question, "Would you rather have an up-and-comer or an experienced coach take over as the next head coach of the Condors?" and got 15 responses in 20 minutes. Overwhelmingly, the fans said they wanted an experienced coach to come in, and the sentiment seemed to lean toward that helping to win a championship.
But here's the thing: Marty Raymond won a championship before coming here, and it didn't guarantee he'd win one with the Condors. On the flip side of that, Brent Thompson took over as a rookie head coach in Alaska two seasons ago and led them to a title in just his second campaign.
In fact,three of the last four Kelly Cup Champions had a coach in their second pro season behind the bench, and the only other one won was a repeat victory by Chuck Weber in his fourth season. Six of the last nine ECHL championships were won by a coach in his fourth pro head coaching season or less.
Just some food for thought… join the discussion on the Condors facebook fan page (www.facebook.com/BakersfieldCondors).
Kevin Bartl is the VP of Communications and part of the Condors broadcast team. His blog comes out every Tuesday. Follow him on twitter @KevinBartl.

https://www.bakersfieldcondors.com/wp-content/uploads/2011/06/BartlsBlog-New.jpg
300
625
condors
https://www.bakersfieldcondors.com/wp-content/uploads/2023/06/BAK-Website-Header_2324.png
condors
2011-06-21 09:55:57
2011-06-27 09:08:22
5 Questions that have nothing to do with hockey (Bartl's blog)