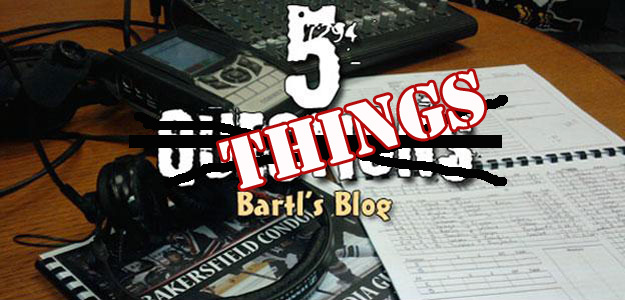 5 Things that indicate the season is almost here (Bartl's Blog)
I know, I know… 50 days sounds like a long time, but it isn't. In reality, training camp is only 36 days away… which means that the players will be arriving around 33 or 34 days from now. And that's barely a month away. Getting prepared for the season to come is a bit like sitting on a plane before take off. There is a lot to remember, a lot to plan for, but whether you're ready or not, you're about to go from zero to 350 m.p.h. in 20 seconds and get taken on a heckuva ride.
With that analogy in mind, I'll bring you into our office to look for the tell-tale signs that the season is almost here. Here goes…
5. The promotional schedule is out – Ladies and gentlemen, please refer to the safety card in the seat pocket in front of you……. So much goes into the sculpting of the promotional schedule that it could be its own blog. It's not as easy as it looks. You have to coordinate all kinds of schedules – how long does it take to produce the giveaway item? what is the relevance of the date in relation to our Jersey Off Our Backs nights? what are the available dates for the monkey that rides the dogs? who are the sponsors for the season and which dates/promos do they prefer? It usually takes all summer to piece this whole thing together, so when I'm writing a press release about it, I know the season is sure to follow.
4. The "Critical Dates" list is distributed by Matthew Riley – Please put away all electronic devices…….We just went from day-to-day routine to 100 mph instantaneously. Open House, the Job Fair, National Anthem Tryouts, Game Day Staff Orientation… all of these are not just one-day events, but coordinated efforts that take hours to plan. We don't just put a date on the calendar and show up

3. The ice is nice – Please put away any carry-on luggage you have brought with you…….. You can't play a Condors game without ice. And you can't keep a sheet of ice in the blistering heat of Bakersfield all summer long. So when I write on my calendar the dates that the ice is going in – and this season it's Sept. 28 – you know that we're almost there, and everyone in the building is planning accordingly.
2. Program ad proofs start circulating around the office – Please return your tray tables and seat-back to an upright and locked position……. Ryan Hanson, our creative director, has a few big projects at the beginning of every season, and one of them is the design of the game program, along with pocket schedules, magnet schedules, nightly notes designs and a few others. When Hanson drops an ad or two on my desk to proof before it goes into the program, I know that the days are numbered. There's only so many things in the program that can be done in advance, and sponsor ads are not one of these things. Thanks, Ryan, for giving me this Whispering Meadows ad today… I guess I'll get ready for the season.
1. John Doolan arrives – You are cleared for take-off………… Nothing yanks me out of my summertime slumber like seeing Condors Equipment Manager John Doolan come strolling through that front door. His arrival is usually a month out from the opening of training camp, so that he may dig all the equipment out of storage, review his inventory and start ordering goodies, and contacting players for specifics on what they like to wear, what sticks they like, charting sizes, etc. There is stuff he has to do down in the dungeon to prepare for the players that I don't even know about, and I've been doing this for over a decade. When "Dools" is here, he's working. And when "Dools" shows up, it's time for all of us to really get to work.
I hope everyone is buckled up. Now who's ready to get to work?
Kevin Bartl is the Vice President of Communications and broadcaster for the Condors. His blog is supposed to come out every Tuesday, but that didn't quite happen this week. Follow him on twitter @KevinBartl.
https://www.bakersfieldcondors.com/wp-content/uploads/2011/08/Bartl-Blog-NEW2.jpg
300
625
condors
/wp-content/uploads/2022/08/WebSite-Top-Bar-1.png
condors
2011-08-26 16:43:44
2011-08-29 16:19:11
5 Things that indicate the season is almost here (Bartl's Blog)