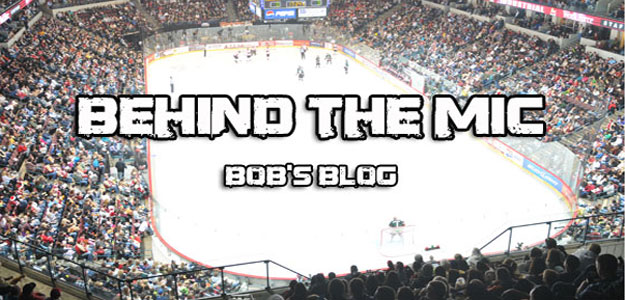 Behind the Mic: Free Agency Frenzy (Bob's Blog)
The anticipation of July 1st…
Maybe it's just me, but I love the buildup to the start of NHL Free Agency. Once the draft ends, about a week goes by with trade rumors, fan blogs are rife with fans drumming up different rosters and clamoring for GM's to sign certain players. Fans are worried about potential offer sheets toward valuable Restricted Free Agents (RFA's) that will drive up their cap hits and make it a little bit harder to sign that big name free agent.
The hockey world has had great timing for what has already been a whirlwind in player transactions. With the NFL lockout not producing any news for football, hockey has been making most of the headlines in terms of off-season sports. Baseball's major headline lately has been the bankruptcy of the Dodgers, not the type of national news a league usually desires. The Flyers traded their top two scoring forwards from last season in Mike Richards, who was also their captain, and Jeff Carter. Chicago traded Brian Campbell and his massive $7.1 million salary cap hit to Florida to free up cap space and potentially make a splash in free agency. LA traded Ryan Smyth back to Edmonton, and getting damaged goods in return. In short, lots of great headlines.
If you haven't been to Cap Geek and like experimenting with potential rosters, check it out. It is a good source for salary calculators, buyout calculators, and is a good source for those of you out there who like to play Couch GM. And let's be honest, who doesn't?
A nice side effect of all the moves so far as been that the NHL salary floor policy has come into the center of some debate. Salary floors are minimum salaries that all teams must meet, and right now it is set at $48.3 million. It is a policy that is set in place to prevent teams in difficult markets from spending so little that they are unable to compete. The downside is that is causes some players to be over paid, which skews the payscale for all the players in the league.
I referenced the Brian Campbell deal to Florida earlier. Campbell is a great defenseman, but a $7.1 million hit on the cap each year is difficult to justify. Enter Florida, who was almost $30 million below the cap floor when the deal was made. A contract like Campbell's is perfect for a team that is trying to find a way to hit the floor and hopefully put fans in the seats.
Personally, I like having a cap floor in the NHL. Sometimes it is hard to remember that five years ago, the Blackhawks were a low spending team that was struggling to fill 50 percent of its arena capacity. Eventually, they decided to change their ways, signed Campbell to the huge deal, and won the Stanley Cup in 2010. Now the Hawks regularly sell out the United Center.
The right players signed to inflated contracts to give them incentive to come to a struggling franchise is sometimes the perfect way to turn that around. The floor encourages that outlook across the NHL.
Bob Mills is the Broadcasting and Media Relations Manager for the Condors, and part of the Broadcast team. He just completed his first season with the Condors. His blog will be posted every Thursday on bakersfieldcondors.com.
Follow Bob's Twitter: @Mills_Bob
https://www.bakersfieldcondors.com/wp-content/uploads/2011/06/BobsBlog-New1.jpg
300
625
condors
https://www.bakersfieldcondors.com/wp-content/uploads/2023/06/BAK-Website-Header_2324.png
condors
2011-06-27 16:07:49
2011-07-01 15:35:54
Behind the Mic: Free Agency Frenzy (Bob's Blog)