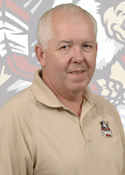 Behind the Mic: Maybe the Houston Aeros are the Answer (Bob's Blog)
Most people who know me are aware of my disgust with this year's Stanley Cup Final. It has nothing to do with the level of competition or excitement, as I think the playoffs have been fun this year and there have been some great series. It is because I just don't like either of these teams. As a Blackhawks fan, it's just impossible for me to ever wish any amount of success on the Canucks. Then again, Boston sports fans get on my nerves pretty fast, so I really don't want to see a championship end up with the Bruins.
There is a legitimate argument that Boston doesn't even deserve to be in the final, as Nathan Horton scored the only goal in 1-0 Bruins win over the Lightning in Game 7 of the Eastern Conference Finals. After Game 6, Horton threw a water bottle and bounced it off the stomach of a Tampa Bay fan, and by NHL rules that is an automatic multiple game suspension. Instead, Horton got nothing.
Then again, Alex Burrows, who is infamous in Chicago for pulling Duncan Keith's hair in a line brawl, bit Patrice Bergeron's finger in Game 1 of the finals, and probably will not be suspended. I guess that means both teams have players who will be playing who probably shouldn't be.
I learned last night that I am leaning for the Bruins to win. I guess their status as an Original Six team is just enough to nudge them ahead of Vancouver in my book. The problem is that I don't really want either of these teams to win the Stanley Cup. Such is my dilemma.
It occurred to me that my salvation from the hockey doldrums could come in the form of our AHL affiliate, the Houston Aeros. For those who haven't been following along in the AHL playoffs, the Houston Aeros have won two Game 7's this year and have a 2 games to 1 lead in the Calder Cup Finals. As an affiliated team with a few guys who proudly wore Condors colors this year, I can get behind the Aeros and find a team to actually root for.
I always find it more fun to root for a team than against other teams. If you're in the same situation as I am, try rooting for Houston. You'll find it more fun.
I also have to throw in here that today I hit the road to go back to the Midwest and see my family. I haven't seen any of them since Christmas, and for some of my Aunts and Uncles it has been a full year since I've had a chance to see them. I planned this trip before the end of the Condors season, and have been anxiously awaiting this upcoming week. Therefore, no blog from me next week, but I'll be back on track the week later. The Condors office will be closed as well next week, so if you are considering snagging some tickets next season, don't wait! Stop by the office today or tomorrow and secure those seats you've been dreaming about.
Bob Mills is the Broadcasting and Media Relations Manager for the Condors, and part of the Broadcast team. He just completed his first season with the Condors. His blog will be posted every Thursday on bakersfieldcondors.com.
Follow Bob's new Twitter: @Mills_Bob
https://www.bakersfieldcondors.com/wp-content/uploads/2010/09/Doolan_lg.jpg
175
125
condors
https://www.bakersfieldcondors.com/wp-content/uploads/2023/06/BAK-Website-Header_2324.png
condors
2011-06-02 11:36:54
2011-06-02 11:36:54
Behind the Mic: Maybe the Houston Aeros are the Answer (Bob's Blog)