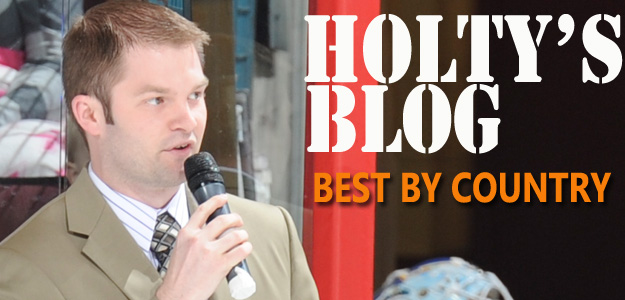 HOLTY'S BLOG: BEST BY COUNTRY
Before we begin this week's blog, we unveiled two new jerseys to compliment the "B" jersey from last season. You can view the full photo gallery on our Pinterest page (click here) and see the video of the photo shoot on Condors.TV (click here). Of course, you could just read Yahoo! Puck Daddy's round-up of it too (click here).
Speaking of the friends of the blog over at Puck Daddy, they start their August series featuring 30 writers who give their opinion as to team's "Greatest NHL Players of All-Time" from certain countries. The countries are as follows: Canada, USA, Russia, Czech Republic, Slovakia, Sweden, Finland, and the mysterious category The Rest of the World (not sure what the capital is).
I was not one of the 30 elite who was tasked with coming up with a list, but in true Holty fashion, I will publish mine anyways. I mean, you could do a whole list of Condors greats from The Rest of the World. Since, the Condors are now affiliated with the Edmonton Oilers, I will give the Oilers best players from each country and the Condors best players from each country. Then, we'll see if it matches up with the Oilers list next week. And again, I'll remind you, it is my blog and I will do what I want…
Now for the blog…
CANADA – Wayne Gretzky / Paul Rosebush
UNITED STATES OF AMERICA – Doug Weight / Kevin Truelson (The pride of Weymouth, Mass.!)
RUSSIA – Boris Mironov / Slava Trukhno
CZECH REPUBLIC – Ales Hemsky / David Kudelka
SLOVAKIA – Miroslav Satan / No Condors from Slovakia to my knowledge so we'll pick Lars Peder-Nagel from Norway. Great name.
FINLAND – Jari Kurri / Jani Virtanen
SWEDEN – Tommy Salo / Jonas Lenartsson
REST OF THE WORLD – Mariusz Czerkawski (Poland) / Yutaka Fukufuji (Japan)
Am I completely off base? Tweet or email me better choices! Until next time Condorstown…
Ryan Holt a.k.a. Holty, is the voice of the Condors and recently wrapped up year two in Condorstown. No truth to the rumor that his salary went to fund the creation of the new jerseys. Have a #HoltysBlog idea? Follow him on Twitter @BroadcastHolt or shoot him an email with ideas to rholt@bakersfieldcondors.com
https://www.bakersfieldcondors.com/wp-content/uploads/2013/08/2013-8-1-HoltysBlog.jpg
300
625
condors
https://www.bakersfieldcondors.com/wp-content/uploads/2023/06/BAK-Website-Header_2324.png
condors
2013-08-01 12:09:34
2013-08-01 13:27:28
HOLTY'S BLOG: BEST BY COUNTRY