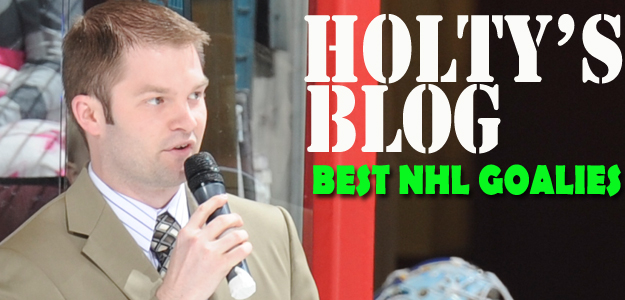 HOLTY'S BLOG: BEST NHL GOALIES
First off, congrats to avid reader and friend of the blog @BearHockey44 and his wife Mikie on the birth of their son yesterday. Mostly congrats to Mikie since she did 99.9% of the work. Grayson, Hudson, and McKenna now have a little brother in the bear cave. Do bears even live in caves? What does one call six bears together? A pack? (Sidenote: a bunch of vultures is called a wake. Pretty cool)
Now for the blog…
Do you like overtime hockey? How about playoff overtime hockey? Five of the seven professional hockey games played last night went to overtime including game three of the Stockton-Idaho series. Only the New York Rangers and Providence Bruins won games not decided by overtime yesterday.
It goes without saying, but I'll say it anyways, that a big part of the playoffs and especially overtime is the play of your netminder. Game 1 in St. Louis: bad Jonathan Quick. Game 4 in Toronto: Good Tuukka Rask.
I argue that without an ELITE netminder, a team cannot win the Stanley Cup.
I would argue that the weakest of these netminders to win Stanley Cups in their respective years since I was born (1988) would be two Penguins goalies: Marc-Andre Fleury in '09 and Tom Barrasso in '92.
So who are the five elite netminders in this year's playoffs from whom the Stanley Cup Champion will most assuredly come? Well I'll tell you without giving a reason for any of the selections. I also realize that a good chunk of the first round is done, but I would have had these five anyways. Two are even in the same series. Again, I'll remind you, it's my blog and I'll do what I want…
#5 Brian Elliott (St. Louis Blues)
#4 Jonathan Quick (Los Angeles Kings)
#3 Henrik Lundqvist (New York Rangers)
#2 Tuukka Rask (Boston Bruins)
#1 Antti Niemi (San Jose Sharks)
Until next time Condorstown…
Ryan Holt a.k.a. Holty, is the voice of the Condors and just wrapped up year two in Condorstown. He just turned 25. Have a #HoltysBlog idea? Follow him on Twitter @BroadcastHolt or shoot him an email with ideas to rholt@bakersfieldcondors.com
https://www.bakersfieldcondors.com/wp-content/uploads/2013/05/2013-5-9-HoltysBlog.jpg
300
625
condors
https://www.bakersfieldcondors.com/wp-content/uploads/2023/06/BAK-Website-Header_2324.png
condors
2013-05-09 10:44:38
2013-05-09 10:44:38
HOLTY'S BLOG: BEST NHL GOALIES