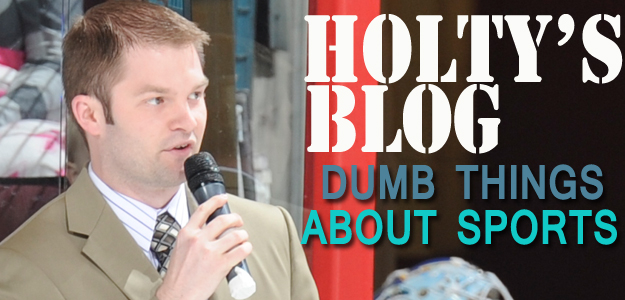 HOLTY'S BLOG: DUMB SPORTS THINGS
If you did not watch that game last night, I don't want you reading this blog. You missed out and I want you to suffer. I know people who not only watched that game, but also watched Grand Rapids knock off Dan Sexton and the Syracuse Crunch last night. Dan scored by the way, but the Crunch are in a deep 0-3 hole.
Also, if you've gotten through the first paragraph and said "Who cares about this blog? DO WE HAVE A COACH?" I don't want you reading. We don't have a coach, but believe me, there are plenty of good things going on. I wouldn't steer you wrong Condorstown. #InHoltyWeTrust
Now for the blog…
I'm really pleased with the friends of the blog this week. They came through in a big way. After throwing out some of the dumbest things in sports, they responded with some great ones. Consider this blog a tribute to the best of the best. You'll notice the theme in all of them and I'll explain a few, but these are DUMB things in sports.
For the first time ever, it's a laundry list of dumb things in sports organized by sport. Again, I'll remind you, it's my blog and I'll do what I want…
NBA
– Handshakes after missed free throws (@GrizzliesVoice)
– The NBA Finals "2-3-2" format when the rest of the playoffs is "2-2-1-1-1"
– Single team nicknames (@Joe_Babik) – Jazz, Heat, and Magic (can relate to all sports)
FOOTBALL
– College football overtime. (@KevinBartl) Could be extended to the entire BCS system.

MLB
– Benches clearing 'brawls'– Enough with this. Two of the dumbest "brawls" occurred this week.
– Teams celebrating with champagne in clubhouse after EVERY single accomplishment.
– "Sweet Caroline." (@Coach_Trask)
SOCCER
– Shootouts deciding championships (@MikeGriffith54)
NHL
– The no-touching of conference trophies. (@GregRajan)
– "In the Glass"
– "The Best Fans in the League," line. Always funny when a guy has played for 5-6 teams.
TENNIS
– The grunting. Male, female, it doesn't matter.
– Also, if you have 'hawk-eye' why do we need line judges? Just have it beep if a ball is out.
GOLF
– Dudes sitting on their couches able to call-in penalties on players. If you ain't cheatin', you ain't tryin'.
Have any other dumb things in sports, Tweet it! Until next time Condorstown…
Ryan Holt a.k.a. Holty, is the voice of the Condors and recently wrapped up year two in Condorstown. He will accept bribes for information. Have a #HoltysBlog idea? Follow him on Twitter @BroadcastHolt or shoot him an email with ideas to rholt@bakersfieldcondors.com
https://www.bakersfieldcondors.com/wp-content/uploads/2013/06/2013-6-13-HoltysBlog.jpg
300
625
condors
https://www.bakersfieldcondors.com/wp-content/uploads/2023/06/BAK-Website-Header_2324.png
condors
2013-06-13 10:26:46
2013-06-13 11:22:01
HOLTY'S BLOG: DUMB SPORTS THINGS