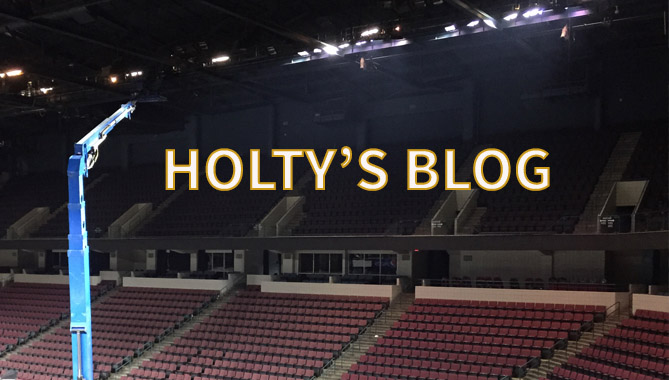 HOLTY'S BLOG: McRae and Construction
Just when we thought it was going to be a lull in the offseason for the next couple of weeks waiting for the AHL schedule, the news ramps back up.
I thought I might wait till tomorrow (I did wait till tomorrow) for the blog, but then I received the tweet below, and knew it had to be a blog day. As I'll remind you, it's my blog and I'll do what I want, but when the people are requesting blogs, you have to give the people what they want.
Just sitting around looking forward to the upcoming @Condors season in #Condorstown, thinking I could sure use a new #Holtysblog……

— T Larsen (@TLarsen2) August 6, 2015
Now for the blog…
Earlier today the Condors signed C Phil McRae to an AHL contract and while I do not want to get into the guessing game of who will, who might, and who won't be here, it's a safe assumption that a veteran-exempt on an AHL contract will play a key role for the Condors this season.
You might be thinking, what the heck is a veteran-exempt? Don't worry. The blog is here to help.
In the AHL, teams are only allowed to dress six veterans – five veterans and one vet exempt – a term which is quantified as anyone who has played 260+ games at the AHL level (and qualifying European leagues) or higher.
Vet exempts are veterans who have played between 260 games and 320 games. That is the category in which McRae would fall.
I do not think the vet rule will be all that important to this year's Condors squad, because the team will mostly be comprised of younger players. But, if you're counting, RW Matt Ford (AHL contract) would be considered a veteran, and LW Ryan Hamilton (NHL contract), if he plays here, would be a veteran as well. So as you can see, the Condors will most likely be below the six limit for most, if not the entirety, of the season.
Back to McRae, he's a proven, consistent center at the AHL level and provides a good insurance option for the organization. He can fluctuate up and down the lineup depending on who is here at any given point. He had 15 goals and ended up fifth on the Wolves a season ago in scoring and at just 25 years old, he's still young.
Other things:
McRae's dad, Basil, was a tough guy in the NHL for a number of years for seven teams. Great tilt here. He's now the GM of the London Knights in the OHL.
Video is up from earlier today from the locker room renovations on Condors.TV
I learned a new term the other day as well: foot-candle. It's the unit of measuring the strength of light. Rabobank Arena is currently installing new LED lighting which will be six times the foot-candle power of the old lights. And more energy efficient. Don't say you never learned anything from the blog.
Until next time #Condorstown…
Ryan Holt is the voice of the Condors and enters his 5th season in Condorstown. His sandwich-making skills are the stuff legends are made of. Follow him on Twitter @CondorsHolty or shoot him an e-mail rholt@bakersfieldcondors.com for blog ideas, questions, or comments
https://www.bakersfieldcondors.com/wp-content/uploads/2015/08/HB8715.jpg
380
669
condors
https://www.bakersfieldcondors.com/wp-content/uploads/2023/06/BAK-Website-Header_2324.png
condors
2015-08-07 09:41:57
2015-09-28 20:39:21
HOLTY'S BLOG: McRae and Construction