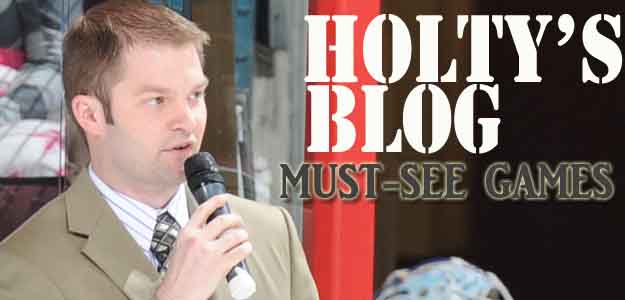 HOLTY'S BLOG: MUST-SEE GAMES
A couple blogs ago when the 2013-14 schedule came out, I let you in on a few of the scheduling quirks coming to Condorstown this season. We looked at the process of making the schedule, how opening my big mouth cost me an 11-day midseason vacation, and fun things related to this upcoming season.
But, the National Hockey League's schedule came out last week and I saw many articles written on teams' "must-see" games. For instance, when John Tortorella returns to New York or Jarome Iginla returns to Calgary. There are certainly more on-the-ice storylines in the NHL to work off and expand on than in the ECHL.
I thought I'd take on the task though, as it relates to the Condors schedule. I'm going to give you SIX (since a Pick-6 is the smallest plan you can buy) games that you HAVE to be in Condorstown to see even without promotions. If you're reading this blog and don't show up for these six games, I know Liam Neeson personally, and he will find out. (Sidenote: I've watched Taken at least 75 times)
Let us call it the HOLTY SIX-GAMER. Call in and say "I want in on the Holty Six-Gamer," and I'll throw something in for free. Not sure what it is or if I'm allowed to do that, but, again, I'll remind you, it's my blog and I'll do what I want…
The games are in chronological order. Now for the blog…
GAME 1: Friday, Oct. 18 v. Colorado – The Condors are 2-0 during my tenure in season openers. That's about the only good on-the-ice stat I can throw at you from "my tenure." Add in the fact that former darling of Condorstown turned villain Parker Stanfield (yeah, he quit on us last season and bolted to Europe) signed with the Eagles a couple weeks ago. "The only place I'd play in the ECHL is Colorado," he said. Those are fighting words Condorstown. Don't forget that when Opening Night rolls around. Oh yeah, it's the beginning of the Troy Mann/Ryan Murphy era. Should be fun.
GAME 2: Saturday, Oct. 26 v. Florida – "How come eastern teams never come to Bakersfield?" is a gripe I hear from fans often and rightfully so. Travel costs aside, I enjoy seeing the "other half" of the ECHL. Plus, Tyson Gimblett just signed in Florida. Fun fact: in my tenure, he is the ONLY ex-Condor who, after being traded, came up to the office and said goodbye to the office and thanked us. Will always respect him for that and will enjoy the Everblades coming to town.  No excuse not to come.
GAME 3: Saturday, Nov. 30 v. Stockton – Teddy Bear Toss. Need I say more? For the first time in three years, someone other than Ontario will have thousands of Teddy Bears thrown down on them (knock on wood). Stockton has a new president, head coach, and at this very moment are un-affiliated so it'll be a somewhat different looking Thunder. Hate those guys.
GAME 4: Sunday, Dec. 29 v. Idaho – The Steelheads only come to Condorstown for two Sunday afternoon games. This one will start at 4:00 p.m. and is during school holiday break. Perfect game to bring a group of screaming kids out. Plus, JO used to be a pretty big deal in Idaho. Now he bleeds maroon, grey, black, sometimes tan, but never green.
GAME 5: Saturday, Feb. 22 v. San Francisco – Something noteworthy has happened in February each of the last two years. Two seasons ago, there was the infamous "Ice Delay" game against the Wranglers when we didn't start the game until after 9 p.m. because of 'soft ice," and Evan Trupp (click here) scored the greatest goal in Condors history. Then last year (also against the Wranglers), something happened with a bird. Can't quite recall what happened. Was it this (click here)? We do not play LV in February at home this year, so the last game of a three-in-three against DAAAAAAAAAAA BULLS it is. Book it. 2/22 (see it's already weird!). It's going down.
GAME 6: Friday, April 11 v. Ontario – I'm going to put my prognosticator cap on. This game will decide who wins the Pacific Division. There have been only two teams in the last five years (since the Reign joined the league) to win the ECHL's Pacific Division. That will not change this season.
Have any other games circled on the calendar? Tweet or email them to me! Until next time Condorstown…
Ryan Holt a.k.a. Holty, is the voice of the Condors and recently wrapped up year two in Condorstown. The new jerseys are the greatest in history. Have a #HoltysBlog idea? Follow him on Twitter @BroadcastHolt or shoot him an email with ideas to rholt@bakersfieldcondors.com
https://www.bakersfieldcondors.com/wp-content/uploads/2013/07/2013-7-25-HoltysBlog.jpg
300
625
condors
https://www.bakersfieldcondors.com/wp-content/uploads/2023/06/BAK-Website-Header_2324.png
condors
2013-07-25 09:13:37
2013-07-25 09:53:30
HOLTY'S BLOG: MUST-SEE GAMES