Just checking in here Condorstown. In exactly one week's time we will be joined by roughly 30 players going through testing, filling out paperwork, taking physicals, and meeting with hockey operations personnel.
Let's keep the blog brief. After all, as I'll remind you … it's my blog and I'll do what I want.
First off the Edmonton Oilers played a preseason game last night in Winnipeg. Old friend Laurent Brossoit got the win in net, while Oilers Head Coach Dallas Eakins had high praise for the improvement in the game of Kale Kessy. Y'know the guy who scored the quickest Condors Teddy Bear Toss goal last season. The pic below is of LB from last night.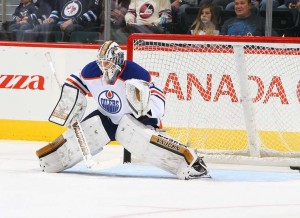 Second, the Oilers made their first round of cuts earlier this week. Out of the players sent to Oklahoma City, there is a good chance you will see a few of them in Bakersfield this season.
Speaking of Oklahoma City, J.F. is headed there on Sunday for a few days of Barons camp before returning to begin Condors camp on Thursday. We'll have a full schedule of training camp early next week with the majority being at Rabobank Arena/closed to the public. Which makes Open House on Tues. October 7 from 5-8 p.m. all the more fun!
In an unrelated note, myself and friend of the blog @KevinBartl will call football tomorrow night. We're headed to Ridgeview with the undefeated Wolfpack hosting Stockdale. Catch all the action on BVarsity Game Night on Bakersfield.com and News/Talk 1180 KERN beginning at 7:30 p.m.
Switching gears, I correctly predicted the order of finish in the Western Conference last year, so let's take another crack at it. Let's expand it to include the entire ECHL. For the Western Conference I will rank the Pacific Division 1-5 in terms of who I think will be the Condors toughest opponents this year.
Things can naturally change throughout the year and rosters will certainly be altered, but here is how I see things shaking loose when all is said and done.
PACIFIC DIVISION (this is how it finishes, I'm not telling you were the Condors are inserted)
1)      Idaho
2)      Utah
3)      Alaska
4)      Ontario
5)      Stockton
MIDWEST DIVISION (will be the weakest division, Kalamazoo should run away)
1)      Kalamazoo
2)      Fort Wayne
3)      Colorado
4)      Evansville
5)      Indy
NORTH DIVISION
1)      Reading
2)      Cincinnati
3)      Wheeling
4)      Toledo
5)      Elmira
SOUTH DIVISION (most competitive – toughest to call)
1)      Orlando
2)      South Carolina
3)      Greenville
4)      Florida
5)      Gwinnett
Thinking about ranking teams differently? Let me know!
Until next time Condorstown…
Ryan Holt a.k.a. Holty is the voice of the Condors in his fourth season. He's currently powering through a cold. Who gets a cold in September? Follow him on Twitter @BroadcastHolt for more nonsense.
https://www.bakersfieldcondors.com/wp-content/uploads/2023/06/BAK-Website-Header_2324.png
0
0
condors
https://www.bakersfieldcondors.com/wp-content/uploads/2023/06/BAK-Website-Header_2324.png
condors
2014-09-25 09:12:35
2015-09-28 20:36:40
HOLTY'S BLOG: RANKINGS