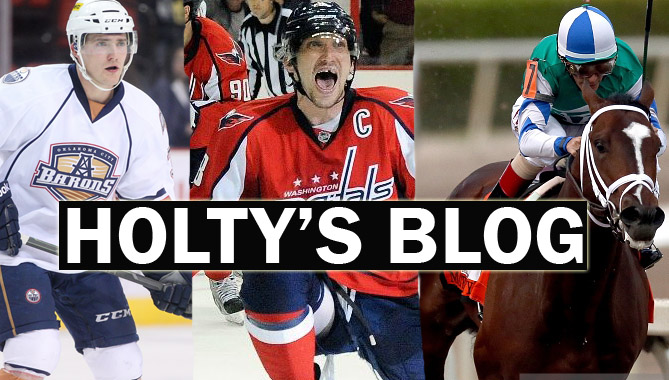 HOLTY'S BLOG: The #HoltyJinx
Lots to get to with the blog today. Since we started our "What you need to know" release, it's kind of taken the thunder out of the blog. Similar to the way the Thunder were taken out of that place up the 99. But, a lot has transpired over the past couple of days, so let's get right to it.
Sometimes I have long intros, sometimes I don't. As I'll remind you, it's my blog and I'll do what I want…
Now for the blog.
The Oklahoma City Barons are on to the second round, after sweeping the #3 San Antonio Rampage in three games. Old friend Kellen Jones had a goal to open the scoring. They await a couple of other series to finish to see where they'll start the next round. They're best-of-7 the rest of the way. Interestingly enough, in the Western Conference, only the #1 Utica Comets have a series lead. #5 Rockford (Chicago Blackhawks) swept #4 Texas (Dallas Stars) and #7 Toronto (Toronto Maple Leafs) lead the #2 Grand Rapids Griffins (Detroit Red Wings), two games to one.
Keeping track of Oilers prospects still playing in the CHL playoffs, I had a chance to watch Darnell Nurse take on Connor McDavid (rated #1 overall in this year's draft) the other night. McDavid's Erie Otters lead the series, 3-1, and can close out the series and advance to the OHL Final tonight. As mentioned in last week's blog, McDavid won't be in Bakersfield if drafted by the Oilers, but if Nurse finds his way at some point to Condorstown next season, look out. He was a man among boys, is a smooth skater, and strong. He's asked to do a lot for the Greyhounds, and rightfully so, but I think being overworked led to some fatigue and mistakes. Make no mistake though, he has a bright future ahead of him.
In the WHL, Leon Draisaitl, who was drafted No. 3 in last year's draft, was fantastic for the Kelowna Rockets last night with a goal and assist to help the Rockets even the series at 2-2. Another big, power, gritty forward with a ton of skill. He's another guy who could potentially end up in Condorstown next season or down the line.
How are your brackets looking? If you're like me, you're sweating it out that you don't finish in last. I'm in two different ones, including an office one where the last-place finisher buys the champion lunch. Right now, everyone's favorite Condors employee Justin Fahsbender is pacing the pack after going a perfect 8-for-8. As long as Washington does fine, I shouldn't finish last.
I'm also in one with some ECHL folks which combine ECHL and NHL brackets. In the ECHL, I had Idaho (who lost in 6) v Toledo (who needed OT to win game 7) in the final, so I apologize to the great people of Boise for the #HoltyJinx. Chances are strong I'm finishing last in that one.
And finally, I was born on Kentucky Derby Day in 1988 so I always have had a special interest in the race this Saturday. If you want who not to bet, I'm going (3) Materiality over (8) Dortmund and (19) Upstart.
Until next time Condorstown…
Ryan Holt enters his fifth season with the Condors. He went to the Dodgers game last night. Follow him on Twitter @Condors or shoot him an email rholt@bakersfieldcondors.com
https://www.bakersfieldcondors.com/wp-content/uploads/2015/04/2015-04-30-HoltysBlog.jpg
380
669
condors
/wp-content/uploads/2022/08/WebSite-Top-Bar-1.png
condors
2015-04-30 09:31:32
2015-09-28 20:40:23
HOLTY'S BLOG: The #HoltyJinx