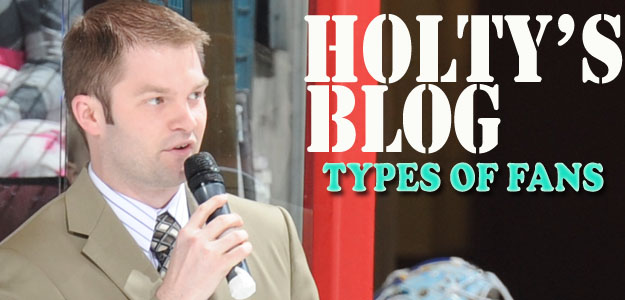 HOLTY'S BLOG: TYPES OF FANS
Not only does Bill Simmons (@BillSimmons) create great documentaries (see last week's blog), he also runs the last bastion of great sports writing "Grantland." If you're not reading it, you should be. Anyways, I really enjoyed reading the "20 Different Types of Depressed Sports Fans" (read it here) mostly because that GoPro camera video documenting the Leafs fans during game seven was great. (see it here)
It's an interesting discussion, because friend of the blog and parking ticket phenom @KevinBartl said he has "lost the ability to be a fan after working in sports." In fact, he said that he is without a doubt "The Fan who Manages to Maintain Perspective." To an extent, I agree with him. Which is why I, along with now Condors.TV video superstar Brad Urbani (watch here), will head over to Sir Bartl's on Saturday to watch the Champions League soccer final. Soccer has become Bartl's last hope of being a fan and we want to witness. That and he's having a German food spread.
It got me thinking – what kind of fan am I? What kinds of fans do we have in Condorstown? I honestly want to know since I don't get to sit in your living rooms on road games, or see everyone up close at home games. What types of reactions do you have? Surely, the past two years haven't exactly been happy times so how have you dealt?
I'm only going to give three big games during my fandom life and how I reacted. Why three? Well, friend of the blog @WillHoenike is sick of things being in five. Again, I'll remind you, it's my blog and I'll do what I want, but Will is bigger than me.
May 14, 2010 – I'm 22 years old. I'm graduating college in less than a week, and the Bruins appear ready to head to the Eastern Conference Finals. Happy times in HoltyTown. Until…The Philadelphia Flyers mount a remarkable comeback from down 3-0 in the series and 3-0 in the game. This had to be how Leafs fans felt. How did I react? Definitely No. 5 "The 'How?' Fan."
February 3, 2008 – The Red Sox had just won the World Series. The Celtics were on their way to winning the NBA Finals. The Bruins even would have a thrilling playoff series. But, the Patriots were undefeated. They cruised into the Super Bowl. They had Tom Brady and "Good" Randy Moss. But, their perfect season comes to an end to the Giants in Super Bowl XLII. How did I react? Without question I was No. 18 "The Non-Reaction Fan." Actually, my reaction was to roll over and go to bed to avoid having to listen to the partying Giants fans in the dorms.
October 16, 2003 – Aaron "Bleepin" Boone. Game 7 of the ALCS and this guy leads off the bottom of the 11th with a home run to send the Yankees to the World Series. I was 15 and a sophomore in high school. At the end of the game I was positively No. 3 "Oh My God No" fan, but before that, when Grady Little refused to take out Pedro, and he coughed up a 3-run lead in the 8th, it was more of a No. 11 "What Are You Doing?!"
Enjoy your Memorial Day weekends. Here's hoping Bayern Munich wins on Saturday or else we may see Bartl become Fan No. 8. And we don't want that. Until next time Condorstown…
Ryan Holt a.k.a. Holty, is the voice of the Condors and recently wrapped up year two in Condorstown. The Condors office is closed on Monday. Have a #HoltysBlog idea? Follow him on Twitter @BroadcastHolt or shoot him an email with ideas to rholt@bakersfieldcondors.com
https://www.bakersfieldcondors.com/wp-content/uploads/2013/05/2013-5-23-HoltysBlog.jpg
300
625
condors
https://www.bakersfieldcondors.com/wp-content/uploads/2023/06/BAK-Website-Header_2324.png
condors
2013-05-23 10:54:16
2013-05-23 10:54:16
HOLTY'S BLOG: TYPES OF FANS