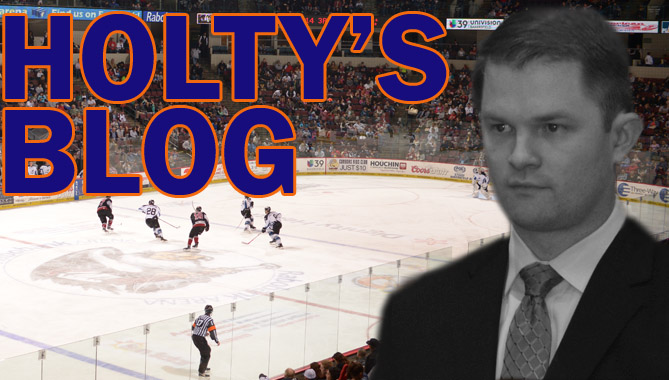 HOLTY'S BLOG: Welcome Back
It's Thursday and it's the offseason, so you know what that means…Well, OK, maybe you don't know, but The Blog is back! Every Thursday, or basically whenever I remember to, there will be a new blog put up on the website. We'll cover all sorts of topics, mostly hockey, and hopefully you'll either be entertained, informed, or none of the above.
Sometimes there will be lists, sometimes there will just be one topic. Sometimes it will be 4:30 p.m. and friend of the blog, @KevinBartl, will turn around and go "did you do anything today?" and it will remind me that I forgot to write one.
As I always remind you, it's my blog and I'll do what I want. Now for the blog…
If you did not hear, see, or otherwise come across, the Condors are moving to the American Hockey League next season. Preparations are already underway, the excitement is building, the website is changing, and a new level of fun is set to rock Condorstown.
Big news was made on Saturday night as #TheBosses in Edmonton secured the No. 1 overall pick in the upcoming NHL Draft. It is a great thing, will help turn the team around, and is very exciting for all of Oil Country. The news also led to a firestorm on the interwebs regarding "Connor McDavid coming to Bakersfield."
Not so fast my friends… You see there are rules. And as Denis Lemieux can tell you, you don't do anything against tha rulez. Some of these rules vary from league to league and with the Condors move to the AHL, it is a good time to go over our first rule of the "new" league. Maybe you already know this rule and that is great. If you don't, keep reading.
Now, it's above my pay grade to know who the Oilers will select first overall, only that as GM Craig MacTavish said they will keep the pick. So why can Connor McDavid not begin next season in the AHL, but other top prospect Jack Eichel could?
McDavid, 18 years old, plays in the OHL, which along with the QMJHL and WHL form the Canadian Hockey League (a.k.a. major junior). Players, under the age of 20 and having played less than four years in the CHL, who actively play in any of those three leagues when they are drafted, are only eligible to play in the NHL. If they do not, they have to be sent back to their junior team.
For example: Oilers prospect and 2013 first-round pick Darnell Nurse, now 20, had to be sent back to his junior team this year after starting the season in Edmonton. He could not play in the AHL. He could next season because he has played now four seasons in the OHL and is 20.
Eichel is also 18 years old. However, he plays for Boston University. There is no such rule prohibiting college players from playing in any particular league. The only rule is that once Eichel signs a pro contract, he is ineligible to play collegiately. Whoever picks him could leave him in college, sign him and play him in the NHL, AHL, or they could send him to a junior team (Saint John – QMJHL) happens to have his junior rights.
To try and make this simpler when figuring out who could potentially play for the Condors next year, ask these questions first:
Is he 18? Yes … move on to question 2
Does he play in the CHL and is under 20? If yes, then he's not playing in Bakersfield.
Does he play college hockey? If yes, then he would be eligible if signed.
Does he play in Europe and is over 18? If yes, then he would be eligible if signed.
*NOTE: A player can play in the AHL at the conclusion of any of his junior seasons even if he is under 20. Theoretically, if Nurse's team is eliminated and Oklahoma City is still playing, he could join them this season. This actually just happened for former Condors F Brett Perlini's brother, Brendan, who is only 19 but will join Portland in the AHL for the playoffs because his junior season is over.
This is just one rule in a book of many that we will do our best to explain this summer as we move along and get set for Opening Night in October. Just wait till we delve into rookies, veterans, veteran exempts, and developmental players…. Head spinning? Good!
Best of luck to the Oklahoma City Barons who open up their first round series against San Antonio tonight at home.
If you have questions, feel free to shoot me an e-mail: rholt@bakersfieldcondors.com.
Until next time…
Ryan Holt enters his fifth season with the Condors. He once worked in the AHL when he was a punk senior in college with the Worcester Sharks. He thought he had life figured out back then. He didn't. Follow him on Twitter @CondorsHolty.
https://www.bakersfieldcondors.com/wp-content/uploads/2015/04/2015_04_23_HoltysBlog.jpg
380
669
condors
https://www.bakersfieldcondors.com/wp-content/uploads/2023/06/BAK-Website-Header_2324.png
condors
2015-04-23 08:33:00
2015-09-28 20:40:43
HOLTY'S BLOG: Welcome Back