So, Who ARE You? (Holty's Blog)
It has been a busy couple of days at the ECHL's league meetings which is why the blog is a little bit delayed.
But, I'd like to begin this blog by congratulating a colleague, Brad Urbani, on winning the ECHL's Ticket Executive of the Year award this week. It's recognition of not only his hard work, but also our hard working sales team. Brad oversees the group and puts in yeoman's work making sure groups and fundraisers are successful.
Now for the blog…
The league meetings are a time for all teams to come together, share ideas, and better each other for the success of the league.
What is also fun is getting to meet teams from the Eastern Conference, other broadcasters that I've never met, and even league staff. The title of the blog is an inside joke from one of our social media breakout sessions. So, I'd like to list my "Three Stars" of the meetings that I've enjoyed seeing here in Vegas. They're not ranked. I don't want to hurt anyone's feelings since we still have a few hours left.
Again it's my blog, and I'll do what I want …
South Carolina Stingrays – The 'Rays have a good staff. They've sat in front of us during the general sessions and have chuckled at some things we've said and/or tweeted. Their broadcaster Joe Zackrzyziski (not really his last name, but I think he's related to the Duke basketball head coach and I don't feel like looking up his name) is a good guy. You can follow him on Twitter @JoeyZStingrays.
Evansville Icemen –The FIC is in the ECHL! If you don't know him, you need to. He has a book of broadcasting terms that he uses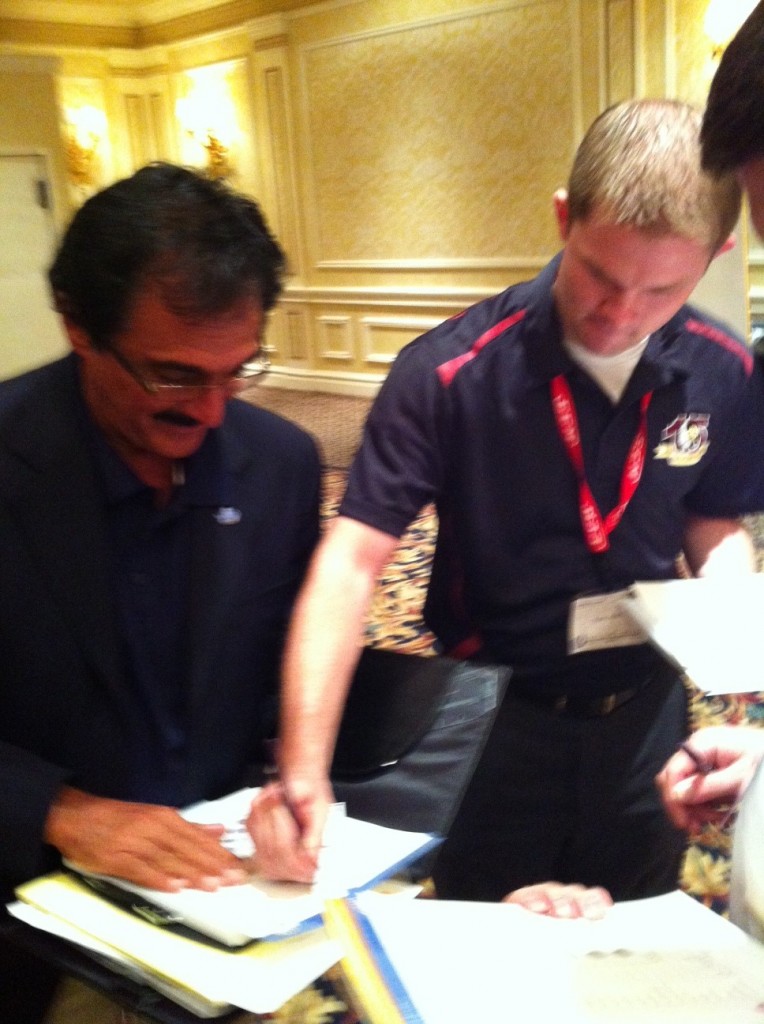 during his broadcasts called appropriately "The Fictionary." Bartl (@KevinBartl) knew him from his days in Rockford and The Fic was a legend then. He's exceeded expectations upon meeting him. It looks like he could get tan in Alaska and has the firmest handshake at the meetings. He's pictured on the right.
The ECHL Staff – Former #Condorstown employee Scott Frasnelly now works for the league so it's nice to catch up with him. But, the best part has been meeting Joe Babik who directs the league's communications efforts. Follow him on Twitter (@Joe_Babik).  He's always good for a laugh and a couple tweets. The league is doing a great job and really put on a good set of meetings this week with great speakers.
The blog is taking a few weeks off. Why? I'm heading back to Boston for a little vacation and to see family I haven't seen for 11 months. Follow on Twitter (@BroadcastHolt) for updates and pics from back home.
Until next time #Condorstown…
https://www.bakersfieldcondors.com/wp-content/uploads/2023/06/BAK-Website-Header_2324.png
0
0
condors
https://www.bakersfieldcondors.com/wp-content/uploads/2023/06/BAK-Website-Header_2324.png
condors
2012-06-22 13:44:11
2012-06-22 13:44:24
So, Who ARE You? (Holty's Blog)