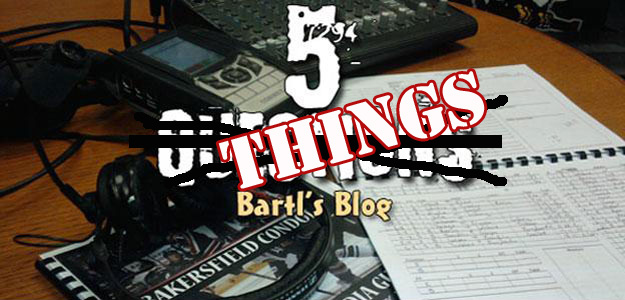 TRUE or FALSE… 5 Things that people say to me all the time (Bartl's Blog)
I come to you this week with randomness. Five topics of conversation I have had recently that need sorting out in my own head. But now I'm ready for those answers. Here are five comments that at least two people have said to me in the last couple weeks that deserve a little bit more attention… and why do I seem to have the Red Wings included in my blog every week? I don't even LIKE the Red Wings. Plus, I always liked to think they named their team after my hometown AAA baseball team, the Rochester Red Wings, who operated by that moniker since 1929 and are the only American sports franchise to win a league title in every decade of the 20th century. But I digress…….
5. Twitter isn't for me – FALSE. I'm told repeatedly this by all sorts of people, but they're all wrong. Here's why: unlike facebook, linkedin, Google+ and all sorts of other interconnectivity methods, twitter can be, but doesn't have to be, any of this.
If you want comic relief, just follow people who post funny things (I recommend @BronxZoosCobra, @TrooperTK421 for the Star Wars geeks, and @CountBettman for the hockey fans). If you want to just receive news, @CNNbrk sends out breaking news and @NPRNews is prolific in their tweets, while @Bakersfieldnow is the most active of the local stations – but they all have accounts and send their news to you at all times of the day. Meanwhile @wyshynski is Yahoo's "Puck Daddy" and between him and TSN's @DarrenDreger, I never have to worry about missing out on hockey information when it happens.
It's also specific to your interests. I'm a space junkie, so I follow @NASA, @NeilTyson (maybe the most famous astrophysicist on the planet), and @Astro_Ron – an astronaut currently residing at the International Space Station who TWEETS FROM SPACE. I'm not kidding. He blogs and tweets pics that will blow your mind. I'm a political junkie as well so I follow a list of my favorite politicians and political-related tweeters as well. I follow hockey agents, such as @37Hockey, who tweets whenever one of their clients signs anywhere (count Adam Naglich, Evan Stoflet, Stephane Goulet, Erick Lizon and other Condors and ECHL stars such as Mark Derlago among their clients).
The point is, twitter is whatever you want it to be, so just sign up and try it. If you don't like it, leave it. But don't knock it until you see what everyone has to offer. And this is now officially the longest #FF I've ever composed.
4. Parenthood is amazing – TRUE… mostly. Nothing brings on unsolicited opinions from casual acquaintances and strangers quite like having a pregnant wife and/or a newborn in tow. I've never been less offended by strangers asking questions about my wife's body before (is she breastfeeding???). But you get used to it. And being a new parent has its frustrations, but the developing human infant is a curious specimen.
3. Chris Osgood doesn't deserve to be in the Hall of Fame – FALSE. One of the great past times of sports fans is arguing the validity of a player's Hall of Fame status. I think Ozzie's status was solidified when Grant Fuhr was admitted in 2003 in his first year of eligibility. Here's my rationale: WIN. That's all. Just win. There are goalies in the Hall who wore hats during games in an era when it wasn't legal to pass the puck forward. There are guys like Harry Lumley in the Hall, who posted seven losing seasons in his career. There are guys like Frank Brimsek in the Hall who only played 10 seasons in the NHL and had a losing record in two of them. Basically, if you were a starting goalie for the Original Six in the 50's and 60's, you're in the Hall of Fame.
And it's OK to be in the Hall because you were a part of great teams, even if you weren't the greatest player at your position. Glenn Anderson is in, but without playing with Wayne Gretzky his stats probably would have looked a lot more like John MacLean. Johnny Bucyk is in, but take a look at his career stats and see if you can guess when his teammate Bobby Orr became a legend. And looking back on Osgood's career, he was continually counted out, only to come back and take the spotlight in net. It seems like Detroit themselves tried to replace him countless times, only to have him steal back the top spot and lead his team to playoff wins. He won 401 games and had 50 shutouts. He's 25 games over .500 with 15 shutouts in the playoffs. He was a starter for two Cup winners and reached the finals in another, while winning a third cup as a back up. His presence is not going to devalue the entire Hall of Fame. Let him in.
2. The Condors always finish the season hot and then lose in the playoffs – Mostly TRUE. Getting to the second round of the playoffs is no easy feat. I will however admit that finishing strong is a trend in Condorstown.
In the last six seasons, the Condors took a red-hot record into the post-season four times. Included in that are 15-3-1 (over the last 19 games, an .815 win%) last season, a 17-4-2 (23 games, .783) record in 2008-09, 11-3-1 (15 games, .767) in 2005-06 and a somewhat-modest 6-1-0 (7 games, .857) to finish 2007-08. This doesn't include the 10-1-1 record in the final 12 games of 2001-02, when Marty Raymond was brought on to assist Paul Kelly that season… this is appears to be a "Marty trend," as the three seasons prior to his arrival the Condors finished poorly.
On the flipside, one of the best Condors teams, in 2006-07, went 2-6-2 down the stretch, and later advanced to the 2nd round. That being said, I think fans would rather go 0-20-0 at the end of the regular season and win the Kelly Cup, but only one team can win their final game of the season, and I'll take my odds with the red-hot team heading into the playoffs every time.
1. Do you go home during the summer? – FALSE… Although Bakersfield IS my home, so that makes it kind of true, but other than that, this is the falsest statement on the list.
It never ceases to amaze me how often folks assume we don't do anything during the summer months. Those are probably the same people who think for a Saturday night game the staff shows up at 6 p.m. and opens the doors for the game while everyone comes running to the arena. It's not really their fault, many of them saw the ad on TV and decided to go to the game that night. They don't know that some of us show up around 10 a.m. for a weekend game and don't go home until 10 or 11 p.m. They don't know how long it takes to set up the arena for a game day. They don't know how many hours it takes to prepare game notes, interviews with the coach and players, posting it to the website and sending out game previews. They don't know that on any given night, 50 – 75% of the tickets sold were sold weeks, if not months, in advance by our sales staff.
The summer months are critical for us here in the office. Nevermind the recruiting and preparation that Coach O'Dette has to go through over the next 2+ months, but there are season tickets to be sold, corporate partnerships to mold, an entire schedule of promotions to book, sell and order, a media guide that needs to be written, flights that need to be reserved, new staff to get in place and prepare, etc., etc….
We are anything but bored here during the off-season, and it's the work that's done NOW that goes a long way in determining how successful of an organization we'll be during the upcoming season.
Kevin Bartl is the Vice President of Communications and broadcaster for the Condors, entering his 9th season with the team. His blog comes out every Tuesday. Follow him on twitter @KevinBartl.
https://www.bakersfieldcondors.com/wp-content/uploads/2011/07/Bartl-Blog-NEW1.jpg
300
625
condors
https://www.bakersfieldcondors.com/wp-content/uploads/2023/06/BAK-Website-Header_2324.png
condors
2011-07-26 11:34:43
2011-07-28 15:09:08
TRUE or FALSE… 5 Things that people say to me all the time (Bartl's Blog)