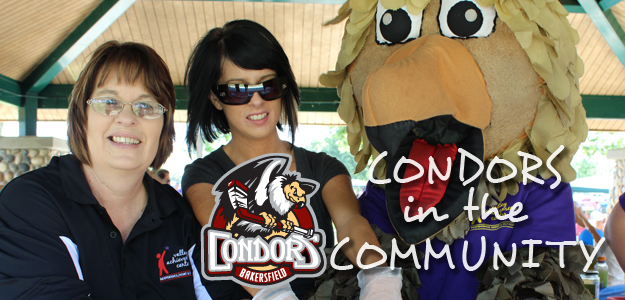 COMMUNITY UPDATE: Third Thursday and Relay for Life
THURSDAY, MAY 16TH:
Garza Lions Will Go to College and Career Day
Colonel Claw'd and Account Manager Doug Bushnell will join students and staff from Ramon Garza Elementary School during their annual celebration of "Garza Lions Will Go to College" from noon – 3:00 p.m. On this day, college graduates from the community will showcase their careers and importance of going to college to Garza students. Ramon Garza Elementary School is located at 2901 Center Street.
THURSDAY, MAY 16TH:
DBA Third Thursday
Cool off this Thursday with Colonel Claw'd and Condors front office staff  at the DBA's Third Thursday! The Condors  will have the inflatable slapshot booth and prize wheel set up to give everyone a chance to win cool Condors prizes. Be sure to stop by the Beer Garden provided by Advance Beverage Co. and say hello to V.P. of Communications Kevin Bartl. The festivities are from 5:30 p.m. – 8:30 p.m. at Central Park along 
Mill Creek
.
FRIDAY, MAY 17TH
End of the Year School Carnival
Students are in for a sweet treat with a surprise appearance from Colonel Claw'd at Millie Munsey Elementary School's end of the year carnival from 4:30 p.m. – 6:30 p.m. Millie Munsey Elementary School is located at 3801 Brave Ave.
SATURDAY, MAY 18TH
Relay For Life of Taft
Baby Cal will join hundreds at The American Cancer   Society Relay For Life from 10:00 a.m. – noon at Taft Union High School Track located at 701 Wild Way.
SATURDAY, MAY 18TH
Carter's Walk 4 Cured
Slapshot and Ticket Administration and Merchandising Manager Matthew Friedman will attend the 3rd annual Carter's Walk 4 CURED from 9:00 a.m. – 11:00 a.m. at Yokuts Park. Carter's Walk 4 CURED is a family fun day thatraises much needed funds for the CURED (Campaign Urging Research for Eosinophilic Disease) Foundation.
GET TICKETS!!
Ticket packages for the 16th season of Condors hockey are on sale now, with plans for a family of four starting at just $20 a month. Call 324-PUCK (7825) or click here for more information.
Best ways to use your season tickets, #73: Thank volunteers for their contribution.
https://www.bakersfieldcondors.com/wp-content/uploads/2013/05/2013-5-13-Community.jpg
300
625
condors
https://www.bakersfieldcondors.com/wp-content/uploads/2023/06/BAK-Website-Header_2324.png
condors
2013-05-13 16:36:42
2013-05-13 16:44:16
COMMUNITY UPDATE: Third Thursday and Relay for Life