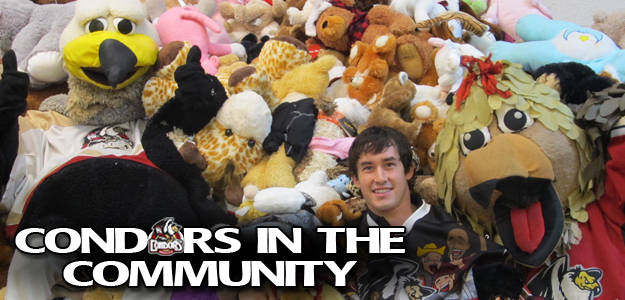 CONDORS COLLECT BEARS GALORE: 7,639 Stuffed Toys Go To Local Charity
Condors launch into the holiday season with special collections, appearances at schools, speaking engagements, and Condors bestow two special awards this week – Classroom of the Month & Spirit of Condorstown.
CONDORS HAVE BIG WEEK OF GIVING:
Last week, the Condors book-ended Thanksgiving with two meaningful collections. On Tuesday, fans were given $1 admission with the donation of a new toy for the Marines Toys for Tots program. On Saturday, fans participated in the Teddy Bear Toss, a Condorstown tradition for 14 years. Stuffed animals showered the ice when Evan Trupp scored the Condors first goal just over one minute into the game. A total 
7,639 bears
were collected by the United Way of Kern county to distribute to a variety of non profit organizations serving children. For highlights, 
click here
. Coverage from ESPN, 
click here
and on Yahoo! Sports Puck Daddy 
click here
.
MONDAY, NOVEMBER 26:
Evan Trupp, Ryan Holt, Baby Cal & Colonel Claw'd got an early start this morning helping the United Way count and sort the nearly 8,000 bears collected Saturday night.  If you missed Cambi Brown and 29 Eyewitness News Mornings coverage this morning, you can see footage starting tomorrow on the Condors website.
Team President Matthew Riley served on the review panel for Bakersfield High School's Virtual Business Presentation at 10:30 a.m.
TUESDAY, NOVEMBER 27:
Condors Evan Trupp, Nick Prockow, Alex Hudson, Scott Greenham, Assistant Coach Kevin Barrett and Baby Cal will read to the first grade classes at Bessie Owens Primary, 815 Potomac Ave., at 1 p.m.
Condors broadcaster Kevin Bartl hits the airwaves for his weekly appearance on the Scott Cox Show at 5 p.m. on KERN News Talk 1180.  Don't miss out on behind the scenes news and insights about the team and front office.
WEDNESDAY, NOVEMBER 28:
Colonel Claw'd joins the students of Colonel Nichols Elementary for their prize picnic at 11:30 a.m. Colonel Nichols is located at 3401 Renegade Ave.
THURSDAY, NOVEMBER 29:
Tune in to the Condors Insider for interviews with the players and coaches from 6-7 p.m. Hosted by Condors broadcast duo Kevin Bartl and Ryan Holt, Condors Insider can be heard on Fox Sports Radio 970 AM and the iheartradio app.
FRIDAY, NOVEMBER 30:
Matthew Riley is the guest speaker at the Kiwanis of Westchester meeting which is held at the Hilton Garden Inn, 3625 Marriott Drive, at 6:30 a.m.
Condors players, mascots & Director of Community Relations, Mikie Barrett, along with friends at La Campesina Radio & Brighthouse Networks will be presenting the second Classroom of the Month award for the 2012-2013 school year.
CONDORS HOME GAME: Friday, November 30
Condors honor the Northwest Baseball 10u All-Star Team that won the Cal Ripken World Series this summer in Bentonville, Arkansas. The team will be at the Condors game November 30 to receive a Spirit of Condorstown award. This is also the first SC Architect Condors Classroom Champions Night. Additionally, the first 2,000 fans 5 and older will receive a poster of Bakersfield native and NASCAR driver Kevin Harvick brought to you by KUZZ 107.9 & Budweiser.  Doors open at 6 p.m. and puck drops at 7 p.m. For more information or to get a great deal on tickets, call 324-PUCK (7825).
SATURDAY, DECEMBER 1:
Colonel Claw'd and account manager Pete Van Dame will join In the Wings Dance Studio for their Holiday Fair and parade in Frazier Park, CA starting at 2 p.m.
CONDORS KIDS CLUB
Join the coolest club in town for only $10! Sponsored by Wells Fargo, Kids Club members receive free lower level tickets to select Condors home games, an official ID badge, Kids Club gift, exclusive party with the team and free admission to the Kids Zone all season long!  You can sign up in the office or online by clicking on 
CondorsKids
.

https://www.bakersfieldcondors.com/wp-content/uploads/2012/11/2012-11-26_In-the-Community1.jpg
300
625
condors
https://www.bakersfieldcondors.com/wp-content/uploads/2023/06/BAK-Website-Header_2324.png
condors
2012-11-26 17:07:07
2012-11-26 17:30:22
CONDORS COLLECT BEARS GALORE: 7,639 Stuffed Toys Go To Local Charity