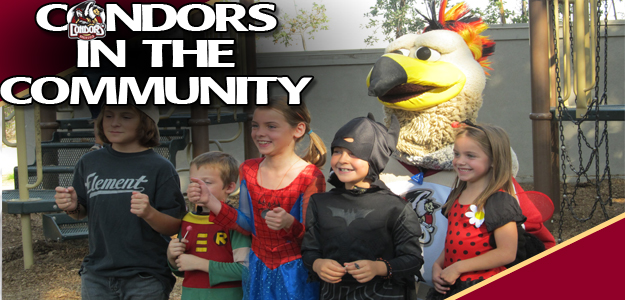 CONDORS IN THE COMMUNITY: Colonel Claw'd and Baby Cal to appear at Kern County Museum Safe Halloween
This week in Condorstown: It's almost Halloween and Colonel Claw'd, Baby Cal and Slapshot are gearing up to get down at a few of the local extravaganzas, as well as several school appearances.
Tuesday, October 25th
Baby Cal and Condors staff will visit Old River Elementary School, located at 9815 Campus Park Drive, from 11:15 a.m.-1:30 p.m., to join the students during their lunch breaks. The Old River Elementary students will be having an assembly that morning to learn about jobs in the community. Baby Cal will inspire the students to fly high in their future careers!
Thursday, October 27th
The East Bakersfield High School M.O.V.E. students will be joined by Baby Cal and Condors staff for the 5th Annual Halloween Bash, from 9:30-11 a.m., to be held in their new gym located at 2200 Quincy St. Baby Cal has her dancing shoes ready to go and is looking forward to celebrating Halloween with these East High students!
"Condors Insider" hits the airwaves from 6-7 p.m. on Fox Sports Radio 970 AM, available online at www.foxsports970am.com or by downloading the iheartradio app on your smartphone. The show will feature interviews with coaches and players in addition to the ECHL plays of the Week and other guests.
The fun continues Thursday night as the Bakersfield Condors staff will have a table at the Bakersfield Business Expo, to take place at the Rabobank Convention Center, located at 1001 Truxtun Ave. The Condors staff will be at the Expo from 4-8 p.m., holding a raffle for a family 4 pack of tickets! What could be better on a Thursday night than winning 4 free tickets to a Condors game?
Friday, October 28th
Condors broadcaster Kevin Bartl will make his weekly visit to The Scott Cox Show, on KERN Newstalk 1180 AM, at 8:30 a.m. to discuss the upcoming weekend games. The Scott Cox show airs weekdays from 8 – 10 a.m.
Saturday, October 29th
Baby Cal, a Condors player and staff will be joining SmileWorld Dental for the grand opening of their new location at 2750 Ming Ave., from 11 a.m.-3 p.m. Come out for
this great celebration and win some Condors prizes!
Sunday, October 30th
Colonel Claw'd and Baby Cal will be joining the festivities at the Kern County Museum Safe Halloween event! The Kern County Museum is located at 3801 Chester Ave. The party goes from 4-8 p.m., so don't miss out on seeing everyone's favorite mascots live in action!
Get Tickets:
Back from the road, the Condors are getting ready to hit the ice at Rabobank Arena on Friday October 28th and Saturday the 29th. With back-to-back games, you have double the chances to catch the action!
On Friday, the team hosts the Idaho Steelheads at 7 p.m. with an appearance by the most famous fans in the NHL, "The Green Men." Also everyone in attendance will receive a Condors magnet schedule courtesy of Fox Sports Radio 970 AM and Bakersfield Hyundai.
On Saturday, the Condors take on the Las Vegas Wranglers at 7 p.m. on Star Wars Night sponsored by ABC23 and KERN 1180 AM. Meet and pose for pictures with your favorite Star Wars characters as well. Everyone in attendance will receive a team poster. Don't miss a second of the action!
Ticket packages, starting as low as $48, are on sale now by calling the Condors front office. Special group rates are available for a minimum of just 10 people (advanced purchase required). Reserve your group or party today by calling 324-PUCK (7825). Individual tickets are on sale through Ticketmaster and the Rabobank Arena box office by calling 1-800-745-3000. Box office hours are 10 a.m.-6 p.m. Monday thru Friday and 10 a.m.-4 p.m. on Saturdays with extended hours on game and event days. For more information on ticket packages, exciting promotions, and to sign up for the Kids Club for just $10, visit the online home of the Condors, www.bakersfieldcondors.com.
https://www.bakersfieldcondors.com/wp-content/uploads/2011/10/2011-10-25-In-the-Community.jpg
300
625
condors
https://www.bakersfieldcondors.com/wp-content/uploads/2023/06/BAK-Website-Header_2324.png
condors
2011-10-25 09:26:05
2011-10-25 09:31:56
CONDORS IN THE COMMUNITY: Colonel Claw'd and Baby Cal to appear at Kern County Museum Safe Halloween