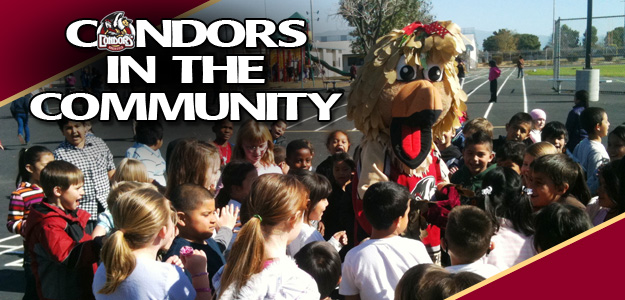 Condors in the Community: Colonel Claw'd to appear at AYSO Bakersfield Sports Village on Saturday
This week in Condorstown:
TODAY!
The Condors host their 14th Annual Charity Golf Classic at RiverLakes Golf Course in Bakersfield. The event teed off at noon. Players are paired with foursomes in competition for great prizes and plenty of fun! All proceeds from the event benefit the Kern Bridges Youth Homes.
Wednesday, October 19th
Baby Cal and Condors staff will head to Rosedale North Elementary School, located at 11500 Meacham Road, from 9-11 a.m. where students will get to hang out with Baby Cal while listening to celebrity readers. A member of the Condors staff will read to the students while Baby Cal will entertain.
Thursday, October 20th
Thursday marks the 2011-12 debut of "Condors Insider," from 6-7 p.m. on Fox Sports Radio 970 AM, available online at www.foxsports970am.com or by downloading the iheartradio app on your smartphone. The first show will feature interviews with coaches and players in addition to recapping the first week of games in the ECHL. It will also feature the return of the popular segment Frasnelly's Over/Under!
Friday, October 21st
Condors VP of Communications, Kevin Bartl, will be a guest on the Scott Cox Show on KERN Radio 1180 AM at 8:30 a.m. Tune in!
Saturday, October 22nd
Baby Cal will entertain walkers and help cheer them on at the National MS Walk at Yokuts Park from 9:30-11:30 a.m. More than 2,000 walkers are expected to take part in the event with the goal of raising over $100,000 to support thousands of people with MS and their families in Kern County. Yokuts Park is located just off of Empire Drive, north of the Truxtun Avenue extension.
While Baby Cal is off at the National MS Walk, Colonel Claw'd and members of the Co
ndors staff will appear at the AYSO Bakersfield Sports Village, located along Taft Highway between Ashe and Gosford Rd., from 8-11 a.m. While the soccer games are going on, Colonel Claw'd will entertain fans, take pictures, and staff will hand out information regarding upcoming games. Teams in AYSO Region 73 are holding a Family Fun Night at the Condors game on Saturday, October 29th to help raise money for their concession stand building fund. To find out more information regarding how you can hold a group fundraising outing to help support your organization at a Condors game, click here.
Slapshot, the mascot and Condors staff will head to Kids Day at CALM Zoo, located at 10500 Alfred Harrell Highway, from 2:30-4:30 p.m. Slapshot will entertain guests and check out the exhibits with the kids. Kids are admitted free to the zoo on the last Saturday of every month at CALM.

Get Tickets:
The Condors hit the road for three games this week, but return to Rabobank Arena on October 28th and 29th. On Friday, October 28th the team hosts the Idaho Steelheads at 7 p.m. with an appearance by the most famous fans in the NHL, "The Green Men." Also everyone in attendance will receive a Condors magnet schedule courtesy of Fox Sports Radio 970 AM and Bakersfield Hyundai. On Saturday, October 29th the Condors take on the Las Vegas Wranglers at 7 p.m. on Star Wars Night sponsored by ABC23 and KERN 1180 AM. Meet and pose for pictures with your favorite Star Wars characters as well. Everyone in attendance will receive a team poster.
https://www.bakersfieldcondors.com/wp-content/uploads/2011/10/2011-10-17-community-release.jpg
300
625
condors
https://www.bakersfieldcondors.com/wp-content/uploads/2023/06/BAK-Website-Header_2324.png
condors
2011-10-17 12:52:16
2011-10-17 15:40:49
Condors in the Community: Colonel Claw'd to appear at AYSO Bakersfield Sports Village on Saturday