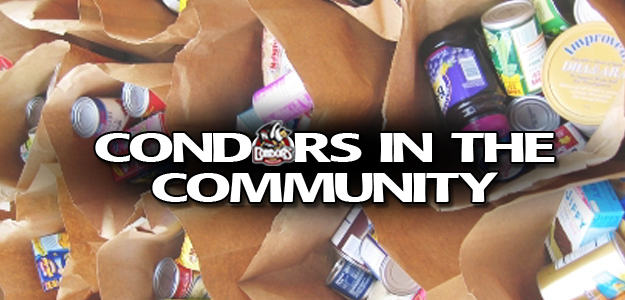 CONDORS IN THE COMMUNITY: Condors Collect Canned Food for Homeless Center Tonight!
CANNED FOOD COLLECTION GETS YOU INTO CONDORS GAME FOR $1:
Bring in two non-perishable food items and receive $1 admission to the Condors home game tonight! Sponsored by the Kern County Farm Bureau, My 45 and La Preciosa, tonight's canned food collection benefits the Bakersfield Homeless Center.
Condors Vice President of Communications, Kevin Bartl, hits the airwaves for his weekly appearance on the Scott Cox Show at 5 p.m. on KERN News Talk 1180. Don't miss out on behind the scenes news and insights about the team and front office.
WEDNESDAY, JANUARY 16:
Colonel Claw'd will be on hand to help the Alzheimer's Disease Association of Kern County during their 1st Annual "Pennies for Your Thoughts" cinnamon roll fundraiser. From 6 a.m. to 10 a.m. you can pick up Hodel's cinnamon rolls and coffee with a minimum $10 donation.  The event is taking place across from KGET studios at 2120 L Street.
After filling up on cinnamon rolls, Colonel will head over to Lil' Explorers preschool, 8800 Harris Road,  at 9 a.m. Director of Community Relations, Mikie Barrett, and Colonel Claw'd will bring some hockey equipment for the kids to try on and answer all their hockey questions.
Assistant Coach Kevin Barrett & Goalie Scott Greenham appear on  educational show 'Do The Math'
THURSDAY, JANUARY 17:
The students atLiberty High School are following in Condors footsteps and hosting their first ever "Teddy Bear Toss" during a pep rally at  9 a.m. Condors mascot Colonel Claw'd will be on hand to help collect the bears and give them to the United Way to distribute to local charities.
Baby Cal will cheer on joggers at Del Rio Elementary from 12:30-2 p.m. during their Run for Ronald fundraiser for the Ronald McDonald House. Del Rio Elementary is located at 600 Hidalgo Drive in Bakersfield.
Tune in to Condors Insider for interviews with the players and coaches from 6-7 p.m. Hosted by Condors Vice President of Communication, Kevin Bartl, Condors Insider can be heard on Fox Sports Radio 970 AM and the iheartradio app.
FRIDAY, JANUARY 18:
Sing Lum Elementary, 4600 Chaney Lane, will have a visit from Baby Cal at 8:45 a.m. to kick off their ticket fundraiser with the Condors.
Mikie Barrett and Baby Cal will be celebrity readers at Christa McAuliffe School, 8900 Westwold Drive,  at 1:45 pm.
SATURDAY, JANUARY 19:
Condors staff members Greg Lowe & Brad Urbani, along with mascots Colonel Claw'd & Baby Cal, will attend the American Cancer Society Relay for Life event beginning at 9:30 a.m.  at the Brighthouse Networks Ampitheater, 11200 Stockdale Highway.
CONDORS KIDS CLUB: IT'S NOT TOO LATE TO JOIN!
Join the Kids Club today for only $10!
Sponsored by Wells Fargo, Kids Club members receive free lower level tickets to select Condors home games, an official ID badge, Kids Club gift, exclusive party with the team and free admission to the Kids Zone all season long!  The next Condors Kids Club game is Friday, February 15  which is also Rope Necklace giveaway night! You can sign up in the office or online by clicking on  
CondorsKids
.
HOCKEY-THON REGISTRATION NOW OPEN:
The 9th Annual Bakersfield Hockey-Thon will take place
March 23-24, 2013.  Players of all ages and skill levels are welcome to participate and help raise funds for Links for Life, a local breast cancer resource center. For more information about the event or to register today – click here.

https://www.bakersfieldcondors.com/wp-content/uploads/2013/01/2013-01-15_In-the-Community.jpg
300
625
condors
/wp-content/uploads/2022/08/WebSite-Top-Bar-1.png
condors
2013-01-15 16:35:35
2013-01-15 16:35:35
CONDORS IN THE COMMUNITY: Condors Collect Canned Food for Homeless Center Tonight!