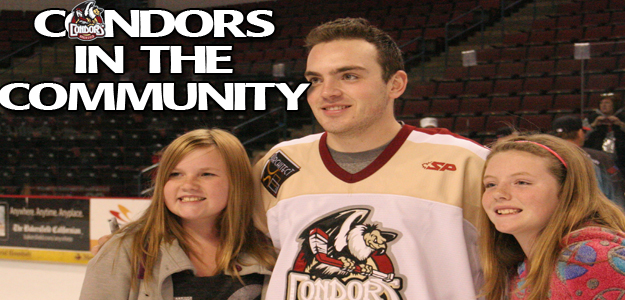 SAVE THE DATES!
The always anticipated "Tip A Condor" event will be held at Hooters, located at 4208 Rosedale Highway Suite 100 on Tuesday, February 21st. Time TBD. Don't miss out on this great chance to interact with the players as they serve your food. There will also be plenty of items up for auction and fun had by all! The event benefits Shriners Hospital for Children.
Another highlight to the Condors calendar has been set as well with "Ladies Night" to be held on Monday, March 12. Time TBD. It's a special event for the Condors women only as they get special tours of the rink, instruction from the players and coaches, and have an opportunity to ask the team plenty of questions! If you're looking to learn more about the game and the team, this is definitely the event for you.
For more information on either of these events, call 324-PUCK (7825). There will be more information to follow in the coming weeks.
Be on the Lookout for Bakersfield Life Magazine:

Condors D Tyson Gimblett will appear in the February edition of Bakersfield Life magazine as a Sizzlin' Single! For more information, click here.
This week in Condorstown: Tues. January 17th:
Baby Cal and Condors staff will kick off a fundraiser at Highland High School from 12-1 p.m. The school is located at 2900 Royal Scots Way. The Condors provide great incentives and are excellent for raising money for your school. To find out how you can use the Condors to help yours, click here.
Thurs. January 19th:
Condors Insider
takes a week off, but that doesn't mean there isn't Condors talk on the airwaves! Tune in as the Condors open up a series with Utah in West Valley City at 6 p.m. PT. Listen live on Fox Sports 970 AM, online at
www.foxsports970am.com,
or through the iheartradio app. The game will be streamed live on
www.americaone.com.
Fri. January 20th:
A Condors player will head to Berkshire Elementary School at 1:45 p.m. along with Baby Cal. The player will read some of his favorite selections to the students. The school is located at 3900 Berkshire Road.
Condors broadcaster Kevin Bartl will once again be a guest on the Scott Cox Show at 4:00 p.m. on KERN Radio 1180 AM. He'll have all the scoop on what's going on in Condorstown. To hear his appearance on last week's show, click here.
The Condors finish up a two-game set against the Grizzlies in Utah at 6 p.m. PT. Listen live on Fox Sports 970 AM, online at www.foxsports970am.com, or through the iheartradio app. The game will be streamed live on www.americaone.com.

Sat. January 21st:
Baby Cal and Colonel Claw'd will team up for the 9th Annual Bowling Scholarship Tournament held at Southwest Lanes from 1:45-2:45 p.m. The lanes are located at 3610 Wible Road. Come bowl a string with your favorite Condors mascots!
It's that time of year again: Girl Scouts Cookie Sales! Baby Cal will head to the Fairgrounds in Bakersfield from 7:30-8:30 p.m. to help kick off the sales. We all know that the Condors love Girl Scouts Cookies, so come down and order a box yourself!
Mon. January 23rd:
The Condors and Baby Cal will rally Veterans Elementary School for a fundraiser they're doing later in the season from 11:30-12:30 p.m. The school is located at 8301 Old Farm Road.
Get Tickets:
Pick-4 Plans are the perfect plans for the Condors fan on the run. Choose four games that fit around your schedule. Plans start at just $32. For more information or to reserve your tickets call 324-PUCK (7825) today.
Individual tickets are on sale through Ticketmaster and the Rabobank Arena box office by calling 1-800-745-3000. Box office hours are 10 a.m.-6 p.m. Monday thru Friday and 10 a.m.-4 p.m. on Saturdays with extended hours on game days. The box office is closed on Saturday, December 24th. For more information on ticket packages, exciting promotions, and to sign up for the Kids Club for just $10, visit the online home of the Condors, www.bakersfieldcondors.com.
https://www.bakersfieldcondors.com/wp-content/uploads/2012/01/2012-1-16-Comm-Update.jpg
300
625
condors
/_media/logo_1819.png
condors
2012-01-16 15:09:50
2012-01-16 16:29:07
Condors in the Community – Fundraisers, Girls Scout Cookies and Tip-A-Condor!