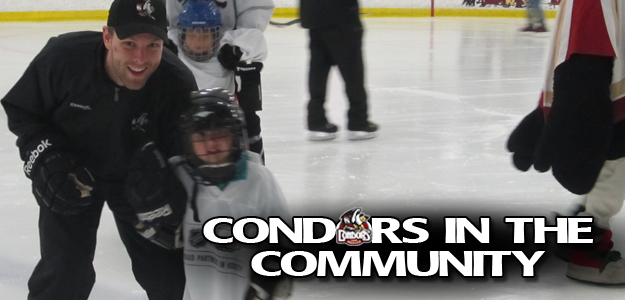 CONDORS IN THE COMMUNITY: Player Helps Build Playground & Bartl Shares Condors Secrets
November 5, 2012
Condors V.P. speaks at Chamber seminar about how Condors create media buzz. A Condors player & front office member help install new playground at CALM. Last chance to get your school or group signed up for Condors 9th Annual Field Trip Educational Day – Thursday, November 15.
TUESDAY, NOVEMBER 6:
Baby Cal and Director of Community Relations, Mikie Barrett, will be guests at the Valley Plaza Mall Kids Club at 10 a.m.
Vice President of Communications, Kevin Bartl, will be a guest presenter at the Greater Bakersfield Chamber of Commerce seminar Creating A Buzz About Your Business beginning at 11:30 a.m. Bartl will speak about how the Condors use creative media and projects to keep the Condors in the spotlight.
Zach Cohen speaks to 2nd Graders at Olive Drive Elementary
Condors front office members Greg Lowe, Wendy Carpio & Andrew Boydston will attend the Downtown Business Association's November Mix & Mingle being held at Manuel's Casa de Mariscos from 5:30-7 p.m.
WEDNESDAY, NOVEMBER 7:
Due to special election coverage, Condors broadcaster Kevin Bartl hits the airwaves on Wednesday for his weekly appearance on the Scott Cox Show at 5 p.m. on KERN News Talk 1180.  Don't miss out on behind the scenes news and insights about the team and front office.
THURSDAY, NOVEMBER 8:
Tune in to the Condors Insider for interviews with the players and coaches from 6-7 p.m. Hosted by Condors broadcaster Kevin Bartl, Condors Insider can be heard on Fox Sports Radio 970 AM and the iheartradio app.   
SATURDAY, NOVEMBER 10:
A Condors player and Account Manager Pete Van Dame will help install a new playground for CALM, 10500 Alfred Harrell Highway, at 7:45 a.m.
SUNDAY, NOVEMBER 11:
Baby Cal will be present to kick off Kern County Family Week at Sequoia Middle School, 900 Belle Terrace, at 3 p.m. Kern County Family Week runs November 11-17, 2012 and is part of National Family Week, supporting families and children in the community.
CONDORS 9th ANNUAL FIELD TRIP DAY NOVEMBER 15:
It's not too late to bring students out to the Condors Annual Field Trip Day game on Thursday, November 15 at 10:30 a.m. For just $5 per student, the event includes lunch and an informative 16 page educational booklet that can be utilized back in the classroom.  For information on how you can bring out a group or school call the Condors office (661) 324-PUCK (7825).
CONDORS KIDS CLUB
Join the coolest club in town for only $10 and you will receive free lower level tick
ets to 6 select Condors home games, an official ID badge, Kids Club gift, exclusive party with the team and free admission to the Kids Zone all season long!  You can sign up in the office or online by clicking on CondorsKids.

https://www.bakersfieldcondors.com/wp-content/uploads/2012/11/2012-11-05_In-the-Community.jpg
300
625
condors
https://www.bakersfieldcondors.com/wp-content/uploads/2023/06/BAK-Website-Header_2324.png
condors
2012-11-05 15:49:30
2012-11-05 16:08:30
CONDORS IN THE COMMUNITY: Player Helps Build Playground & Bartl Shares Condors Secrets