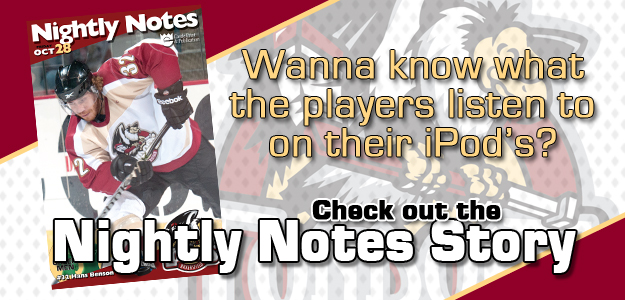 Nightly Notes: What do I listen to before games?
From the October 28th Nightly Notes
It is no secret that hockey players are a little superstitious when it comes to their pre-game routines. From the way they tape their stick, to the way they put their equipment on, for most guys everything is done very meticulously and in a specific order.
One part of the pre-game ritual that the Condors will go through at least 72 times this season, is the music they listen to prior to stepping out onto the ice. Coming from different parts of the United States and Canada, no two IPods are alike in the dressing room.
At any given time, from the moment the players arrive until the team lines up in the tunnel, you can find the team listening to music. For some Condors, it is a personal thing with headphones on.
"I have a wide range on my pre-game mix," said F Mike Kramer, speaking of his playlist. "I like a lot of country, techno, and rap before a game. But, sometimes I enjoy the old school guys like (Bruce) Springsteen. It's kind of whatever mood I'm in is what I listen to."
For other Condors, they don't mind sharing the music with other players by using the large (and LOUD) sound system in the Condors locker room.
"Lately, I've just been enjoying what has been playing in the locker room," said rookie D Jimmy Martin. "Normally, I'm a country guy, but the upbeat, pump-up stuff that has been playing on the IPod has been great. To be honest, I don't even know whose IPod it is, but I like it."
D Alain Goulet, who mixes music in his spare time, doesn't listen to his own creations prior to the game. Like Jimmy, he enjoys the music in the locker room, but for a different reason. "I just listen to whatever is playing in the locker room (instead of on earphones), because I don't want to miss what the guys are saying or what is going on around me," said the Ontario native.
No matter which way the Condors prefer to listen to their pre-game tunes, D Adam Ross summed it up best: "It gets you pumped up for the game and puts you in the right mind set to play well," said Ross.
Oh, and by the way, he'll have the techno blasting in his ears prior to tonight's game.
https://www.bakersfieldcondors.com/wp-content/uploads/2011/10/2011-10-27-Nightly-Notes-Ipod.jpg
300
625
condors
https://www.bakersfieldcondors.com/wp-content/uploads/2023/06/BAK-Website-Header_2324.png
condors
2011-10-27 14:31:29
2011-10-27 14:31:29
Nightly Notes: What do I listen to before games?