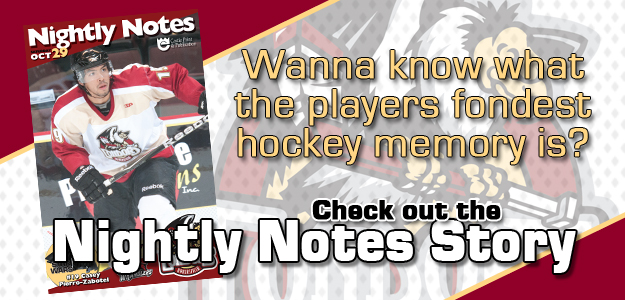 Nightly Notes: What's your earliest childhood hockey memory?
From the Oct. 29 Nightly Notes:
"I was eight and my dad took a slap shot that took off the nail on my big toe."
How's that for your first childhood hockey memory?
If you're Condors goaltender Bryan Pitton, the eight year old with the hard-shooting father, probably not very well.  "I just remember getting that first set of goalie gear and trying it on the garage as my brother and father took turns shooting on me," Pitton recalled. "It was the first time I had ever put on my pads and I've been a goalie ever since."
Things got better though for the eight-year old from Ontario, including getting to play with his brother in the professional ranks years later.
The Condors have plenty of stories to recant about the way they were introduced to the game and their first strides in the hockey world.  From getting their first set of gear to stepping out onto the ice for the first time, everyone has a personal story to tell.
Defenseman Keith Wynn is known for his physical style of play on the blue line now, but it wasn't always a good thing in his career.  "I was about five or six and about to play my first game when I asked the coach if we could check," said Wynn.  "He must have thought I meant stick check, because I got out there and starting laying guys out, which I guess wasn't allowed.   It was lack of communication, but it was pretty funny."
That was the first time Keith had laced up his skates in a real game.  He's played many more since and Condors fans are happy that he's allowed to check, both with his stick and body.
Hockey has a magnetic effect which draws guys into the game.  Try telling that to Condors rookie Thomas Frazee.  He didn't even want to play hockey until one fateful day at the mall. "My parents and I were at the mall to buy me some things for tee-ball which I was set on playing," said Frazee.  "But we walked into Zeller's (a department store), and I saw hockey skates on the shelf.
"Next thing I knew, we bought the skates and I was signed up to play hockey the next day."
Let's hope that the team can create a few more memories in Condorstown this season!
https://www.bakersfieldcondors.com/wp-content/uploads/2011/10/2011-10-27-Nightly-Notes-fond-memory.jpg
300
625
condors
https://www.bakersfieldcondors.com/wp-content/uploads/2023/06/BAK-Website-Header_2324.png
condors
2011-10-29 08:39:48
2011-10-29 08:39:48
Nightly Notes: What's your earliest childhood hockey memory?