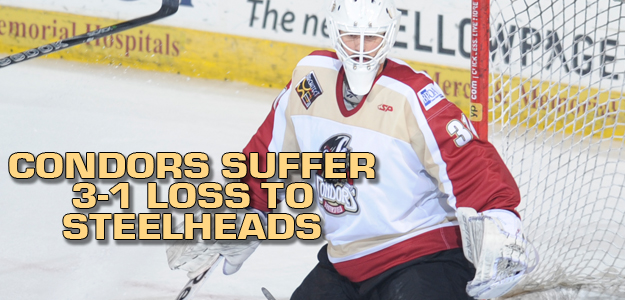 52 Shots Not Enough as Condors Fall in Idaho, 3-1
BOISE, Idaho – The Bakersfield Condors (18-36-4-2, 40pts) fired 52 shots and did not record a penalty, but could not overcome G Jerry Kuhn and the Idaho Steelheads (24-29-2-5, 55pts) and fell 3-1 on Wednesday night at CenturyLink Arena.
Bakersfield peppered Idaho's netminder Kuhn with 15 shots in the opening frame, including a breakaway chance from F Ian McKenzie, but Kuhn turned them all aside as the first period finished scoreless. Condors G Bryan Pitton made 12 saves.
The Steelheads broke the scoreless tie after F Derek LeBlanc drove a hard shot from the slot past Pitton at 4:46 to give Idaho a 1-0 lead. RW Chris Kushneriuk pulled the game back even, 8:45 into the period, collecting his rebound and putting it past Kuhn to make the score, 1-1. After a Condors power play, F Aaron Lewicki was able to sneak out of the box and snapped a shot past the blocker of Pitton at 12:16 to put the Steelheads in front for good at 2-1. Shots were 19-13 in favor of the Condors.
C Marty Flichel put the game out of reach after he intercepted a clearing pass and blasted a shot into the back of the net for an insurance goal and a 3-1 lead at 3:02 of the third. The Condors would fire 18 third period shots at Kuhn, but he turned them all aside in the final frame and preserved the victory for the Steelheads, 3-1.
Condors Droppings:
Tonight's meeting was the fifth of the season, the first in Boise, and the first since Nov. 12, 2011 between the two sides…Robby Dee had an apparent goal waived off in the first period after it was deemed Kyle Calder interfered with Jerry Kuhn…It was the third time this season that the Condors recorded 50+ shots this season and second time against Idaho…The Condors did not record a penalty for the first time this season…Ian McKenzie had his seven-game point streak come to an end (2g-8a)…Boise State University sophomore Will Gagnon served as the Condors emergency backup goaltender…Shots on goal: BAK- 52, IDH- 33… PP: BAK 0/3, IDH: 0/0… Three Stars: 1. Lewicki (IDH), 2. Flichel (IDH), 3. Kuhn (IDH).
Two Left in Boise
The Condors continue their series with the Idaho Steelheads, beginning on Friday at 6:10 p.m. Ryan Holt has the call, starting with Condors Countdown, at 5:50 p.m. on Fox Sports Radio 970 AM, iheartradio, and 
www.americaone.com.

Get Tickets
Individual tickets are on sale through Ticketmaster and the Rabobank Arena box office by calling 1-800-745-3000. Box office hours are 10 a.m.-6 p.m. Monday thru Friday and 10 a.m.-4 p.m. on Saturday with extended hours on gamedays. For more information on ticket packages, exciting promotions, and to sign up for the Kids Club for just $10, log on to
www.bakersfieldcondors.com
.


Follow the Condors all season long, for team news, player moves, promotions, and more on Twitter (@Condors) and Facebook (facebook.com/BakersfieldCondors). Be the first to know!
https://www.bakersfieldcondors.com/wp-content/uploads/2012/03/2012-03-07-Game-Recap.jpg
300
625
condors
https://www.bakersfieldcondors.com/wp-content/uploads/2023/06/BAK-Website-Header_2324.png
condors
2012-03-07 21:56:40
2012-03-07 21:57:25
52 Shots Not Enough as Condors Fall in Idaho, 3-1