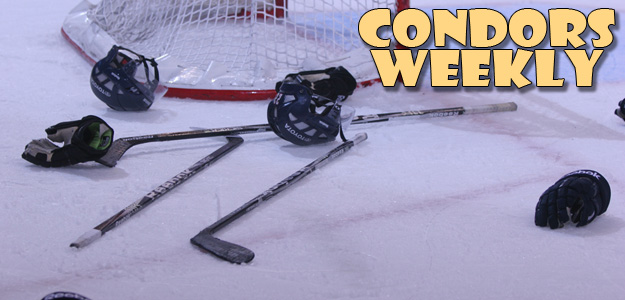 Big brawl, close games, highlight the week
CONDORSTOWN, Calif. – The Bakersfield Condors suffered a 0-2-1-0 week, with two one-goal heartbreakers, as they opened up a six-game homestand last week. Bakersfield is 10-29-4-1 on the season with 25 points in the standings.

THIS WEEK (ALL TIMES PACIFIC):
Wednesday, Feb. 1 vs. Stockton (7 p.m.)
Friday, Feb. 3 vs. Colorado (7 p.m.)
Saturday, Feb. 4 vs. Colorado (7 p.m.)
WEEK IN REVIEW (Home team in CAPS):
Wednesday, Jan. 25
Alaska 7 vs. CONDORS 6
The Condors and Aces staged a classic offensive showdown, with the Aces escaping with the narrow victory. F Tyler Helfrich and LW Jesse Gimblett both lit the lamp twice for the Condors, who at one point rallied back from a 5-2 deficit in the third period. F Ian McKenzie and F Parker Stanfield also scored for the Condors.
Friday, Jan. 27
Ontario 2 vs. CONDORS 1, OT
The Reign scored twice on the power play, including the game winning goal in overtime, to edge the Condors 2-1 Friday night. F Alex Hudson scored his first professional goal late in the second
period to tie the game at 1-1. G Bryan Pitton took the loss for Bakersfield, despite making 35 saves on the evening.
Saturday, Jan. 28
Ontario 5 vs. CONDORS 1
F Parker Stanfield scored the Condors lone goal, but perhaps the most memorable part of Saturday's game was the line brawl that erupted with just over a minute left in the contest. Sparked by a devastating body check by F Ian McKenzie, the Reign and Condors dueled to the tune of 278 penalty minutes, which included 15 game misconducts and a goalie fight between Bryan Pitton and Jean-Francois Berube.
PLAYER AND TEAM NOTES:
Several Condors records were set on Saturday night, including most combined penalty minutes (278), most combined PIM in a period (262) and most opponent PIM (131).
Saturday's game was exactly one year after the previous most penalized game in Condors history, Jan. 28, 2010 in Alaska, which led to 254 combined PIM and several suspensions.
D Tyson Gimblett was suspended for one game as a result of Friday's melee. He was assessed an instigator penalty, which, when it comes in the final five minutes of regulation automatically carries a one-game suspension. He will miss Wednesday's game against Stockton.
After one goal in his first 15 games, rookie F Parker Stanfield had two goals in three games last week.
F Alex Hudson became the ninth player to score his first professional goal for the Condors this season.
G Bryan Pitton has started four straight games in net, and seven of the last eight.
The Condors are 0-2 when scoring 6 goals this season.
Ontario and Bakersfield have concluded their 10 games season series already, still with two months left in the season.
UPCOMING SCHEDULE: (subject to change.)
All practices are at Rabobank Arena unless otherwise indicated
Tuesday, Jan. 31 – 10 a.m. practice
12:30 p.m. Media Roundtable**
Wednesday, Feb. 1 – 10 a.m. practice
7 p.m. vs. Stockton Thunder
Thursday, Feb. 2 – 11 a.m. practice
6 – 7 p.m. "Condors Insider" (FSR 970AM)
Friday, Feb. 3 – 10 a.m. practice
7 p.m. vs. Colorado Eagles
Saturday, Feb. 4 – 10 a.m. practice
7 p.m. vs. Colorado Eagles
Sunday, Feb. 5 – OFF
**-contact Condors Media Relations dept. for information
Student IDs, Valentines & Space Jerseys next week
The Condors homestand continues next week with three games at Rabobank Arena. Wednesday they host the Stockton Thunder for High School/College ID Night. Present your valid student ID at the box office and purchase a $1 lower level ticket.
Friday Colorado comes to town for a two-game weekend series, and the first 2,000 kids 12 and under will get a set of Condors Valentines, sponsored by My 45, KERI 1410AM and Farmers Insurance. The Valentines feature Condors players and hockey-related sayings like "PUCK-er up" or "Don't leave me shorthanded"!
Saturday the team will wear space jerseys for a Jersey Off Our Backs Night, sponsored by Bright House Networks, La Campesina 92.5, and Bud Light. Five of the jerseys will be given away for free and the rest will be auctioned off to benefit the Asthma and COPD Education Center.
CONDORS LEAGUE LEADERS:
Team Stats
23.77 PIM/Game – 1st
56 major penalties – 2nd
9 shorthanded goals – t-1st
Individual league leaders
RW Scott Freeman – 4 shorthanded goals (2nd)
RW Scott Freeman – 5 shorthanded points (t-1st)
LW Hans Benson – 13 major penalties (t-3rd)
RW Scott Free
man – 30 points (t-5th, rookies)
RW Scott Freeman – 15 goals (t-2nd, rookies)
F Robby Dee – 14 goals (t-4th, rookies)
RW Scott Freeman – 4 game winning goals (t-1st, rookies)
RW Scott Freeman – 4 shorthanded goals (1st, rookies)
F Robby Dee – 3 shorthanded goals (t-2nd, rookies)
F Tyler Helfrich – 18 assists (t-4th, rookies)
D Tyson Gimblett – 115 PIM (1st, rookies)
D Tyson Gimblett – 9 major penalties (t-2nd, rookies; t-2nd, defensemen)
CONDORS LEADERS:
Points: RW Scott Freeman, 30
Goals: RW Scott Freeman, 15
Assists: F Tyler Helfrich, 18
PIM: LW Hans Benson, 123
+/-: D Josh Van Dyk, +7
GAA: G Matt Keetley, 2.91
Save %: G Matt Keetley, .911
Wins: G Matt Keetley, 6
GET TICKETS:
Pick-4 Plans are perfect for Condors fans on the go – enjoy the benefits of being a season ticket holder, and pick the four games that you can make it out to! Plans start at just $32. For more information or to reserve your tickets call 324-PUCK (7825) today.
Individual tickets are on sale through Ticketmaster and the Rabobank Arena box office by calling 1-800-745-3000. The box office is open from 10 a.m. to 6 p.m. Monday through Friday. And 10 a.m. to 4 p.m. on Saturday, with extended hours on game days. For more information on ticket packages, exciting promotions, and to sign up for the Kids Club for just $10, visit the online home of the Condors, www.bakersfieldcondors.com.


Follow the Condors all season long, for team news, player moves, promotions, and more on Twitter (@Condors) and Facebook (facebook.com/BakersfieldCondors). Be the first to know!
https://www.bakersfieldcondors.com/wp-content/uploads/2012/01/2012-01-30-weekly.jpg
300
625
condors
https://www.bakersfieldcondors.com/wp-content/uploads/2023/06/BAK-Website-Header_2324.png
condors
2012-01-30 16:18:05
2012-01-30 16:18:05
Big brawl, close games, highlight the week