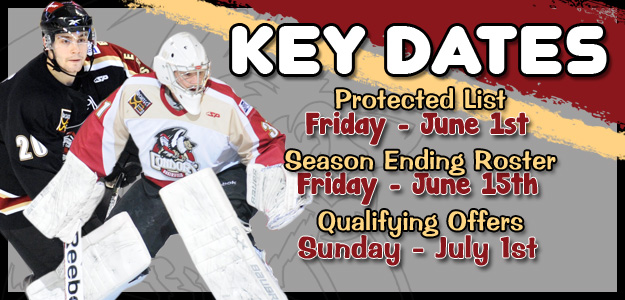 Condors announce Protected List
CONDORSTOWN, Calif. – The Bakersfield Condors today submitted their Protected List to the ECHL office. The list includes 29 players that qualified per league rules.
The Protected List is the first of three "lists" ECHL teams may use to reserve the rights of players for the 2012-13 campaign. Teams are allowed to protect as many players as they wish provided the players protected meet the guidelines as defined in the Collective Bargaining Agreement between the ECHL and the Professional Hockey Players' Association:
1. Signed a Standard Players Contract in 2011-12 with the Member, and has not been traded or released, OR
2. Signed a Standard Players Contract in 2011-12, and was recalled to the NHL/AHL or IIHF team, and has not been traded or released, OR
3. Had received a Qualifying Offer last summer for the current season, DID NOT sign an SPC, and has not been traded or released, OR
4. Has been suspended by the Member or League, and has not been traded or released, OR
5. Signed a Standard Players Contract on or after the first day of the 2011-12 regular season, then subsequently signed an NHL/AHL contract, and has not been traded or released, OR
6. Has executed the ECHL Retirement Form, and has not been traded or released
Of the 29 players, four were "qualified" by Bakersfield last
July and did not sign, two played for the team in 2011-12 and were subsequently suspended, and 23 were eligible off the 2011-12 roster to be protected.
Forwards
Hans Benson
Peter Boyd
Kyle Calder
J.D. Corbin (QO)
Robby Dee
Scott Freeman
Thomas Frazee (susp.)
Jesse Gimblett
Tyler Helfrich
Chris Kushneriuk
Ian McKenzie
Aaron Lewadniuk (susp.)
Erick Lizon (QO)
Parker Stanfield
Evan Trupp
Defensemen
Ryan Annesley
Erik Burgdoerfer
Jay Cascalenda (QO)
Scott Enders
Tyson Gimblett
Tyler Gotto (QO)
Joe Loprieno
Francis Meilleur
Justin Pender
Josh Van Dyk
Keith Wynn
Goaltenders
Scott Greenham
Matt Keetley
Bryan Pitton
The Condors have until June 15 to sign players off this list prior to submitting the Season Ending Roster. The Season Ending Roster may include up to 20 players and cannot include any players who did not sign an ECHL contract in 2010-11.
FREE DODGERS TICKETS & GOLF FOR FATHER'S DAY
From now until June 15th, show your dad how much you care by giving him the gift of Condors hockey, a trip to see the Dodgers, and a chance to hit the links at one of the area's premier golf courses for FREE today by calling any of the Condors sales representatives at 324-PUCK (7825) or crashing the net by clicking here. For every ticket plan purchased, receive Dodgers tickets and rounds of golf at the wonderful Buena Vista Golf Course for FREE. The Condors front office will be closed from Monday, June 4th through Friday, June 8th and will reopen on Monday, June 11th at 8:30 a.m.
FOLLOW THE CONDORS ALL OFF-SEASON LONG
Hockey returns to Condorstown in 135 days, but until then make sure to follow along with all that's happening with the team. From community appearances, to player signings and funny videos, stay up to date with what the team is doing away from the ice during the summer months. Click any of the links below to see the latest and as always set your homepage to
www.bakersfieldcondors.com
the web center of #Condorstown.

https://www.bakersfieldcondors.com/wp-content/uploads/2012/06/2012-05-29-Key-Dates.jpg
300
625
condors
https://www.bakersfieldcondors.com/wp-content/uploads/2023/06/BAK-Website-Header_2324.png
condors
2012-06-01 12:20:57
2012-06-04 09:29:24
Condors announce Protected List