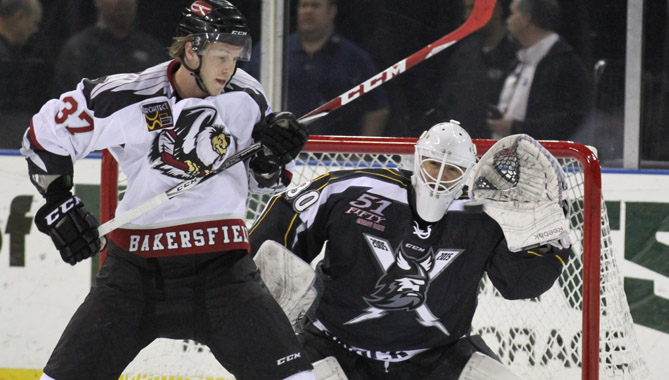 Condors drub Stockton, 7-4
STOCKTON, Calif. – The Bakersfield Condors (20-22-2-4, 44pts), owned by the Edmonton Oilers, took control early and never looked back in a 7-4 win over the Stockton Thunder (14-32-1-0, 29pts) on Wednesday night at Stockton Arena.
The seven goals scored was a season high for the Condors. D Nick Pageau and D Graeme Craig each finished a season-high +4 on the evening.
CONDORS GOAL: RW Sebastien Sylvestre (14) took a feed in front and snapped a shot past G Cody Reichard. Assists: Schaber, Currie; Time of goal: 4:52; BAK leads, 1-0
CONDORS GOAL: Sylvestre (15) with his second of the night, breaking down the left-wing and a shot from the left-wing circle. Assists: Currie, Craig; Time of goal: 6:53; BAK leads, 2-0
CONDORS GOAL: C Ryan Watson (3) broke in down the slot and deked by Reichard. Assists: Lessard, Nash; Time of goal: 10:51: BAK leads, 3-0
THUNDER GOAL: F Vinny Scarsella (10) deflected a shot at the top of the crease. Assists: Levi, Shattock; Time of goal: 11:16; BAK leads, 3-1
THUNDER GOAL: F Garet Hunt (7) knocked in a rebound on the power play. Assists: Levi, Phillips; TIme of goal: 15:00; BAK leads, 3-2
Shots: BAK – 15 | STK – 10
SECOND PERIOD
CONDORS GOAL: RW Jonathan Lessard (10) followed up his own rebound. Assists: Pageau, Levesque; Time of goal: 5:27; BAK leads, 4-2
CONDORS GOAL: LW Jordan Kremyr (9) potted home a rebound. Assist: Aliu; Time of goal: 6:33; BAK leads, 5-2
CONDORS GOAL: D Cameron Abney (1) hopped up on the forecheck, freed the puck up on the back wall, and tucked a backhanded shot past Reichard. Assists: Pageau, Craig; Time of goal: 18:09; BAK leads, 6-2
Shots: BAK – 13 | STK – 4
THIRD PERIOD 
THUNDER GOAL: F James Henry (10) tipped a point shot on the power play. Assists: Larocque, Shattock; Time of goal: 1:22; BAK leads, 6-3
CONDORS GOAL: D Akim Aliu (1) crept in the backdoor and blasted a shot home on the power play. Assist: Schaber; Time of goal: 8:26; BAK leads, 7-3
THUNDER GOAL: F J.T. Barnett (4) slid home a rebound on the power play. Assists: Henry, Phillips; Time of goal: 11:51; BAK leads, 7-4
Shots: BAK – 12 | STK – 10
GOALTENDERS
BAK: Tuohimaa (11-11-1-2; 24/20)
STK: Reichard (6-14-1-1; 40/33)
CONDORS DROPPINGS:
Three Stars: 1. Sylvestre (BAK) 2. Lessard (BAK) 3. Aliu (BAK)
Final shots: BAK – 40 | STK – 24
Power Plays: BAK – 1/4  | STK – 3/4
RW Sebastien Sylvestre collected his second multi-goal night of the season
C Ryan Watson made his return to Stockton Arena for the first time since scoring a natural hat trick in Game 5 of the 2014 Western Conference Semi-Finals to help eliminate the Thunder
LW Jordan Kremyr fought F Klarc Wilson in the second period. His 3rd fight of the season
Seven Condors had multi-point nights (Lessard, Sylvestre, Currie, Craig, Pageau, Aliu, Schaber)
The Condors have hit the 40-shot plateau three times this season; all against Stockton
RW Brendan Brooks, who signed in Germany, was suspended by the team earlier today
D Gentry Zollars made his Condors debut after being acquired from Reading earlier in the week
Cameron Abney and Akim Aliu each played defense for the second straight game
Scratches: F Nick MacNeil, D Ben Lindemulder, G Ty Rimmer, D Joe Marciano, D CJ Ludwig
UNDIE SUNDAY & 50 SHADES OF GREY JERSEYS – SUNDAY at 5:30 p.m.
The Condors have done it again with another nationally viral promotion – Undie Sunday and the
much talked about 50 Shades of Grey jerseys. Both happen THIS SUNDAY, Feb. 15 at 5:30 p.m. when the Condors take on Alaska. Bring new undergarments to the game and when the Condors score their first goal, throw them on the ice for charity. Items will be collected by Dream Builders. The Condors will also wear special "50 Shades of Grey" jerseys which will be auctioned off post-game for the Kern Adult Literacy Council. PLUS, win one of five to be given away.
Bring a ticket stub from Maya Cinemas showing you saw 50 Shades of Grey when it premieres tomorrow and receive a 2-for-1 ticket anywhere in the building. Take advantage of the Family Pizza Deal as well with four sodas and a family pizza for just $25, The night is sponsored by 97.3 JACK FM.
SAVE MONEY. GET A HAT TRICK 3-PACK!
Save over 20% and choose ANY three games to attend the REMAINDER of the regular season. Undie Sunday (Feb. 15), Youth Jersey Giveaway (Feb. 21) and Dodgers/Angels Batting Helmet Giveaway (Mar. 13) are all available with the Hat Trick 3-Pack. Packages start as low as $30, so get yours today by calling 324-PUCK (7825) or
click here
.
https://www.bakersfieldcondors.com/wp-content/uploads/2015/02/2015-02-11-Game-2-.jpg
380
669
condors
/wp-content/uploads/2022/08/WebSite-Top-Bar-1.png
condors
2015-02-11 23:16:14
2015-02-11 23:16:14
Condors drub Stockton, 7-4