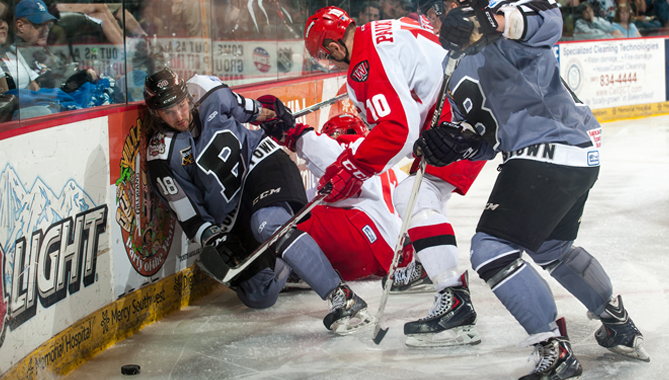 Condors fall, but panties fly on Undie Sunday
CONDORSTOWN, Calif. – The Bakersfield Condors (36-30-2-4, 76pts) fell 4-1 to the Las Vegas Wranglers (20-44-4-4, 48pts) Sunday evening at Rabobank Arena, but C Joel Broda's goal late in the game launched a successful Undie Sunday toss, sending a stream of underwear, socks and diapers onto the ice for charity.
The Condors finish the season in 6th place, and will face the Utah Grizzlies in the opening round of the Kelly Cup Playoffs. The complete series schedule is below.
1st Period
Wranglers goal: F Robert Smith scored the first goal of the game at 17:05; LV leads 1-0
Shots: BAK – 8 | LV – 8
2nd Period
Wranglers goal: F Chris Kushneriuk with a shot that deflected off his skate and in at 2:52; LV leads 2-0
Wranglers goal: F Shawn Skelly tipped a shot home at 13:27; LV leads 3-0
Shots: BAK – 8 | LV – 10
3rd Period
Wranglers goal: C Justin Bernhardt chipped in a goal to finish an odd-man rush at 11:53; LV leads 4-0
CONDORS goal: C Joel Broda (21st) fired home a loose puck on the power play (Knackstedt, Thurber assists) at 18:58; LV leads 4-1
Shots: BAK – 20 | LV – 4
W: Fullerton (14-22-4-2; 38/37)
L: Pickard (6-11-0-1; 20/16)
Undie Sunday brought a rain of underwear, socks, bras, diapers and socks down onto the ice. Nearly 6,000 clothing items were collected, including 1,096 pairs of socks, 2,773 pair of underwear, 1,747 diapers and 55 bras, among other items. The items will be donated to the Mission at Kern County and the Kern County Network for Children.
Condors droppings:
Three Stars: 1. Fullerton (LV), 2. Broda (BAK), 3. Smith (LV)
Final shots: BAK – 38 | LV – 20
Power plays: BAK – 0/4 | LV – 1/2
LW Greg Miller and RW Jordan Knackstedt finished tied for the team lead with 51 points
Knackstedt had 18 points (7g-11a) in his final 14 games
Miller and C Joel Broda finished tied for the team lead in goals with 21.
D Joey Leach made his return City (AHL).
Scratches: Pageau (21-IR), Bunz (21-IR), Hughes, Steffes, Joe
OPENING ROUND OF THE PLAYOFFS
Condors (#6) vs. Utah Grizzlies (#3)
**Next home game: Game 3, Tuesday, April 22, 7 p.m.
G1 – BAK @ UTA, Fri, 4/18 @ 6 p.m.
G2 – BAK @ UTA – Sat, 4/19 @ 6 p.m.
G3 – UTA @ BAK – Tues, 4/22 @ 7 p.m.
G4 – UTA @ BAK – Thurs, 4/24 @ 7 p.m.
G5 – UTA @ BAK – Fri, 4/25 @ 7 p.m. (if necessary)
G6 – BAK @ UTA – Sun, 4/27 @ 6 p.m. (if necessary)
G7 – BAK @ UTA – Wed, 4/30 @ TBA (if necessary)
The first round of the playoffs is sponsored by Dignity Health & Cal Water.

Tune In:
All games, home and away, can be heard on Fox Sports Radio 970 AM (www.foxsports970am.com), through your mobile device on iHeartRadio, or pay-per-view online at www.AmericaOneSports.com. "Condors Countdown" starts 15 minutes prior to the drop of the puck.
"Condors Unleashed" weekly live webcast produced by the Bakersfield Californian can be seen on www.Bakersfield.com Wednesdays from Noon – 1 p.m.
"Condors Insider" weekly radio show, live Thursday from 4 – 5 p.m. on Fox Sports Radio 970.
https://www.bakersfieldcondors.com/wp-content/uploads/2014/04/2014_04_13_LV.jpg
380
669
condors
https://www.bakersfieldcondors.com/wp-content/uploads/2023/06/BAK-Website-Header_2324.png
condors
2014-04-13 20:11:07
2014-04-13 20:11:07
Condors fall, but panties fly on Undie Sunday