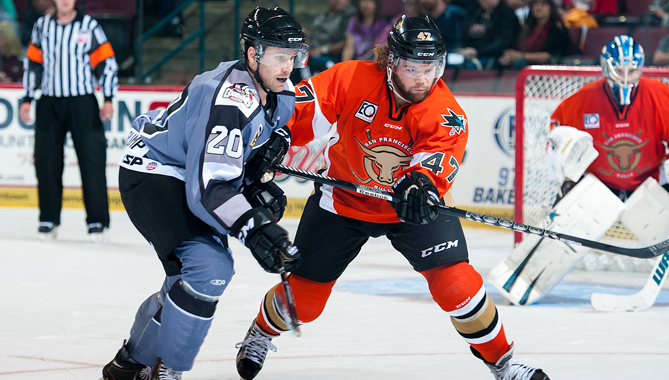 Condors shine in preseason finale, 4-3 over San Francisco
CONDORSTOWN – The Bakersfield Condors (2-0-1 in preseason) capped off their preseason slate with a 4-3 victory over the San Francisco Bulls at Rabobank Arena on Sunday afternoon. The line of LW Brett Lutes, C Gary Steffes, and RW Tyler Brenner combined for six points (3g-3a). The Condors finish preseason action unbeaten in regulation.
Game Recap
First period
Teams exchange goals as the Condors are outshot, 12-11.
CONDORS GOAL: C Gary Steffes wrist shot from the left-wing circle past G J.P. Anderson. Assist: F Jordan Knackstedt; Time of Goal: 5:35; RESULT: Condors lead, 1-0
Bulls Goal: F Jordan Morrison's shot from the top of the left-wing circle through traffic. Assists: F Darren Rowe, F Kris Belan; Time of Goal: 8:14; RESULT: Game Tied, 1-1
Bulls Goal: F Brett Parnham shot deflects off a stick from the right-wing circle. Assists: D Kyle Bigos, F Dale Mitchell; Time of Goal: 10:21; RESULT: Bulls lead, 2-1
CONDORS GOAL: F Brett Lutes knocks home a rebound at the side of the cage. Assists: D Scott Macaulay, F Tyler Brenner; Time of Goal: 11:46; RESULT: Game tied, 2-2
Second Period
Two goals and two fights from the Condors left them in front after two periods.
CONDORS GOAL: LW Nicholas Tremblay wrist-shot past Anderson from the top of the slot after a takeaway. Unassisted. Time of Goal: :40 seconds. RESULT: Condors lead, 3-2
Bulls Goal: D Josh Kidd wrist-shot from the blue line through a screen. Assist: Belan; Time of Goal: 12:57; RESULT: Game tied, 3-3
FIGHT: D Wes Cunningham and F Luke Judson tangle after Judson jumped Cunningham. Cunningham tackled Judson to the ice. Time of Fight: 15:37
CONDORS GOAL: Brenner pokes home a loose puck in the crease. Assists: Steffes, Lutes; Time of Goal: 16:32;RESULT: Condors lead, 4-3
FIGHT: Right off the ensuing faceoff, F Greg Burgdoerfer drops F Brett Findlay. Time of Fight: 16:35
Third Period
No scoring. CONDORS WIN, 4-3.
W – Tyler Bunz (24/27; 60:00) – 1-0-0
L –  J.P. Anderson (28/32/; 58:31) – 0-2-0
Condors Droppings:
Three Stars: 1. Brenner (BAK), 2. Steffes (BAK), 3. Lutes (BAK)
Shots on goal: BAK- 32 ; SF – 27
Power plays: BAK- 0/5; SF – 0/5
Tremblay played in his first preseason game and scored.
Pageau and Ouellette each finished the night with two points.
Lines: Collins-Broda-Knackstedt; Tremblay-Schaber-Macaulay; Shupe-Steffes-Brenner; Ouellette-Greiner-Burgdoerfer // Cunningham-Marciano; Macaulay-Burgdoerfer; Sobotka-Bidlevskii
Scratches: Morley, Abney, Pageau, Haines, Oakley
Download 2013-14 Condors schedule:  Click here
Opening Night Countdown: 5 days; Tickets just $10/month
Don't miss Opening Night when the Condors host the Colorado Eagles on Friday Oct. 18! Queen Victoria, the world famous Condor, will make a special encore appearance and we'll give away 2,000 Angry Birds plush hats. Click here to see all of the great, family fun promotions announced. Ticket packages are on sale now for the 2013-14 season for just $10/month. Click here or call 324-PUCK (7825) for more information.
https://www.bakersfieldcondors.com/wp-content/uploads/2013/10/2013_10_13_preseason.jpg
380
669
condors
https://www.bakersfieldcondors.com/wp-content/uploads/2023/06/BAK-Website-Header_2324.png
condors
2013-10-13 19:55:39
2013-10-13 19:55:39
Condors shine in preseason finale, 4-3 over San Francisco