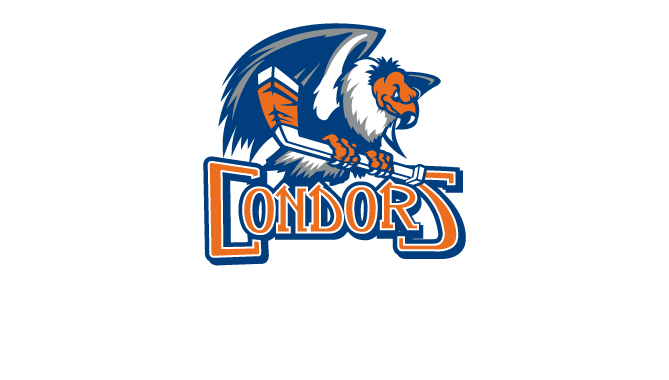 CONDORSTOWN, Calif. – The Bakersfield Condors, owned by the Edmonton Oilers, unveiled their new primary logo for the upcoming 2015-16 season, the team's first in the American Hockey League (AHL), at an event held today at the Bakersfield Marriott at the Convention Center.
"This is another step in building the excitement for this historic move to the American Hockey League," said Condors Team President Matthew Riley. "The new logo is dynamic, fierce, and incorporates our new blue and orange color scheme. With this logo we are able to further our established brand of the past 17 years, while uniting us in our new chapter with the Edmonton Oilers, a team with great tradition over the past 35 years."
"The new Condors logo is yet another great step in bringing Bakersfield fully into the Oilers family. The iconic blue and orange colours, bold and vivid, will strike a strong chord with Condors fans and be a great symbol of the importance of the team and the City to the long-term success of the Oilers," said Edmonton Oilers Assistant General Manager Bill Scott.
ABOUT THE LOGO
A modern, updated version of the condor which has been featured as the primary logo for each of the team's 17 seasons
The condor now has orange skin which adds personality and strengthens the association to the Oilers brand
The Condors wordmark is retained, but the circle has been permanently removed
The stick is now white with orange tape to pop out from the condor itself
Official colors: Oilers Royal Blue and Orange with the addition of Dark Grey
The primary mark will be used on all Condors AHL designations beginning on April 12, 2015
A secondary logo will be revealed along with home and road jerseys later this summer
ABOUT THE AMERICAN HOCKEY LEAGUE
The American Hockey League (AHL) is the top level of minor league hockey in North America. Nearly 90% of all current National Hockey League (NHL) players played in the AHL, including current Edmonton Oilers superstars Taylor Hall, Ryan Nugent-Hopkins, and Jordan Eberle. The Condors are a part of the new Pacific Division of the AHL which includes teams in San Diego, Ontario, San Jose, and Stockton beginning in October.
UPCOMING HOME GAMES/EVENTS
Tue, Apr. 7 vs. Stockton Thunder; 7 p.m.
"Frozen" Night for the grown-ups – $5 Margaritas through the end of the 2nd intermission
$1 sodas all night long
Sponsored by KLLY 95.3
Fri, Apr. 10 vs. Stockton Thunder; 7 p.m.
FINAL GAME OF THE SEASON!
Iron Man appearance, in the Condors Photo Booth
The first 1,000 fans 12 and under will get a Marvel Comics Can Koozie
Sponsored by My45, Hits 93.1 and Rabobank
AHL CONDORS MEMBERSHIPS NOW AVAILABLE!
Be a part of history as the Condors move to the American Hockey League in 2015-16. Memberships begin for less than $17/month. Contact the Condors at 324-PUCK (7825) for more information.
https://www.bakersfieldcondors.com/wp-content/uploads/2015/04/2015_04_02_logorelease11.jpg
380
669
condors
/_media/logo_1819.png
condors
2015-04-02 08:45:03
2015-04-02 12:15:59
Condors unveil new logo for AHL in 2015-16