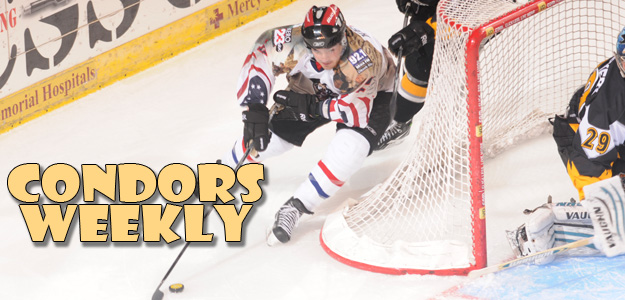 Condors Weekly: Back in action after the break
BAKERSFIELD, Calif. – The Bakersfield Condors ended their home winless skid with a dramatic third period comeback against Stockton last night, going 1-1-0-0 over the week. They own a record of 7-20-3-0, with 17 points in the standings, and are trying to claw their way back into the playoff picture in the Western Conference.
THIS WEEK (ALL TIMES PACIFIC):
Wednesday, Dec. 28 vs. Ontario (7 p.m.)
Friday, Dec. 30 @ Utah (6:05 p.m.)
Saturday, Dec. 31 @ Utah (6:05 p.m.)
WEEK IN REVIEW (Home team in CAPS):
Wednesday, Dec. 21
Colorado 3 vs. CONDORS 2
Bakersfield scored twice in the first period and took a 2-1 lead into the dressing room through 20 minutes of play. The Eagles, however, tied it up late in the second period and took the lead early in the third. LW Jesse Gimblett and F Peter Boyd
both lit the lamp in the loss for Bakersfield, who outshot the Eagles 36-27.
Monday, Dec. 26
CONDORS 3 vs. Stockton 2
F Casey Pierro-Zabotel staked the Condors to a 1-0 lead, only to have the Thunder bounce back with two straight to take the advantage in the third. LW Matt Marquardt tied the game up for the Condors with 8:39 left in regulation, and with less than three minutes remaining F Peter Boyd scored the game winning goal for the home team.
PLAYER AND TEAM NOTES:
F Peter Boyd has nine points in his last nine games (3g-6a), with points in seven of those nine contests.
F Robby Dee has 11 points (6g-5a) in 10 games since being acquired from Florida. He has eight points (4g-4a) in the last six games and had a point in each of the last three.
F Casey Pierro-Zabotel has a three game point streak (1g-2a).
The Condors ended their team record-tying nine game home winless streak (0-7-2-0) on Monday night.
13 of the Condors 30 games this season have been decided by one goal. Their record in those games is 3-7-3-0. Four of the last five games have been one-goal games, with the Condors going 1-3-0-0 in those games.
Five of the Condors next 14 games (through Jan. 28) will be against the Ontario Reign. The two clubs will not meet again this season after that.
UPCOMING SCHEDULE: (subject to change.)
All practices are at Rabobank Arena unless otherwise indicated
Wednesday, Dec. 28 – 10 a.m. practice
7 p.m. game vs Ontario
Thursday, Dec. 29 – Travel to Utah
Friday, Dec. 30 – 6:05 p.m. @ Utah Grizzlies
Saturday, Dec. 31 – 6:05 p.m. @ Utah Grizzlies
Sunday, Jan. 1 – OFF
Monday, Jan. 2 – Travel to Ontario
Tuesday, Jan. 3 – 7 p.m. vs. Ontario
Team Ghost Riders and $1 Tickets on Wednesday
The Condors host the Ontario Reign on Wednesday, Dec. 28 at 7 p.m. That night they welcome Team Ghost Riders – a group of monkeys dressed as cowboys who ride dogs and herd goats – sponsored by KBAK Eyewitness News and 106.1 KRAB Radio. They will perform on the ice during the intermissions.
To top it off, that night is High School/College ID Night. All high school and college students can purchase a lower level ticket for just one dollar by presenting their student ID at the box office.
CONDORS LEAGUE LEADERS:
Team – 5,020 avg attendance (5th)
Team – 21.13 PIM per game (4th)
Team – 36 major penalties (2nd)

Team – 8 shorthanded goals (1st)
G Matt Keetley – 2.77 goals against average (t-11th)
RW Scott  Freeman – 25 points (t-3rd, rookies)
C Mathew Sisca – 25 points (t-3rd, rookies)
C Robby Dee – 19 points (t-9th, rookies)
RW Scott Freeman – 12 goals (t-2nd, rookies)
C Robby Dee – 11 goals (t-4th, rookies)
RW Scott Freeman – 3 shorthanded goals (t-2nd)
C Robby Dee – 3 shorthanded goals (t-2nd)
RW Scott Freeman – 3 game winning goals (t-1st, rookies)
C Mathew Sisca – 95 shots on goal (1st, rookies)
RW Scott Freeman – 92 shots on goal (2nd, rookies)
CONDORS LEADERS:
Points: RW Scott Freeman/C Mathew Sisca, 25
Goals: RW Scott Freeman, 12
Assists: C Mathew Sisca, 17
PIM: LW Jesse Gimblett, 84
+/-: C Mathew Sisca, +7
GAA: G Matt Keetley, 2.77
Save %: G Matt Keetley, .918
Wins: G Matt Keetley, 5
GET TICKETS:
Pick-4 Plans are perfect for Condors fans on the go – enjoy the benefits of being a season ticket holder, and pick the four games that you can make it out to! Plans start at just $32. For more information or to reserve your tickets call 324-PUCK (7825) today.
Individual tickets are on sale through Ticketmaster and the Rabobank Arena box office by calling 1-800-745-3000. The box office is open from 10 a.m. to 6 p.m. Monday through Friday. And 10 a.m. to 4 p.m. on Saturday, with extended hours on game days. For more information on ticket packages, exciting promotions, and to sign up for the Kids Club for just $10, visit the online home of the Condors, www.bakersfieldcondors.com.


Follow the Condors all season long, for team news, player moves, promotions, and more on Twitter (@Condors) and Facebook (facebook.com/BakersfieldCondors). Be the first to know!
https://www.bakersfieldcondors.com/wp-content/uploads/2011/12/2011-12-27-weekly.jpg
300
625
condors
https://www.bakersfieldcondors.com/wp-content/uploads/2023/06/BAK-Website-Header_2324.png
condors
2011-12-27 17:03:30
2011-12-27 17:03:30
Condors Weekly: Back in action after the break