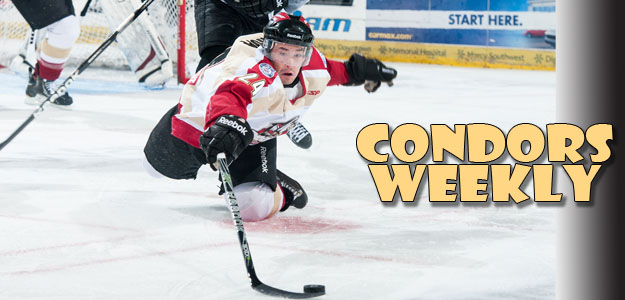 Condors Weekly: Road trip to the Rocky Mountain State on deck
CONDORSTOWN, Calif. – The Bakersfield Condors opened up a four-game road trip Sunday night with a loss in Las Vegas, and embark on a three-game trip to Colorado before the Christmas break. After a 0-3-0-0 weekend, they now sit at 7-17-1-2 on the season, five points behind Las Vegas for 8th place in the Western Conference standings.
COMING UP:
Wednesday, Dec. 19 at Colorado (6:05 p.m.)
Friday, Dec. 21 at Colorado (6:05 p.m.)
Saturday, Dec. 22 at Colorado (6:05 p.m.)
LAST WEEK (Home team in CAPS):
Friday
Idaho 5 vs. CONDORS 2
Bakersfield scored twice in the first minute and a half of the contest,
and led 2-0 through 20 minutes of play. But the Steelheads surged b
ack by lighting the lamp four times in the middle frame and cruised to the 5-2 win. D Scott Enders and C Levi Nelson were the Condors goal scorers.
Saturday
San Francisco 4 vs. CONDORS 1
The Bulls and Condors exchanged first period tallies, with LW Jacob Lagace notching his sixth of the campaign to tie the game up for the home team. But two power play goals and a shorthanded goal by the San Francisco special teams provided them with the boost they needed to win 4-1. The game was highlighted by an appearance from the Olympic silver medalist beach volleyball team, April Ross and Jen Kessy, who held the first-ever "beach" volleyball game on ice during the 1st intermission.
Sunday
LAS VEGAS 5 vs. Condors 1
The Wranglers scored four times in the second period to turn a 1-goal first period lead into a runaway victory, 5-1. F Tyler Brenner foiled G Mark Owuya's shutout bid by redirecting home his sixth of the season. The Wranglers goalie made 25 saves, while G Scott Greenham stopped 34 of 39 in the loss for the Condors. The Midnight Game in Vegas ended at 2:40 a.m.
NOTES:
Rookie D Scott Enders scored his first career goal Friday night.
Bakersfield has been tied or leading after the first period in eight of their last 11 games, but have only two wins in those games. The Condors have been leading or tied after the first period in 12 of their 17 losses this season.
The Condors have let multiple-goal leads slip away three times in the last eight games.
F Liam Huculak has skated as a defenseman in each of the last three games, after D Ryan Annesley became the third Condors blueliner to end up on the injured list, Friday in the first period.
Bakersfield has outscored their opponents 25-23 in the first period this season. However, in the second and third periods combined, they have been outscored 75-37.
The Condors make their only trip to Colorado on the season this week.
Sunday night's contest was the second time in team history they have played a midnight game in Vegas.
At the tail end of next week's home stand, the Condors commence a stretch of six straight games against the Idaho Steelheads, from Dec. 29 – Jan. 12.
LEAGUE LEADERS:
D Tyson Gimblett leads all ECHL defensemen with eight major penalties (all fighting majors).
F Peter Boyd leads the ECHL with five shootout goals.
G Scott Greenham leads the league lead with four shootout wins and is 3rd with a .941 shootout save percentage.
F Brett Lyon is among rookie leaders in major penalties (3rd with eight) and penalty minutes (5th with 58).
The Condors rank 5th in the ECHL with a .444 shooting percentage in shootouts.
They rank 3rd in the shootouts with a .800 save percentage.
TEAM LEADERS
Points – C Levi Nelson (20)
Goals – C Levi Nelson (8)
Assists – C Levi Nelson (12)
PIM – D Tyson Gimblett (80)
+/- – C Levi Nelson (E)
Wins – G Scott Greenham (5)
GAA – G Scott Greenham (3.61)
Sv % – G Brian Stewart (.902)
THIS WEEK:
Road trip to the Rocky Mountain State
The Condors head out to Colorado for three games this week, on Wednesday, Friday and Saturday. All three games begin at 6:05 p.m. local time. Tune in to all the action on Fox Sports Radio 970 AM,
www.foxsports970am.com
or on America One. "Condors Countdown" hosted by Ryan Holt starts at 11:45 p.m.
Boomtown Bako, Voodoo Doll Giveaway and Jake Varner Night during post-Christmas home stand
The Condors host three games after the holiday break, Thursday, Friday and Saturday, Dec. 27, 28 and 29. Thursday is Boomtown Bakersfield Night, and everyone will take home a million dollars. On Friday, the first 2,000 fans 5 and older will get a Condors Opponent Voodoo Doll to exact your will on our opposition, sponsored by My 45 and 97.3 JACK FM.
Saturday, Dec. 29 is Jake Varner Night, sponsored by 92.1 Max FM, American Business Machines and TERRIO Physical Therapy. The team will wear special Jake Varner jerseys for a Jersey Off Our Backs Raffle and Auction, and will give five of the jerseys away for free.
SAVE MONEY WITH A HOLIDAY 4-PACK – FREE SNUGGIES!!!!
Get your Condors ticket plan, become a season ticket holder, and enjoy all the great benefits of being in Condorstown, including saving big money on your tickets.
The Condors Holiday 4-Pack is the perfect stocking stuffer for that fun-loving person is your life. Starting at just $32, if you purchase two Holiday 4-Packs you get free Condors Snuggie!!
Check out the plan to fit your needs by clicking here or calling 324-PUCK (7825).
https://www.bakersfieldcondors.com/wp-content/uploads/2012/12/2012-12-17-weekly.jpg
300
625
condors
https://www.bakersfieldcondors.com/wp-content/uploads/2023/06/BAK-Website-Header_2324.png
condors
2012-12-17 13:36:12
2012-12-17 13:36:12
Condors Weekly: Road trip to the Rocky Mountain State on deck