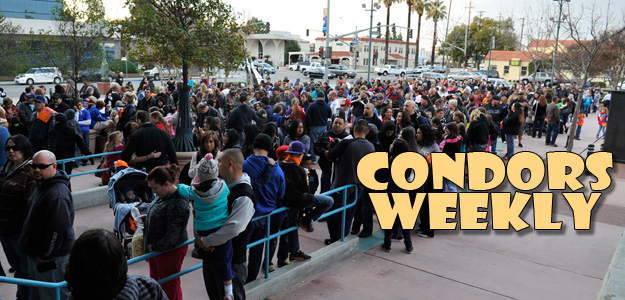 Condors Weekly: Winning streak comes to an end in Alaska
CONDORSTOWN, Calif. – The Bakersfield Condors ran their winning streak to four games with a victory in Alaska to start the weekend, but then suffered two straight setbacks to the conference-leading Aces to wrap up the week. Bakersfield is 14-34-4-1 on the season with 33 points in the standings.

THIS WEEK (ALL TIMES PACIFIC):
Friday, Feb. 24 vs. Stockton (7 p.m.)
Saturday, Feb. 25 vs. Stockton (7 p.m.)
Sunday, Feb. 26 at Stockton (4 p.m.)
WEEK IN REVIEW (Home team in CAPS):
Friday, Feb. 17
Condors 4 vs. ALASKA 1
G Matt Keetley surrendered a goal on the first Alaska shot of the night, just 36 seconds into the contest. He shut the door the rest of the game, however, and the Condors lit the lamp three times in the
second period to cruise to a 4-1 win. Keetley ended the night with 49 saves, and F Kyle Calder and F Tyler Helfrich both had 1g-1a and F Parker Stanfield ran his point streak to six games.
Saturday, Feb. 18
ALASKA 9 vs. Condors 4
The goal judges were busy in Alaska on Saturday, when the Condors and Aces combined for 13 goals. The Aces raced out to a 5-2 lead in the first period, chasing G Matt Keetley after less than 15 minutes. They scored four more times on G Bryan Pitton, while the Condors pulled within a pair of goals three separate times, but they couldn't hold back the Alaska attack.

Sunday, Feb. 19
ALASKA 4 vs. Condors 3
Bakersfield rallied late but could not get the equalizer, as they fell 4-3 on Sunday to cap off the Alaska road trip. After falling behind 4-0, the Condors scored three times in the final three minutes of the game, with F Tyler Helfrich notching 1g-1a. G Matt Keetley took the loss, making 29 saves on the night.
PLAYER AND TEAM NOTES:
Rookie F Parker Stanfield (pictured) ran his point streak to seven games (4g-7a-11pts during the streak). He had just two points in his first 16 professional games, and 13 points in his last 12 games since.  His scoring streak is the longest of the season for the Condors.
F Tyler Helfrich and F Robby Dee both got on the scoresheet Friday night, passing RW Scott Freeman for the team lead in points. It's the first time since Oct. 15 that Freeman was not at least tied for the team's scoring lead.
F Evan Trupp followed up his ECHL Player of the Week performance with a goal in all three games last weekend. He ended up with four goals in the three games.
The Condors surrendered just five goals in their four-game winning streak, and outscored their opponents 14-5.
G Matt Keetley came one save shy of matching his team season-high on Friday, turning aside 49 shots. It was the fifth time this season he has made 40+ saves in a game.
Aces LW Ethan Cox was denied on a penalty shot Saturday night by G Bryan Pitton. Condors goalies are 3-for-3 in shopping penalty shot attempts this season, and Pitton is 2-for-2.
The two teams with the most fighting majors meet this weekend, when Stockton comes to town. The Thunder lead the ECHL with 67 major penalties and the Condors are second with 66.
UPCOMING SCHEDULE: (subject to change.)
All practices are at Rabobank Arena unless otherwise indicated
Monday, Feb. 20 – OFF (Travel home from Alaska)
Tuesday, Feb. 21 – Practice TBA
5-8pm Tip-A-Condor (Hooters)
Wednesday, Feb. 22 – 10 a.m. practice
Thursday, Feb. 23 – 10 a.m. practice
6 – 7 p.m. Condors Insider (FSR 970AM)
Friday, Feb. 24 – 10 a.m. practice
7 p.m. vs. Stockton Thunder
Saturday, Feb. 25 – 10 a.m. practice
7 p.m. vs. Stockton Thunder
Sunday, Feb. 26 – 4 p.m. at Stockton Thunder
Monday, Feb. 27 – OFF
Bobble-fists, Bugs Bunny & Palm Trees coming up
The team returns home for two games against the Stockton Thunder the following weekend. On Friday, the first 2,000 fans 5 and older will get a Hans Benson Bobble-fist doll, sponsored by KBAK Eyewitness News and Three-Way Automotive Group. On Saturday, the first 2,000 fans 5 and older will take home a Palm Tree seedling to plant at home, and also welcome Bugs Bunny, sponsored by Bright House Networks, KERN 1180 and Cal Water.
The Condors wrap up the weekend by heading to Stockton on Sunday for a 4 p.m. contest from Stockton Arena.
CONDORS LEAGUE LEADERS:
Team Stats
22.45 PIM/Game – 2nd
66 major penalties – 2nd
10 shorthanded goals – t-1st
Individual league leaders
F Tyler Helfrich – 34 points (8th, rookies) 
RW Scott Freeman – 4 shorthanded goals (2nd; 1st, rookies)
LW Hans Benson – 14 major penalties (t-3rd)
F Robby Dee – 16 goals (t-4th, rookies)
RW Scott Freeman – 4 game winning goals (t-1st, rookies)
F Robby Dee – 4 shorthanded goals (t-2nd; 1st, rookies)
D Tyson Gimblett – 139 PIM (1st, rookies)
D Tyson Gimblett – 11 major penalties (t-1st, rookies)
CONDORS LEADERS:
Points: F Tyler Helfrich, 34
Goals: F Robby Dee, 16
Assists: F Tyler Helfrich, 22
PIM: D Tyson Gimblett, 139
+/-: D Josh Van Dyk/F Evan Trupp/F Chris Kushneriuk, +5
GAA: G Matt Keetley, 2.97
Save %: G Matt Keetley, .912
Wins: G Matt Keetley, 10
GET TICKETS:
Individual tickets are on sale through Ticketmaster and the Rabobank Arena box office by calling 1-800-745-3000. The box office is open from 10 a.m. to 6 p.m. Monday through Friday. And 10 a.m. to 4 p.m. on Saturday, with extended hours on game days. For more information on ticket packages, exciting promotions, and to sign up for the Kids Club for just $10, visit the online home of the Condors, www.bakersfieldcondors.com.


Follow the Condors all season long, for team news, player moves, promotions, and more on Twitter (@Condors) and Facebook (facebook.com/BakersfieldCondors). Be the first to know!
https://www.bakersfieldcondors.com/wp-content/uploads/2012/02/2012-02-20-weekly.jpg
300
625
condors
https://www.bakersfieldcondors.com/wp-content/uploads/2023/06/BAK-Website-Header_2324.png
condors
2012-02-20 12:56:22
2012-02-20 12:56:22
Condors Weekly: Winning streak comes to an end in Alaska