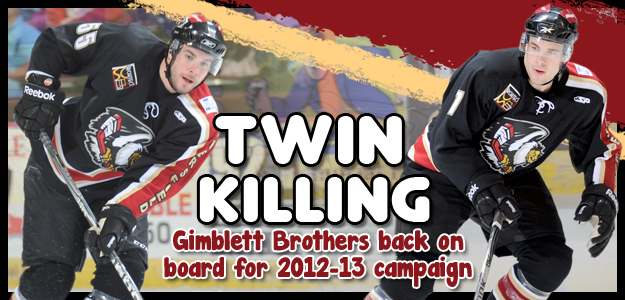 Gimblett Brothers are back!
CONDORSTOWN, Calif. –
The  Bakersfield Condors and Head Coach Matt O'Dette have announced they have agreed to terms with twin brothers LW Jesse Gimblett and D Tyson Gimblett, both of whom played together in Condorstown last season. They join five other players on the training camp roster: F Robby Dee, D Scott Enders, F Tyler Helfrich, F Chris Kushneriuk and D Justin Pender.The brothers, who are the only twin brother combination to play together in Condorstown history, spent most of the 2011-12
campaign together on the Condors roster. Jesse was signed during training camp, while Tyson was inked in December from the Southern Professional Hockey League.
2011-12 highlights of the Gimbletts in action
Jesse, who is entering his third full pro season, finished fourth on the team in scoring last season despite missing a dozen games. He posted career highs with 17 goals and 37 points. Four of his goals came on the power play, and four times last season he scored the games's opening goal – both numbers were second-best on the team – and his 138 penalty minutes ranked third on the club. Only Dee and Helfrich scored more goals than Jesse in 2011-12. Check out Jesse's career stats here.
"I'm excited to come back," Jesse said. "We had some big turning points in the second half and got the ship turned in the right direction. Now we're going to make it a full season and put this thing together."
What O'Dette says:
"Any time you can have a guy who is a physical presence and have the offensive production he brings, you don't find that too often. Having 17 goals and 10 fights is a pretty good package. He makes room for his line mates and when he has a chance around the net to finish, he can because he has good hands."
Tyson returns to the Condors blueline as a second-year player, looking to reprise his role as a physical presence. After his signing on Dec. 1, he made an immediate impact wit
h his hitting and willingness to drop the mitts. Despite playing in just 50 games, Tyson led the team in penalty minutes with 152, a mark which also led all rookies throughout the ECHL, and ranked third in fighting majors with nine. He was also second among Condors defensemen with a +3 rating, and chipped in with three goals and twelve points. Check out Tyson's career stats here.
"I'm pretty fired up to come back and pick up where we left off last season," said Tyson. "If we can start out in October the way we finished last season it'll be a great year."
What O'Dette says:
"Tyson is a stay-at-home d-man that brings a big-time mean streak. He's definitely not a fun player to play against if you're the opposition. He plays mean; he's tough in front of the net and tough in the corners. At the same time he keeps his game simple and he's very effective."
Opening Night in Condorstown is just 89 days away, on Sunday, Oct. 14 against the Las Vegas Wranglers.
FOLLOW THE CONDORS ALL OFF-SEASON LONG
Visit the Condors Facebook Page for a special fan poll regarding Jesse & Tyson! There is also a Facebook poll posted now regarding the 15-year season ticket holder jersey designs. Check it out, and make your selection and voice heard.
Make sure to follow along with all that's happening with the team. From community appearances, to player signings and fun videos, stay up to date with what the team is doing away from the ice during the summer months. Click the links below to see the latest news and set your homepage to www.bakersfieldcondors.com the web center of #Condorstown.
https://www.bakersfieldcondors.com/wp-content/uploads/2012/07/2012-07-17-Gimbetts.jpg
300
625
condors
/wp-content/uploads/2022/08/WebSite-Top-Bar-1.png
condors
2012-07-17 12:33:36
2012-07-17 12:52:15
Gimblett Brothers are back!