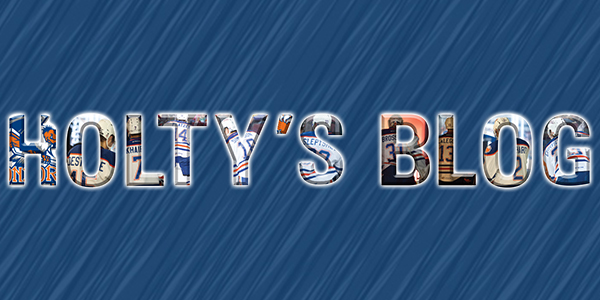 HOLTY'S BLOG: BACK TO WORK
The sabbatical is over. But, with the schedule out and promotions starting to fill, it's a good time to look at what's ahead. There is only one full month left without hockey.
You may want hockey tomorrow, and that's fine, but I'm still enjoying having a fairly regular schedule. And, as I'll remind you, it's my blog and I'll do what I want.
Now for the blog…
– Yesterday, we unveiled The Big 6 Pack which includes the six biggest Saturday games of the upcoming season. You may think, free popcorn is a big Saturday? Well, it's the final home game of the regular season, there will be more giveaways as part of Fan Appreciation night, and last year it drew over 7,000. All six of these games will sell out in the lower bowl, so jumping on it now and locking in your seat, BEFORE general public tickets go on sale is a wise move. You can trust Holty.
They don't get bigger than The Big 6 Pack Plan. The lower bowl will SELL OUT and you have to be there ➡️https://t.co/3kbXcWnTGg #Turning21 pic.twitter.com/aMS4oUGv1t

— Bakersfield Condors (@Condors) July 25, 2018
– We're officially in the dog days of summer as there is not much happening on the hockey side. That said, we'll have info on some hires in the hockey operations department tomorrow.
– Who doesn't love free ice cream? August 9 from 4:30 – 6:30 p.m. at Rabobank Arena, come down to enjoy some La Rosa Ice Cream Bars and take tours of the locker room. The locker room has undergone some minor tweaks and renovations this summer with the very slight change in the Condors color scheme.
– Favorite ice cream, Holty? Rocky road and I don't think anyone is a close second.
– On the player front, two Oilers free agents signed AHL deals this week as Grayson Downing signed with the Colorado Eagles and Kyle Platzer signed with the Charlotte Checkers. The Eagles also signed former ECHL Condors winger Josh Winquist to an AHL deal.
ICYMI: The @ColoradoEagles have signed Grayson Downing for the 2018-19 season.

Details: https://t.co/5uGCoICeDT pic.twitter.com/dEBPdu9eaJ

— AHL (@TheAHL) July 25, 2018
– Let's catch up on what some of the players have been up to since the blog needs content. Since re-signing the Oilers, Patrick Russell has enjoyed time in Hawaii and was over in Indonesia visiting family.

– Keegan Lowe, who got engaged earlier in the summer, is hopeful he'll figure out how to dance.
– Caleb Jones celebrated his mother's birthday in Dallas.
– Evan Polei took in the Calgary Stampede
– Braden Christoffer, one of the better golfers on the team, shows off the high fade
– And lastly, Tyler Benson enjoyed "K-Days" in Edmonton as the local product enters his first pro season this year.
– LOCK OF THE WEEK? I will unpack by Sunday. No really, sports are tough this time of year. Can't just keep saying "the Sox will sweep X team this weekend," all the time.
Until next time Condorstown…
Ryan Holt aka Holty is the Voice of the Condors and is in his 8th season. He needs a vacation from vacation. Follow him on Twitter @CondorsHolty or shoot him an e-mail with questions, comments, or blog ideas to RHolt@bakersfieldcondors.com.
https://www.bakersfieldcondors.com/wp-content/uploads/2017/08/HB_Small-.jpg
300
600
condors
https://www.bakersfieldcondors.com/wp-content/uploads/2023/06/BAK-Website-Header_2324.png
condors
2018-07-26 12:45:08
2018-07-26 12:52:39
HOLTY'S BLOG: BACK TO WORK