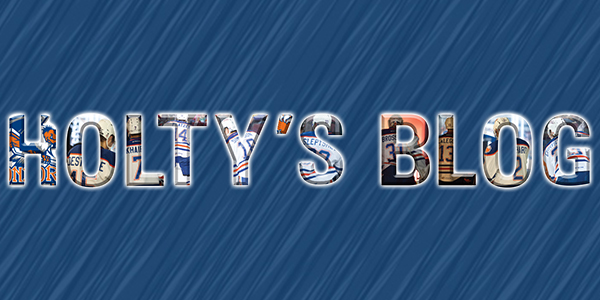 HOLTY'S BLOG: DEEP IN THE HEART
A road blog from rainy, cold, Round Rock, Texas. It's not all dreary though, because the Condors opened the road trip with a win on Tuesday.
You may not like road blogs, but it shows @KevinBartl that I'm working on the road, and as I'll remind you it's my blog and I'll do what I want.
Now for the blog…
– The blog starts with the newest addition to Condorstown. Congrats to Ryan Hamilton and wife Alexa who welcomed their second child, Owen Alexander, into the world yesterday morning. He's obviously not on the trip, but could be back for San Jose next weekend.
The newest addition to #Condorstown, Owen Alexander Hamilton was born this morning. Mom, Dad, Owen, and Madeline are doing great. Congrats! pic.twitter.com/Dqu4G3qMsN

— Bakersfield Condors (@Condors) December 7, 2017
– After every game, whether it be on the bus or in the elevator, Gerry Fleming asks me "Holtzy, how'd it look from up top?" I have a few stock answers, but I thought Tuesday was as good as the Condors can play.
– To me, this game all starts between the pipes. If your goaltender is making the saves he should make, it gives the entire team confidence. Bad goals are deflating. And for me, Eddie Pasquale gave the Condors confidence with his performance. 36 big stops, especially early in the second when San Antonio had some good looks.
EDDIE! He stopped 36 tonight including this beauty. pic.twitter.com/r1Cc0KCgkF

— Bakersfield Condors (@Condors) December 6, 2017
– The Condors signed Jamie Doornbosch to a PTO today. Ryan Mantha left Tuesday's game in San Antonio and is questionable for the weekend.
– Credit to Mitch Callahan, who never wavered even though he didn't have a point in 15 games. One of the leaders on the team, Mitch now has five points in six games and was one of, if not the best Condors forward on Tuesday.
WATCH: @MCally15 lights the lamp for tonight's opener. 1-0 in the first. #Condors20 pic.twitter.com/tDClzFlwcL

— Bakersfield Condors (@Condors) December 6, 2017
– David Gust had two goals on Tuesday. He now has six on the season, and four have come against San Antonio.
The Buckeye with a Bullseye. #Condors20 pic.twitter.com/ln2U6Coac4

— Bakersfield Condors (@Condors) December 6, 2017
– Iiro Pakarinen makes a huge difference for this Condors team. He has goals in two straight and bring a work ethic that is contagious. Condors needed that offensive jolt.
WATCH: Everyone has a touch and @IPakarinen finishes. 4-0 midway through the third. #Condors20 pic.twitter.com/1qZGRChbrk

— Bakersfield Condors (@Condors) December 6, 2017
– Shop and Skate is next Wednesday when the team comes home. It's free and there are great deals on merchandise and you can skate with a few members of the team. All the info here.
– Drive time Condors this Friday as the game gets going at 5:30 p.m. and Saturday's starts at 5 p.m. You can watch the games at The Padre. San Antonio and Texas each have tremendous streams so it should be good viewing, good drinks, and hopefully a few wins.
– A couple different members of the Oilers staff have been with the team this week. Scott Howson, Oilers VP of Player Development, was in San Antonio Tuesday, and VP of Player Personnel Duane Sutter is with the team this weekend. It's always nice to have management from up top on site and getting their insight.
– LOCK OF THE WEEK? I was eliminated from the Condors Fantasy Football league this week and I'm bitter about it, so no lock of the week.
Until next time Condorstown…
Ryan Holt a.k.a. Holty is in his seventh season with the Condors. He's not happy about the rain. Follow him on Twitter @CondorsHolty or shoot him an e-mail to RHolt@bakersfieldcondors.com with questions, comments, or blog ideas.
https://www.bakersfieldcondors.com/wp-content/uploads/2017/08/HB_Small-.jpg
300
600
condors
https://www.bakersfieldcondors.com/wp-content/uploads/2023/06/BAK-Website-Header_2324.png
condors
2017-12-07 07:13:27
2017-12-07 07:13:27
HOLTY'S BLOG: DEEP IN THE HEART