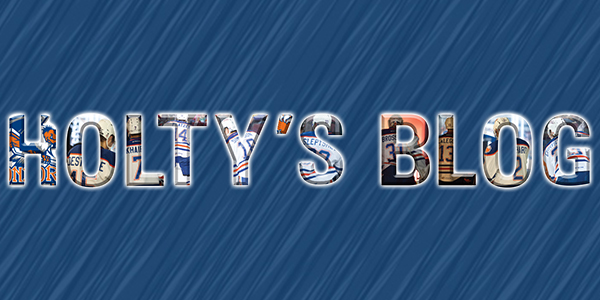 Training camp is officially open. Well … in Edmonton. Which features just about anyone who will play in Bakersfield this season. So yeah, you get my drift. The season is officially upon us.
You may not want a blog about paint drying, but that's what you're getting, because as I'll remind you, it's my blog and I'll do what I want.
Now for the blog…
– Paint drying? I mean that's what has to happen to create the 200' x 85' frozen sheet of water.
Cold front coming ❄️ #Condors20 pic.twitter.com/xySuQnmGOw

— Bakersfield Condors (@Condors) September 11, 2017
– A Holty Ice Video Exclusive! Check this out…

– As a reminder, you can be the first ones to skate on the ice this Saturday from 2-4 p.m.
With the ice almost in – remember you can be the first ones to skate on it Saturday and pick out seats. #Condors20 pic.twitter.com/4AcOU18MtK

— Bakersfield Condors (@Condors) September 12, 2017
– Here is the Oilers training camp roster which features 61 names
– Of the 61 players, 25 have already played in Bakersfield, with more from that list surely to make their Condors debuts this season
– As I always like to point out, count back two drafts (2017, 2016), and if they're in the WHL/OHL/QMJHL, they cannot play in Bakersfield full-time yet (some examples: G Dylan Wells, D Dimitri Samorukov, RW Kailer Yamamoto)
– A note on that is of course you could see them at the end of the season, should the Condors still be in action, their junior season ending, and the Oilers wanting them to play here obviously
– The Condors open training camp on Monday, Sept. 25 and as in years past will add players throughout camp as the Oilers make more cuts before their season opener
– Yesterday we announced the Condors365 Member Model. It includes exclusive meet the team parties, events, and things throughout the year. I mean, it makes sense to me. If I join a gym, I would like to receive benefits and enjoy it year round, not just nine months.
Condors365 is your year round membership to exclusive events and personalized service. Check it out! >> https://t.co/E6dh5p0rh8 pic.twitter.com/9p1t0Vmj4D

— Bakersfield Condors (@Condors) September 13, 2017
– Sidenote, that's a big IF on the whole gym membership.
– These aren't just game night events as well. We've really focused on other non-game night events with the team or concert drawings or deals around town at various places.
– For game nights though, there is a new addition to the final Saturday home game of every month, "Hockey Talk with Holty." I tried to get "Happy Hour with Holty" approved, but nobody thought me being buzzed on the air was a good idea!
– Anyways, Hockey Talk with Holty will be a Condors365 Members Only pre-game from 5:45 – 6:15 p.m. The first is a Chalk Talk with the coaches, but the goal throughout the season is to have player guests, guests from the organization, and guests from Edmonton. It's a chance to chat hockey, answer questions, and really just try to give members more of a voice in the organization
– #HoltyTease – look for the promo schedule later today.
– LOCK OF THE WEEK: I didn't even listen to my own lock last week so I can't be trusted. However, the survivor pick this Sunday will be Oakland over the New York Jets.
Until next time Condorstown…
Ryan Holt aka Holty enters his 7th season as Voice of the Condors. Much like Phil Esposito in the 70's. he will use training camp to get into game shape. Follow him on Twitter @CondorsHolty for more nonsense or shoot him an e-mail to RHolt@bakersfieldcondors.com with questions, comments, or blog ideas.
https://www.bakersfieldcondors.com/wp-content/uploads/2017/08/HB_Small-.jpg
300
600
condors
https://www.bakersfieldcondors.com/wp-content/uploads/2023/06/BAK-Website-Header_2324.png
condors
2017-09-14 11:31:01
2017-09-14 12:14:34
HOLTY'S BLOG: ICE IS IN