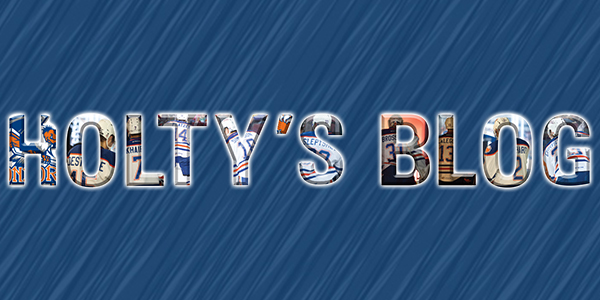 HOLTY'S BLOG: LET THE GAMES BEGIN
This is the final official offseason blog of 2017. Next Thursday is a game day blog. It was a good run, but it's time to say goodbye to the offseason. Au revoir to weekends, eight-hour workdays, casual Fridays, and eating at normal hours. I'll miss it. But the season is here, players are arriving, the training staff is back from Edmonton, media meals are getting booked and things are about to get just a tad bit busier.
So pour one out for the far too long offseason, and as I'll remind you, it's my blog and I'll do what I want.
Now for the blog…
– Training Camp 2017 or #CondorsCamp for those following along on social media, opens technically on Sunday with a team meeting and player physicals.
#CondorsCamp starts Monday. We have no players right now, but that will change. Check out the schedule >> https://t.co/OGnRDMRzXA pic.twitter.com/ASExQqw4xF

— Bakersfield Condors (@Condors) September 20, 2017
– You can view the whole practice schedule here. Practices at the Ice Sports Center are open to the public.
– We'll have a preliminary roster out on Monday which will feature whoever Edmonton sends down between now and Sunday along with a handful of players signed by our ECHL affiliate in Wichita and players on professional tryouts.
– The Oilers still have 55 players in training camp including 17 D and 33 forwards, so there are still plenty of moves to be made up top.
– As in years past, with one home preseason game next Thursday against San Jose and on the road up the 99 on Friday, I would expect the more "veteran" laden lineup at home and the younger lineup to be on the road
– Preseason games will not be broadcast, but we will have news on road game watch parties at The Padre Hotel soon; Condors Insider returns on Wednesday, Oct. 4 from 4-5 p.m. on Fox Sports 970 and there will not be a Condors Unleashed this season
– Listened to the Oilers game last night in Winnipeg where they beat an NHL lineup with half an NHL lineup. The Edmonton lineup featured a line of Mitch Callahan, Brad Malone, Ty Rattie. If you're the Condors coaching staff, you have to be anxious to see that line in Bakersfield.
Four unanswered goals including Letestu & Khaira 13 seconds apart gave the #Oilers a 4-1 preseason W in Winnipeg: https://t.co/DBF8tm9ou8 pic.twitter.com/1QsCy8wBZQ

— Edmonton Oilers (@EdmontonOilers) September 21, 2017

– From what I've seen and read, Joey LaLeggia is having a very nice camp and heard a lot of positive comments about Patrick Russell last night as well. That's promising, because if both take their games to the next level this season, the team will be in very good shape.
"He's been one of my best friends growing up." Laleggia loved the opportunity to play with RNH at #OilersCamp today: https://t.co/zN5nf0gkkA pic.twitter.com/jDgBgTDpKk

— Edmonton Oilers (@EdmontonOilers) September 16, 2017
– For those wondering, the Condors jerseys aren't changing for this season, but I really like the new Oilers set.
VICTORY! #Oilers complete the #BattleOfAlberta sweep, 5-2 in #yeg with two Letestu goals, 5-4 in #yyc with two @drakecaggiula goals! pic.twitter.com/Sq4yUXUqni

— Edmonton Oilers (@EdmontonOilers) September 19, 2017
– Just a note on an old friend from the ECHL days, as Alaska beat writer Doyle Woody "hung up the skates" yesterday. For those who don't know, in Alaska, you shared your "broadcast booth" a.k.a. a small half picnic table on a wooden box in the middle of the stands with him and he is just a good person.
1/3: That's a wrap for me at @adn.com — Always promised myself I'd give journalism at least 34 years to see if it stuck.

— Doyle Woody (@JaromirBlagr) September 20, 2017
LOCK OF THE WEEK: Bakersfield's own Derek Carr made sure I advanced last week, so let's keep the good times rolling with Green Bay. Also, "in case you haven't noticed, and judging by the attendance you haven't," the Holy Cross Crusaders are now ranked for the first time since I left (2010). They're at Dartmouth this weekend. Cross by a touchdown.
Until next time Condorstown…
Ryan Holt a.k.a. Holty enters his 7th season as Voice of the Condors. He is absolutely thrilled at back-to-back Fridays up the 99. Follow him on Twitter @CondorsHolty for more nonsense or shoot him an e-mail to RHolt@bakersfieldcondors.com with questions, comments, or blog ideas.
https://www.bakersfieldcondors.com/wp-content/uploads/2017/08/HB_Small-.jpg
300
600
condors
https://www.bakersfieldcondors.com/wp-content/uploads/2023/06/BAK-Website-Header_2324.png
condors
2017-09-21 12:35:10
2017-09-21 12:36:32
HOLTY'S BLOG: LET THE GAMES BEGIN