HOLTY'S BLOG: 'MEANINGFUL' HOCKEY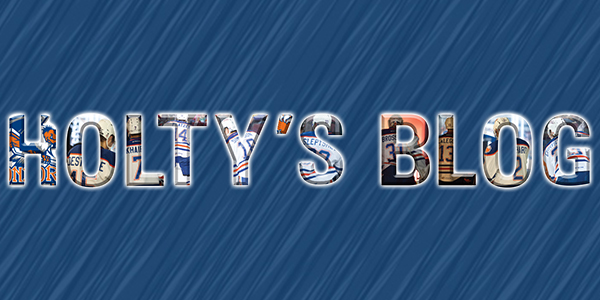 There will be "meaningful" hockey played this weekend in British Columbia as the temperature in Condorstown has finally dipped under 100. I'm thankful for both things.
You may like 100+ and that's fine, but I'll take low 90's in Condorstown any day, and as I'll remind you, it's my blog and I'll do what I want.
Now for the blog…
– What's this "meaningful" hockey you speak of Holty? The annual Penticton Young Stars Tournament will be held this weekend, starting Friday, featuring rookies from Edmonton, Calgary, Winnipeg, and Vancouver.
– You won't see most of the players on the Oilers team this year for a couple of reasons. Either they're not under contract currently with Edmonton/Bakersfield – listed as "invite" on the roster, or they're not AHL age-eligible (EX: 2017 first round pick Kailer Yamamoto – drafted out of the WHL, thus he would have to complete junior eligibility (20 years old) in order to play in the AHL full-time. That doesn't come until 2019-20.)
– Just a note: I used Yamamoto as an example. Not saying he's even ever going to play in the AHL, but any chance I get to show how bad that rule is, I take that opportunity.
– So Holty, who from this Young Stars roster plays in Bakersfield this season? I won't give you my actual list, but I'll give you my number: eight. My opinion is that eight of these players will see action in Bakersfield. Some more extensively than others as some may end up in Wichita with our ECHL affiliate, but eight nonetheless.
– Here's d-man Ryan Mantha from earlier today on playing in Condorstown late last season and turning pro full-time this year:
"Having that perspective of what I need to work on was huge." @RMantha22 chats about time with @Condors last season & focus of training pic.twitter.com/dZa6tWencI

— Edmonton Oilers (@EdmontonOilers) September 7, 2017
– This week's player profile was on one of the guys who will be in Pentiction: Caleb Jones.
Keepin' up with the Joneses … get to know Caleb #Condors20 >> https://t.co/mNMjgMBTXK pic.twitter.com/ED0y5rtnV5

— Bakersfield Condors (@Condors) September 6, 2017
– Pretty clean new lid for Nick Ellis this season
@nellis_34 @Condors @bauer new lid pic.twitter.com/A6e0KUCx85

— Jesse Custom Design (@JessesCusDesign) September 7, 2017
– Ice starts getting installed Monday. It's a three to four day process and it's going in a week earlier than usual.
– Why you ask? Well that's a #HoltyTease and you'll just have to be here opening night to see why the installation needed to be bumped up a week.
– You can be the first ones to skate on the ice next Saturday, Sept. 16 from 2-4 p.m.
Want to be the first ones to skate on the ice this season? Free public skate @RabobankArena Saturday Sept. 16 to kick off #Condors20! pic.twitter.com/dInkSjENSP

— Bakersfield Condors (@Condors) August 31, 2017

– The Stinson's Ultimate Jersey bracket has reached the "Sweet 16" and sadly The Puffy Shirt has been eliminated. You can vote here. Remember the rules: once a day, per device. Have at it.
– Saw this tweet below and had a couple questions come in on how it would impact the AHL. Well, it doesn't, because you cannot challenge offsides in the AHL. Only thing you can have reviewed is if the puck crossed the goal line.
New rule adds pressure on NHL coaches asking for an offside challenge (via @FriedgeHNIC).https://t.co/kVSJrEmcLa pic.twitter.com/dOZAumTQtN

— Sportsnet (@Sportsnet) September 6, 2017
– Lock of the week? So last week I went two-for-two and I heard from friends of the blog who were pretty pumped for the good week. I'll caution that with the lock of the week, things tend to even out. But, this is a great time of year with hockey returning, baseball playoffs and football in full swing. So let's have a weekend with one for every day:
Thursday – New England Patriots (-9) v. KC – they were 16-3 against the spread last year
Friday – Ohio (+3.5) @ Purdue – I have no idea, but I'll say Purdue let down with a little MACtion
Saturday- Notre Dame (-4) v Georgia – this is the real lock of the week. Georgia QB is out.
Sunday/Monday – A two-fer since I have two "survivor picks" (win straight up, only pick team once a season) this year. This week: Buffalo (v NYJ) and Denver (v LAC)
** Disclaimer: Holty is not responsible for any incorrect picks, but does take full credit for correct picks **
Until next time Condorstown…
Ryan Holt aka Holty enters his 7th season as Voice of the Condors in 2017-18. If he was really good at this gambling thing, he wouldn't have to work. Follow him on Twitter @CondorsHolty for more nonsense or shoot him an e-mail to RHolt@bakersfieldcondors.com with questions, comments, blog ideas, and your own locks of the week!
https://www.bakersfieldcondors.com/wp-content/uploads/2017/08/HB_Small-.jpg
300
600
condors
https://www.bakersfieldcondors.com/wp-content/uploads/2023/06/BAK-Website-Header_2324.png
condors
2017-09-07 09:22:48
2017-09-07 10:08:00
HOLTY'S BLOG: 'MEANINGFUL' HOCKEY