The offseason has arrived. It's like a roller coaster ride. When you come back into the house going really fast, then they hit the kill switch, and it comes to a screeching halt. We used to ask the attendant for one more ride, but that usually doesn't work and certainly doesn't work in this scenario.
Offseason blogs are the worst. But they need to be written. And as I'll remind you, it's my blog and I'll do what I want.
Now for the blog…
– I'll begin with my favorite question: "so what do you do now?" Do you ask your accountant what he or she does after April 15? Exactly. The only thing that changes with "offseason" is I can enjoy Saturday and Sundays. Yes, it's much less fun and entertaining, but there is still work to be done.
– Plenty of exit interviews are up on Condors.TV. The overarching theme was disappointment in not getting into the playoffs, but a sense of having left everything out on the ice. Not sure if I'd use the term "overachieve" for the team, but when you compare rosters on paper, I think four points out of a playoff spot is a fair assessment.

– You mentioned you would break down contracts Holty, what's the list look like? Let's start with those under contract.
Under NHL contract for next season: Ty Rattie, Eric Gryba, Ryan Mantha, Shane Starrett, Joe Gambardella, Ethan Bear, Caleb Jones, Ryan Stanton, Mitch Callahan, Brad Malone, Colin Larkin, Cooper Marody, Dylan Wells, Dmitri Samorukov, William Lagesson, Kailer Yamamoto, Cameron Hebig, Tyler Benson, Ostap Safin (eligible to return to junior)
Under AHL contact for next season: Josh Currie
Free agents (restricted or otherwise): Nick Ellis, Patrick Russell, Laurent Brossoit, Joey LaLeggia, Kyle Platzer, Ben Betker, Grayson Downing, Zach O'Brien, Dillon Simpson, Keegan Lowe, Braden Christoffer, Evan Polei, Tyler Vesel, David Gust, Ryan Hamilton, Logan Day, Ty Loney
– Roster decisions are way above my pay grade, but it's safe to say that those under NHL contract will be in the organization somewhere next season. Also, a safe assumption that some (not all) of those free agents will be re-signed. A good idea of contracts can be found here.
– What do you see as a need Holty? Well off the bat, I think a top-line center and a winger. I think there really isn't much of a need defensively if you assume guys like Bear and Jones take a step forward next season. There are still two NHL veterans under contract and I'd think there is a D or two from the free agent list re-signed. Also, goaltending appears to be a huge hole if you're of the assumption Laurent Brossoit and Nick Ellis are moving on.
– The annual Locker Room Sale is next Thursday from 5-7 p.m. at Rabobank Arena. Great deals on jerseys, sticks, skates, equipment and more. Make plans to be there.

– Since the Stanley Cup bracket is going so well, why not add in a Calder Cup bracket to close out the blog. Wavered on Ontario or Tucson, but since Ontario just received four from the Kings including their top pairing, I swung into their favor. Chicago was the best team we saw all season, so I'll pick them the whole way. Charlotte is the wild card in the east. They have a tremendous offense and are fully stocked since Carolina is out.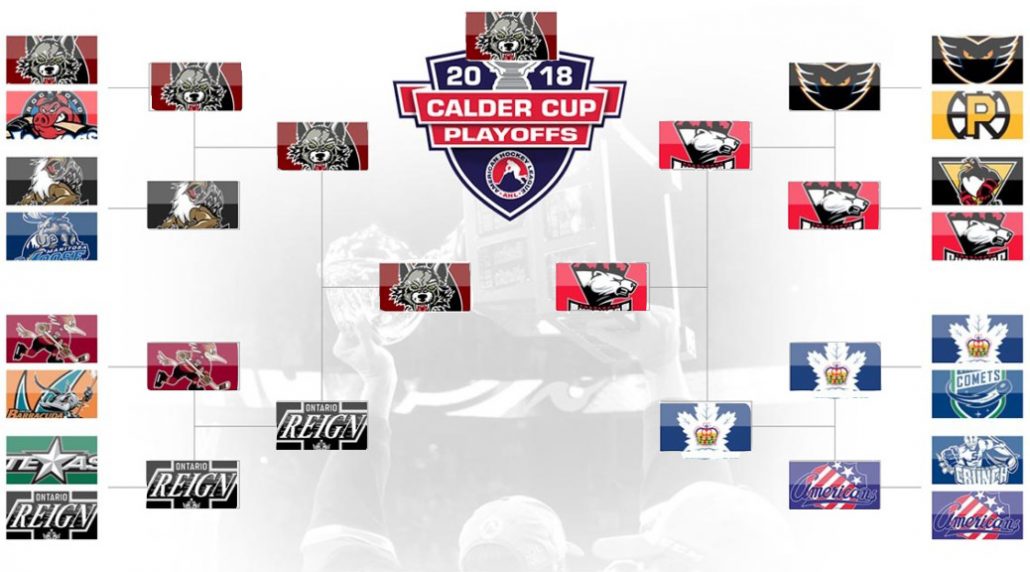 Until next time Condorstown…
Ryan Holt aka Holty recently completed his 7th season in Condorstown. He will begin his summer Charity Golf Tournament circuit on May 18 in the New Car Dealers of Bakersfield Classic at Bakersfield Country Club. Follow him on Twitter @CondorsHolty for more nonsense or shoot him an e-mail to RHolt@bakersfieldcondors.com with questions, comments, or blog ideas. 
https://www.bakersfieldcondors.com/wp-content/uploads/2017/08/HB_Small-.jpg
300
600
condors
https://www.bakersfieldcondors.com/wp-content/uploads/2023/06/BAK-Website-Header_2324.png
condors
2018-04-19 09:28:31
2018-04-23 07:26:53
HOLTY'S BLOG: OFFSEASON