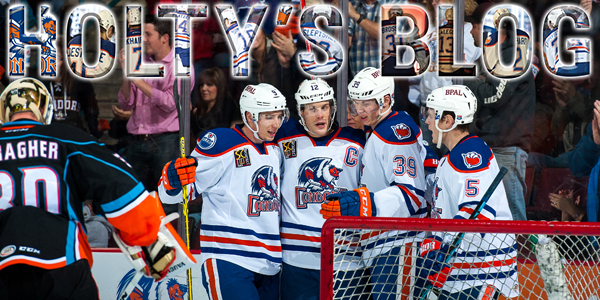 I had hoped that I wouldn't be writing a blog on April 21, 2016. That would mean the Condors would be a night away from their first-ever AHL Calder Cup Playoffs run. However, after many what-if's… – well if this had happened… – oh no, but had we had X player… — the Condors were shut out by a mere two points by San Jose for the final spot.
"We can build off this," said Captain Ryan Hamilton, who is back fully healthy for the summer.
"I think this shows how valuable points are all season long and to not give away points," – said head coach Gerry Fleming.
"It was a frustrating way to go out. But, we have a young team, and I think next year everyone is going to come in with confidence," – center Jujhar Khaira said.
Those were the messages delivered by a team that finished three games above .500, ended the season with a 6-3 win on home ice to eliminate their rivals up the 99, and closed the regular season with two wins on the road against two Central Division playoff teams.
To a man, disappointment was the word most expressed. Disappointment not only for themselves, but disappointment for the fans in Condorstown. They were impressed by the crowds, the passion, and as California native Matt Ford put it, "the unwavering support of the fans and the community from day one."
For me, the two biggest success stories on the ice came from Khaira and d-man Jordan Oesterle. Khaira was described in the pre-season as a "man among boys," and lived up to the billing in his second season with 27 points (10g-17a) in 49 games. He grew into a number one center for the Condors and impressed many with his stint in the NHL with Edmonton.
Oesterle was much the same way in terms of proving himself this season. He matched his rookie points total of 25 in 21 fewer games and at times was the best d-man the Oilers had on a night-by-night basis this season. Certainly, injuries with the big club played a role in him getting an opportunity, but that's how it happens sometimes and Oesterle took full advantage of the chance.
Khaira will be in the third year of a three year deal next season so he will either be in Edmonton or Bakersfield. Oesterle is a restricted free agent (RFA) meaning it's the Oilers option whether to re-sign him. It is way above my pay grade to offer any opinions other than the facts on contracts.
Final note on the 2015-16 squad deals with the player who everyone in Bakersfield was most looking forward to returning: goalie Laurent Brossoit. After an AHL All-Star campaign this season which finished with an 18-9-3 record, a 2.66 goals-against average, and a .920 save percentage, the third-year pro struggled in Edmonton late in the season. He went 0-4-1 with a .873 save percentage. He came back to Bakersfield for the final week, went 3-0, stopped 94 of 100 shots, and regained his confidence. Getting to know 'LB' basically over the past three seasons, he will come back even hungrier to prove himself next season whether it be in Edmonton or Bakersfield.
AHL CALDER CUP PREDICTIONS: Milwaukee over San Diego || Hershey over Toronto || Hershey over Milwaukee.
P.S. if you're a longtime reader of the blog and are thinking "man, this is completely not the style he writes his blogs in… where are the lists?!" Well then I'll have to remind you, it's my blog and I'll do what I want.
Until next time Condorstown ….
Ryan Holt, a.k.a. "Holty," wrapped up his fifth season with the Condors in 2015-16. He hasn't changed much since year one except he's put on some weight and has lost some hair. Follow him on Twitter @CondorsHolty or shoot him an e-mail with questions, comments, or topics to rholt@bakersfieldcondors.com.
https://www.bakersfieldcondors.com/wp-content/uploads/2016/04/Holty_421.jpg
300
600
condors
https://www.bakersfieldcondors.com/wp-content/uploads/2023/06/BAK-Website-Header_2324.png
condors
2016-04-21 09:51:57
2016-04-21 09:51:57
HOLTY'S BLOG: Wrap-Up