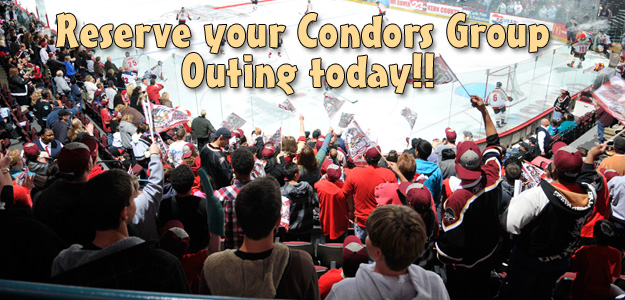 Reserve a date for your Condors Group Outing!
Bakersfield, Calif. – The Bakersfield Condors, winners of the 2010-11 ECHL Award of Excellence, have announced that reservations are currently being accepted for Group Outings for the 2011-12 season.
Group Outings
New this season, the number of tickets needed for organizations and businesses to reserve a Group Outing has been cut in half! Now all you need is 10 people to take advantage of the discounted ticket prices, in a tiered system of rewards and benefits depending on the size of your group. A 10-person group will receive discounts on their tickets as well as group seating, special Group Leader incentive such as tickets to an upcoming game, and everyone that is a part of the group
will enter a raffle for a team-signed stick.
For those groups that reach the regular 20-ticket minimum, everyone in a lower-level group will also get a free Condors cap, valued at $20, and be welcomed on the Jumbotron and over the public address during the game.
The Red Riot Zone returns as well in 2011-12. Friday and Saturday night groups of 20 or more can opt to sit in Sect. 101, and for a $17 group ticket, receive a Red Riot t-shirt and fan flag, as well as a Condors hat and your awesome seat close to the ice. The package is a $60 value.
Suites
The ultimate experience of a group outing perhaps comes with reserving a Condors Suite for a night. The ideal way to impress clients, treat your employees or have the perfect combination of Condors hockey and socialization, the Condors offer two suites that can be rented on a nightly basis.
The Budweiser 5-Hole Suite is the crown jewel of a Condors Group Outing! Situated at ice level, behind the goal and do
wn on the glass, the Budweiser 5-Hole Suite holds between 40-60 people, with couches and high tables and a variety of catering options, including a bar. Known for more of a party atmosphere, this option typically sells out every season and is reserved on a first-come, first-served basis. Reservations are already underway, with seven of the season's 36 dates already taken – so don't delay!
The Condors VIP Suite gives you a bird's eye view of the game and the arena in a private room, with catering, wait service, a closed-circuit television for enjoying all angles of the game, as well as couches and a private restroom in addition to balcony seats. The VIP Suite holds up to 18 people for a more intimate experience.
Also available on game nights is a private party room, located off the concourse and suited more for networking events. Catering is available for the room, and it can be set up for presentations or trade functions. The private party room includes 40 executive level game tickets to leave the room and see the game live.
Fundraisers
Bakersfield has caught on – fundraising with the Condors is fun and easy, and it allows you to raise cold, hard, cash for your organization while also enjoying a night of Condors hockey. The premise is simple: purchase Condors tickets at a discounted rate, and re-sell them for up to face value, and pocket the difference! Depending on how successful your efforts are, "The Condors Give Back Program" will donate additional funds to your group, supplementing your amount raised.
Additional incentives exist for Fundraisers as well, such as having members of your group sing the National Anthem, hit the ice for a game of broomball, promote your organization over the airwaves by sitting in on the radio broadcast, or even be recognized at center ice by receiving a big check!
Reserve your date today!
The Condors are ready to help your group plan for a memorable night, and dates have already begun to be reserved. Click here to see the Condors full schedule, and call the Condors office to book your group today.
The clock is ticking toward the drop of the puck in October! The Condors home opener is just 114 days away, when the ECHL's newest team, the Colorado Eagles, come to town. Game time is 7 p.m. Ticket packages for the 2011-12 season are now on sale, starting at just $48. The Condors will battle the rival Stockton Thunder in Bakersfield in preseason action on Saturday, Oct. 8 at 7 p.m. Visit www.BakersfieldCondors.com or call 324-PUCK(7825) for more information.


If you followed the Condors on twitter (@Condors), you would have already known about this story. Follow the team throughout the offseason with team news, player signings, promotions and more on twitter and facebook (facebook.com/BakersfieldCondors). Be the first to know!
https://www.bakersfieldcondors.com/wp-content/uploads/2011/06/2011-06-23-groups.jpg
300
625
condors
https://www.bakersfieldcondors.com/wp-content/uploads/2023/06/BAK-Website-Header_2324.png
condors
2011-07-11 15:03:46
2011-07-28 10:29:40
Reserve a date for your Condors Group Outing!