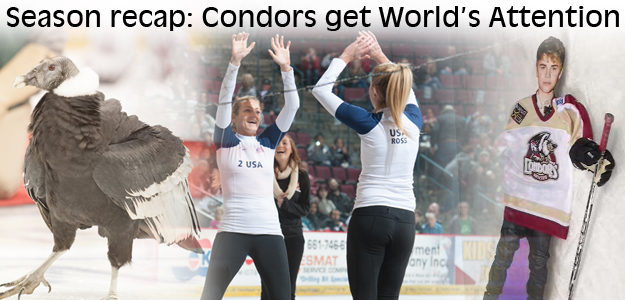 Season Recap Part II: Bieber and "Condor on the Loose" Get World's Attention
CONDORSTOWN, Calif. – Continuing with part two of the three-part season recap, the 2012-13 Bakersfield Condors enjoyed one of the greatest seasons off-the-ice in minor league sports history. From start to finish, the team received consistent national, international, and worldwide coverage of events which made it difficult to avoid the team on a daily basis. The names Bieber, Boomtown, and Queen Victoria will now forever be linked to Condorstown.
In September, the team announced that it had 
offered a tryout contract to entertainerJustin Bieber. Quickly the offer went viral with articles written in major US and Canadian newspapers (click here for USA Today), websites such asNHL.com and Yahoo! Sports Puck Daddy (read here), countless radio interviews in cities such as Toronto (click here to listen), Los Angeles, and Pittsburgh, and was a news topic on E! News Tonight and on ESPN's SportsNation. Click here to watch the debate on ESPN. #BiebsInBako went WORLDWIDE and with well over 30,000 hits in a two-day span on BakersfieldCondors.com, the publicity made the Condors website crash.
Bieber even made it's way into the first round of Condors television commercials this fall. Take a look –> click here.
Just a week later, the Condors revealed a promotion titled "Our City
Isn't Bankrupt Night" when the team was set to take on their rival, Stockton, later on in the season. While the event's name was changed to "BOOMtown Bakersfield Night," it generated stories and interest from the 
Wall Street Journal
(
read here
),
NBC Sports
(
read here
),
The Huffington Post
(
read here
), and 
The Associated Press
(
read here
). Even
Sports Illustrated
had a piece on it in their October issue. (see picture). As part of the night, ALL city employees of ANY city received free lower level tickets to the game, everyone received a $1 million dollar bill, and the first 100 kids received brand new cars. 
Then there was February 8, 2013. The game featured the first-ever appearance by a live condor at a Condors game, and turned into the greatest disaster in team history.
Queen Victoria, a 28-pound Andean Condor brought in as part of a Cirque du Condorstown promotion, "escaped" from her handler and created an international viral sensation. (Watch it here) The video is the most watched video in all of minor league hockey history with over 1.17 MILLION views and has catapulted Condors.TV to over 1.64 MILLION views, by far the most watched channel in minor league hockey. It was a top story on NHL.com for an entire week as well. That was after the lockout ended, mind you. The video was featured on just about every channel imaginable across the world, such as ABC's Good Morning America, British News, TruTV's Top 20 Most Shocking, and these great shows:
ESPN Around the Horn: click here
NBC The Today Show: 
click here
E! The Soup w/ Joel McHale: 
click here
ESPN SportsCenter: 
click here
The event was a rare occasion for fans to see a real-life Condor in person and brought attention to the Condor conservation efforts without which the Condor would have likely become extinct.
Condorstown was the epicenter for Olympians. Bakersfield native and wrestling gold medalist 
Jake Varner
signed autographs and took pictures with fans. The team even wore special Olympic Wrestling jerseys which were auctioned off for charity. Check out the national media coverage from Yahoo! Sports 
here
.
Jake was not the only Olympian in Condorstown this season. 
Olympic Beach Volleyball Silver Medalists 
April Ross
and 
Jen Kessy
came to Bakersfield and for the FIRST TIME in history, showed off their beach volleyball skills on ice! Watch the highlights 
here
. The team also honored Bakersfield's own and firefighter 
Jimmy Watkins
who finished sixth in the short track cycling event.
In addition to the Olympians, Los Angeles sports legends Daryl Evans (LA Kings) and Maury Wills (LA Dodgers) made appearances. Evans provided color commentary on the Condors broadcast and brought his expert analysis to Condorstown. The team even offered NFL "replacement referees" the opportunity to officiate the team's black/white pre-season game. Read about that offer: click here.
In the words of Condors Team President Matthew Riley, "you just never know what might happen when you come to a Condors game."
GET TICKETS!!
Season ticket packages for the 16th season of Condors hockey are on sale now, and renewals are still continuing for the 2013-14 season. Ticket packages are on sale now, with plans for a family of four starting at just $20 per month. Call 324-PUCK (7825) for more information.
Best ways to use your season tickets, #76: Donate your tickets to your church.
For a complete list of 84 ideas your business can use Condors season tickets, click here.
https://www.bakersfieldcondors.com/wp-content/uploads/2013/04/2013-04-16_seasonrecap.jpg
300
625
condors
https://www.bakersfieldcondors.com/wp-content/uploads/2023/06/BAK-Website-Header_2324.png
condors
2013-04-16 13:11:40
2013-04-16 13:13:28
Season Recap Part II: Bieber and "Condor on the Loose" Get World's Attention